Economic Alternatives Could Help Split Shiites From Hezbollah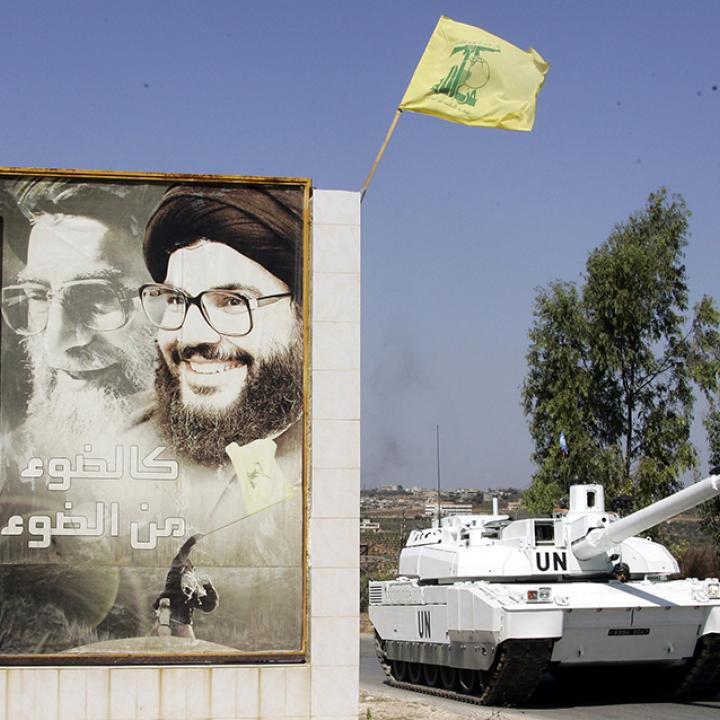 According to young Shiite interviewees, two incentives could avert an uncertain journey to the Syrian battlefield: jobs and loans.
On May 3, 2016, Banque du Liban -- Lebanon's central bank -- issued a circular ordering all banks to close accounts belonging to individuals and institutions associated with Hezbollah. This order was issued following U.S. legislation known as the Hezbollah International Financing Prevention Act (HIFPA), which was signed into law in mid-December 2015. Since May, hundreds of accounts have been closed, causing panic among Hezbollah-linked businesses and other entities.
Hezbollah secretary-general Hassan Nasrallah ridiculed the U.S. sanctions, claiming they would have no impact on the group because it receives its money from Tehran. Despite being a well-known fact, Nasrallah's public acknowledgment of Iranian funding was a first for a Hezbollah official. On June 24, Nasrallah declared: "As long as Iran has money, Hezbollah has money…Our allocated money is coming to us in the same way we receive our rockets with which we threaten Israel...No bank in the world can prevent money from reaching us." But he also warned Lebanese officials against targeting non-Hezbollah Shiites with sanctions. Two weeks before Nasrallah's comments, a bomb blast had targeted the Beirut headquarters of Blom Bank, the second largest bank in Lebanon and one of the financial institutions that had frozen Hezbollah-linked accounts.
Hezbollah will not go broke any time soon. Nevertheless, the group has drastically changed its spending policies since entering the Syrian war in late 2011. The effect of these budgetary shifts has been a mix of increasing militarization and greater isolation than ever before. During a number of interviews with Hezbollah fighters, members, and supporters, one sentiment was clear: such individuals could be open to considering economic opportunities outside the group's purview.
More Money for Regional Military Operations
Historically, Hezbollah has divided its spending between its military and service sectors, and between its core community in Lebanon and the broader regional Shiite community. Today, however, Hezbollah has transformed itself into a regional militia -- or Iran's regional military arm -- and most of the money coming from the Islamic Republic is funding the group's military operations in Syria, Iraq, Yemen, and wherever else Iran seeks to field proxy forces. Most of Hezbollah's service institutions, such as health centers, are still in place, but they are not well-enough funded to serve the whole community and therefore cater to fighters and their families through provision of basic services such as medical care and compensation.
Earlier this year, one former member of parliament told the Financial Times that Hezbollah had a basic payroll of 80,000, and 400,000 when family members were included, with the larger figure amounting to roughly one-tenth of Lebanon's population. This means that about a quarter of Lebanese Shiites are receiving Hezbollah salaries. With ever more resources being devoted to combat operations outside Lebanon, a divide has emerged between the fighters and their dependents -- who are still receiving benefits -- and other noncombatant Hezbollah members and loyalists, who are evidently expected to forswear their full benefits until the war is over.
In seeking to cover such nonmilitary expenses, Hezbollah had hoped to draw on alternative sources, such as donations from wealthy Lebanese Shiites, according to reports. Hezbollah officials had purportedly asked such well-to-do residents to sponsor children, including those of wounded Hezbollah fighters, and provide for their education and clothing.
Although Hezbollah still uses the "resistance" rhetoric it has long employed inside the community, focusing on Israeli oppression and occupation, the group has gone corporate when it comes to recruiting, motivating fighters with salaries and services to their families. Most of these fighters come from poor neighborhoods and do not have other income sources. So when Hezbollah offers a two-year contract consisting of $500-$1,200 in monthly salary plus benefits, impoverished young men with few prospects see a handsome opportunity, with the potential for advancement. Before the Syrian war, Hezbollah acolytes saw the "resistance" as a calling or a mission. These days, fighters who deploy to Syria refer to their task merely as "the work" or "the job."
Not a Sacred Battle
The war has exhausted Lebanon's Shiite community on many levels, but the effect has been particularly dire for residents of poor pockets of Hezbollah-controlled neighborhoods. Many fighters return in body bags, and many more come back permanently incapacitated. The community as a whole has become highly militarized, with a tendency toward violence and intimidation, leading to a serious rise in crime, especially in the poorest neighborhoods. In Hezbollah's Dahiya stronghold, for example, a report showed the highest percentage rise in crime last year of any area in Lebanon -- and the figure continues to rise.
Lebanese Shiites are also deeply isolated, rejected by other groups in Lebanon and across the Arab world. Despite Hezbollah's claims, not all Lebanese Shiites support Hezbollah, but the community is widely viewed as supporting the organization. Accordingly, Shiites are increasingly struggling to find work in the Gulf, or in Sunni-owned institutions in Lebanon. Nor is the increasingly aggressive sectarian rhetoric voiced by Hezbollah letting on to intracommunal Shiite diversity. The community is altogether paralyzed by fear: fear of the Sunni Islamists around them who, as Hezbollah continually asserts, are trying to kill them all and fear of Hezbollah itself, which is acting more violently inside Shiite neighborhoods, allegedly to stop crime and maintain security. Given the walls being erected around the community, Lebanese Shiites increasingly feel they have no choice but to rely on Hezbollah and its resources.
A Way Out?
But everyone interviewed by this author does want a way out: through immigration, a job outside Dahiya, or a loan to start a business elsewhere. "It's not that I don't like my community or Hezbollah; I just want my kids to have better opportunities than I have," said Ali, who lives in a poor neighborhood called Burj al-Barajneh. Ali has been trying to get a loan to start a cellphone business on Dahiya's outskirts, but because he doesn't have a stable job, no bank will grant him one. "I am not employed, and I cannot be unless I become a Hezbollah fighter," he explained, "so why would any bank help me?"
Muhammad -- a Hezbollah fighter in Syria -- concealed until his fourth author interview that he had joined the war because he desperately needed the money. Two months later, his brother followed him because he wanted to save money to buy a car and become a taxi driver.
Hassan, another fighter, just wanted to leave Lebanon: "I will go anywhere. I have nothing here. I am only required to applaud and hail during speeches and festivals, and then I go back to accumulating debt. This is not a life."
Many of these young men are driven by the earlier-noted fear, the need to belong, and sectarian rhetoric targeting the community's new enemy, Sunnis, as opposed to its enduring nemesis, Israel. But beneath these surface dynamics, one can sense the helplessness. And according to a majority of these young Shiite men, two particular incentives could lure them away from sectarian violence and the prospect of a battlefield death in Syria: loans and jobs.
In fact, a number of neighborhoods within Dahiya are flourishing financially, and a close look reveals the proliferation of small businesses such as cafes and cellphone dealers. Unsurprisingly, the fighters are not coming from these neighborhoods, where young middle-class men can often borrow $5,000 to start a business. "That's all it takes," one owner said. "You only need access to this amount, and you're set." One reason these businesses are thriving is that despite its problems, Dahiya comprises a kind of free zone where everything is cheaper and virtually untaxed, the result of effective Hezbollah self-rule. Many Lebanese, therefore, visit Dahiya to buy cheap goods. But those Shiite residents who cannot secure a loan must get a job -- more often than not through Hezbollah and, increasingly, as a fighter, a situation about which Hezbollah is not complaining.
Creating economic alternatives for young Shiite men might not make them anti-Hezbollah, but it could offer them a choice, and a way to end their dependence on Hezbollah's resources. While no magic formula exists for ending the militarization of the Shiite community, isolating it, or accepting its isolation from the rest of Lebanon, will only play into Hezbollah's hands.
By helping facilitate jobs for Lebanon's young Shiites, the international community would do much to undermine Hezbollah's ability to recruit fighters. Hezbollah is well aware of this fact, and the organization therefore devotes great effort to undercutting international aid efforts -- including those of the United States -- designed to improve the welfare of the Shiite community. The challenge for the international community is to persevere with this outreach to Lebanon's Shiites while simultaneously exposing Hezbollah for its hypocrisy -- that is, its claim to defend the interests of Shiites while preventing aid deliveries.
As one Hezbollah fighter on weekend combat furlough confided: "Find me a job anywhere, and I will come back from Syria tomorrow."
Hanin Ghaddar, a veteran Lebanese journalist and researcher, is the inaugural Friedmann Visiting Fellow at The Washington Institute.