Echoes of 1983 Beirut Bombings in Current Iranian Proxy Escalation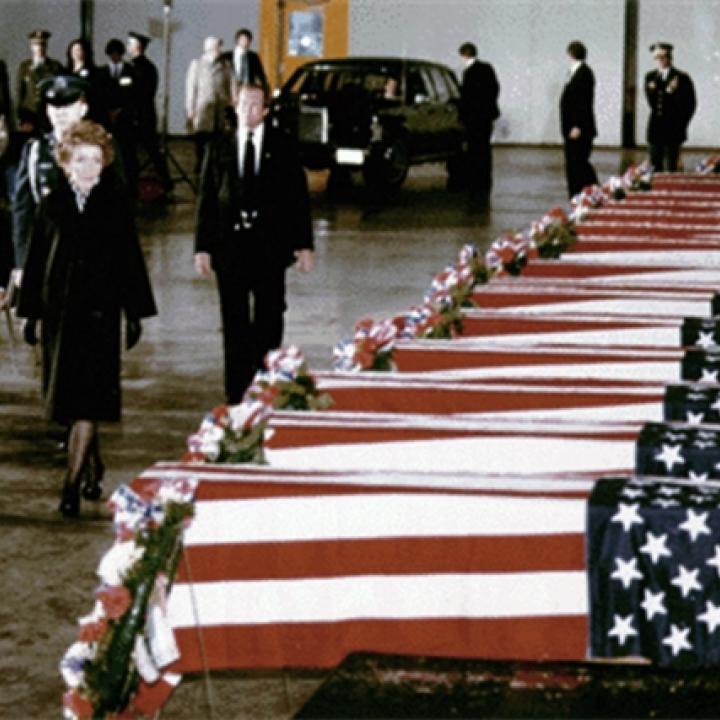 As Israel prepares to dislodge Hamas from Gaza, Iran and its proxies are extending their threats to the United States, recalling the Beirut bombings that Hezbollah carried out forty years ago at Tehran's behest.
On October 23, 1983, Hezbollah terrorists targeted an international peacekeeping mission in Lebanon by driving suicide truck bombs into the U.S. Marine barracks in Beirut and a nearby French military facility. Declassified intelligence shows that the bombings were carried out at Iran's command. Four decades later, these attacks are being loudly echoed in new threats issued by Hezbollah and other members of Iran's proxy network, with top officials and other prominent figures warning that U.S. forces will be targeted if Israel tries to dislodge Hamas from Gaza, or if anyone tries to prevent regional militias from opening other fronts in Israel's unfolding war. These warnings should not be taken lightly given that U.S. facilities in Iraq, Syria, and elsewhere have already been targeted by proxies just two weeks into the Gaza conflict.
For example, Hezbollah-affiliated commentator Sadiq al-Nabulsi told Lebanon's al-Jadid television that if the United States targets Iran's so-called "resistance axis," then these groups may in turn target U.S. naval vessels in the region. Referring to Hezbollah's failed effort to fly drones over Israel's offshore Karish natural gas field, Nabulsi warned that the group's drones could similarly reach the USS Gerald R. Ford aircraft carrier. "If you use your firepower against the Lebanese resistance or the resistance axis, you will be opening the gates and windows of hell upon you. I say to the Americans: remember what was done to you in Lebanon, and how you pulled out in a hurry." Asked by the interviewer if he was hinting at the 1983 bombing, he replied, "Absolutely, I'm not even hinting."
1983 Set a Deadly Precedent
The 1983 attack was carried out by Hezbollah's terrorist operations unit, the Islamic Jihad Organization (IJO), whose operatives targeted American and French peacekeepers with the Multinational Force in Lebanon. The bombings killed 241 Marines and other U.S. personnel, 58 French soldiers, and 6 civilians. Several of the Hezbollah operatives who oversaw the attack have since risen up the ranks to lead the IJO, including Talal Hamiyah and Fuad Shukr.
Notably, this was just one of three spectacular operations targeting U.S. interests in Lebanon within an eighteen-month period, including bombings at the U.S. embassy in April 1983 and the embassy annex in September 1984. Fearing that U.S. forces might respond by striking their shared Sheikh Abdullah Barracks in Lebanon's Beqa Valley, Iran's Islamic Revolutionary Guard Corps (IRGC) and Hezbollah went on alert in November 1984. Yet America did not strike back; in fact, President Reagan had already withdrawn U.S. forces from Lebanon months earlier. Pointing to the 1983-4 bombings, the CIA reported in 1987 that "many Iranian leaders use this precedent as proof that terrorism can break U.S. resolve," describing how Tehran had come to view "sabotage and terrorism as an important option in its confrontation with the United States in the Persian Gulf." Later, al-Qaeda's Osama bin Laden would point to the Beirut withdrawal as evidence that such attacks worked.
Two decades after the Marine barracks bombing, former American military officials testified in a civil case that the attack was carried out at Iran's behest, noting that U.S. intelligence had intercepted an Iranian directive on September 26, 1983, instructing Hezbollah to "take spectacular action against the United States Marines." Tragically, the directive was lost in the bureaucracy until two days after the bombing, when the chief of naval intelligence notified the deputy chief of naval operations about it. In the missive, the Intelligence Ministry in Tehran instructed Iran's ambassador in Damascus, Ali Akbar Mohtashemi, to contact Hussein Musawi, the leader of Islamic Amal (a precursor to Hezbollah), and direct him to target the Marines and the multinational coalition in Lebanon. In the words of Col. Timothy Geraghty, then-commander of the 24th Marine Amphibious Unit in Beirut, "If there was ever a 24-karat gold document, this was it."
Horizontal Escalation
In recent days, Hezbollah has picked up the pace of its cross-border attacks, launching rockets, antitank missiles, mortars, and drones into Israel. Amid the increased fire, the group's deputy secretary-general, Naim Qassem, warned Israel that it would pay a high price for any ground offensive in Gaza, adding that Hezbollah is already "in the heart" of the battle. He also warned of broader escalation: "Do you believe if you try to crush the Palestinian resistance, other resistance fighters in the region will not act?"
To deter Iranian proxies from opening additional fronts, the United States sent two aircraft carrier strike groups to the area, among other forces. According to one senior U.S. defense official, the highly visible change in military posture is meant to serve "as an unequivocal demonstration in deed and not only in words of U.S. support for Israel's defense," as well as "a deterrent signal" to Iran and its proxies. "Those adversaries should think twice" about becoming involved, he noted, presaging President Biden's "don't" warning days later.
Yet these proxies are already testing Washington's resolve, and the prospects of horizontal escalation—that is, striking U.S. interests, not just Israel—are dangerously high. Iran-backed Shia militias have already launched rockets and suicide drones at U.S. forces in Syria and Iraq. (These groups are currently operating under the cover name "the Islamic Resistance in Iraq," but this is just an umbrella term for Tehran's local proxies, as The Washington Institute's Militia Spotlight recently reported.) Hadi al-Ameri, the head of Iraq's Badr Organization, likewise threatened U.S. forces, declaring, "If they intervene, we would intervene...we will consider all American targets legitimate." And in Yemen, the head of the Iran-backed Houthi rebel movement issued similar warnings; days later, Houthi forces launched three cruise missiles and several drones in Israel's direction (the launches were intercepted by the USS Carney).
On October 22, the State Department ordered the departure of non-emergency U.S. government personnel and eligible family members from the Baghdad embassy and Erbil consulate, citing increased militia threats against U.S. personnel, other U.S. citizens, and international companies throughout Iraq. The same day, Secretary of Defense Lloyd Austin warned of potentially significant escalation against U.S. troops in the region.
Inspired Plots
Another way that Iran and its proxies might capitalize on the Gaza crisis is by doubling down on their efforts to inspire Shia homegrown violent extremists (HVEs) to carry out attacks. In fact, Hezbollah and other terrorist groups have already called on supporters to target U.S. and Israeli interests in the context of the Hamas war, according to an intelligence bulletin circulated to U.S. law enforcement.
Authorities have worried about such a development for several years. A 2018 report by the National Counterterrorism Center defined HVEs as "individuals who are inspired or influenced by state actors such as Iran, foreign terrorist organizations such as Hezbollah, or Shia militant groups but who do not belong to these groups and are not directed by them." After the January 2020 U.S. targeted killing of IRGC Qods Force commander Qasem Soleimani, U.S. national security agencies warned of the heightened potential for Shia HVE plots. Indeed, Shia extremists nurtured by Iran became much more active in their online recruitment and incitement in the months that followed, including in the United States. For example, they posted images and texts about weakening Iran's enemies, imposing the death penalty on individuals who insult the Prophet Muhammad, and avenging Soleimani's killers, with the latter messages featuring U.S., British, and Israeli flags awash in blood. Another ominous image featured Hezbollah leader Hassan Nasrallah with one hand posed vertically and the other horizontally—a reference to a speech right after Soleimani's death in which Nasrallah pledged that Americans would come to the region vertically (alive) and leave horizontally (dead).
Conclusion
In the forty years since Hezbollah targeted U.S. forces at Tehran's behest, the often-tepid and inconsistent international approach to Iranian-sponsored terrorist groups has only emboldened them. Although these groups and the HVEs they inspire may not act on their threats or go as far as they could when they do attack, their warnings must be taken seriously. This is especially true after Hamas—long thought of as Iran's least potent proxy—carried out a surprise operation of the massive scope seen on October 7. The lesson that terrorists of all stripes learned from the Beirut bombings has been difficult to dislodge: in their view, high-profile, psychologically devastating blows can still cause America to lose its courage and withdraw. The Hamas massacre and the war it started are proving to be very costly, but in the long run they may provide an opportunity to reverse that narrative.
Matthew Levitt is the Fromer-Wexler Fellow at The Washington Institute and director of its Reinhard Program on Counterterrorism and Intelligence.