Does Egypt Need an FTA with the United States?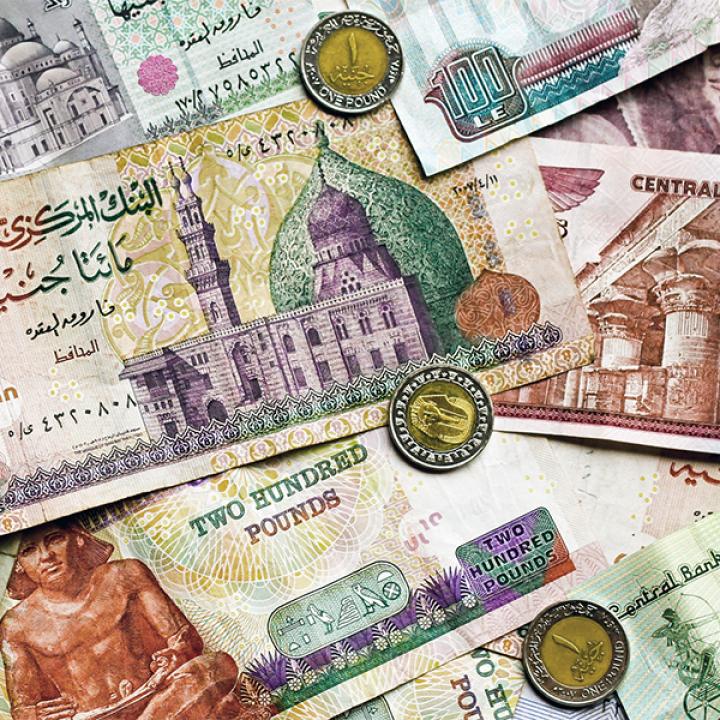 Given the many factors militating against a U.S.-Egypt trade deal, Washington should instead push for the Egyptians to avail themselves of existing mechanisms, especially the Qualifying Industrial Zones.
During Egyptian president Abdul Fattah al-Sisi's recent visit to the United States, he stressed his country's dire economic situation, among other priorities, and the corresponding need for U.S. help in stabilizing the economy. To this end, he and various delegations joining him called for the revival of trade partnerships with the United States, including the possibility of a broader U.S.-Egypt free trade agreement (FTA).
In bilateral discussions on this subject, likely to occur soon, the United States should emphasize the importance of the Qualifying Industrial Zones (QIZs), which refer to manufacturing sites in Egypt that make use of U.S. free trade deals with Israel. Indeed, Egypt has yet to maximize the potential of the QIZs. Whereas today most Egyptian products that enter the United States are textiles, an array of new items could be added to the list should Egypt make fuller use of the QIZs. The Egyptians, however, have been unwilling to make such a move out of concerns over promoting additional relationships between Egyptian and Israeli businesses.  
At first glance, the Egyptians might view an FTA as a more attractive option than mere enhanced use of the QIZs. Indeed, such a deal could widen its own markets' access to the larger U.S. market, thereby boosting its exports. But a closer analysis shows that about 45 percent of Egyptian exports to the United States already come through the QIZs, with the others secured by alternative means. More important, to meet the terms of an FTA, Egypt would have to make costly adjustments for which the country's institutional infrastructure is not prepared. By comparison, the QIZs' flexible rules regarding the origin of products allow for generous imports of textiles, including ready-made garments, as well as other goods.
According to the latest statistics from the Office of the U.S. Trade Representative's website, in 2013 Egyptian exports to the American market totaled $1.6 billion. Aside from textiles and ready-made garments subject to QIZ preferential treatment -- constituting the 45 percent mentioned earlier -- other major exports include oil, iron, and steel. These products, too, enjoy free trade access or have special-entry market arrangements. Moreover, the U.S. trade program known as the Generalized System of Preferences (GSP) provides duty-free allowances for eligible items such as jewelry, agricultural products, chemicals, minerals, marble, and carpets, although these account for only 4.8 percent of Egypt's total exports to the United States.
Obstacles to a U.S.-Egypt TRADE DEAL
Based solely on existing preferential access -- whether through the QIZs (textiles at present), the GSP (e.g., food products, home furnishings), or the nature of the export (e.g., oil) -- the United States clearly need not sign an FTA with Egypt. The mechanisms for open trade already exist. Furthermore, internal Egyptian dynamics suggest that Egypt would fail to meet the U.S. conditions required by such a deal, spread across roughly five areas.
First, U.S. investors seek efficiency, not just low-cost production environments. Despite having relatively cheap production costs, Egypt does not score high on the productivity of its workers, and QIZ turnover has reached 30 percent. Risk is a second element. Based on a World Bank report that considered the favorability of national business environments, Egypt ranked 131 among 189 countries. Here, the combination of excessive U.S. demands and a weak business climate would portend weak implementation of a deal, thus discouraging the Americans from entering into one. The third obstacle involves Egyptian inability to enforce labor laws in five areas, as instituted by the UN's International Labour Organization: right of association, right to organize and bargain collectively, prohibition of forced labor, minimum employment age, and acceptable working conditions. Whenever the United States sits at the table with Egypt, it should thus be especially sensitive regarding labor standards, mindful that the U.S. Congress could nix an FTA on such grounds.
The fourth concern, as with the second, relates to implementation. Up until the North American Free Trade Agreement, established in 1994, free trade deals centered on foreign direct investment. With NAFTA, however, U.S. regional trade agreements began to adopt a broader definition of trade, focusing in addition on portfolio flows, private debt, sovereign debt issues, and intellectual property. The manifold legislative and implementation requirements associated with such components would strain the Egyptian government, likely preventing it from abiding by its commitments.
Shaky Egyptian adherence to U.S. intellectual property rights (IPR) requirements, in particular, marks the fifth concern regarding a potential FTA. Although in Law 82, enacted in 2002, Egypt revised its IPR legal framework and enforcement capability, the country still lags far behind many countries, both in the Arab world and globally. In the latest "Special 301" report produced by the U.S. Trade Representative, focusing on countries with deficient IPR protections, Egypt remained on the watch list. Likewise, the World Economic Forum's Global Competitiveness Report 2016-17 ranked Egypt 124 out of 138 countries in terms of IPR protections.
Conclusions
Even if, hypothetically, Egypt took all the necessary steps to meet potential U.S. objections surrounding an FTA, one must consider the shift in U.S. popular opinion against FTAs, as amply demonstrated in the 2016 presidential campaign. Then-candidate Donald Trump railed against trade deals and reaped the political benefits. Practically, any deal with Egypt could well be held hostage to haggling over adjustments to existing agreements such as NAFTA.
Given the many factors militating against a U.S.-Egypt trade deal, as outlined here, the United States should instead urge the Egyptians to invest more in the QIZs. One possible concession to Cairo could involve reducing the proportion of Israeli input, a longtime Egyptian demand. Yet in floating such a compromise, U.S. officials must make clear that Egypt needs to be a realistic, pragmatic, and constructive QIZ partner to Israel. Indeed, enhanced economic cooperation will not happen without increased social contacts between the respective private sectors. A precedent exists for such enhanced ties, which flourished briefly after the Egypt-Israel QIZ deal brokered under U.S. auspices in 2004.
Haisam Hassanein is a Glazer Fellow at The Washington Institute.