Defusing the Electricity Crisis in Gaza -- For Now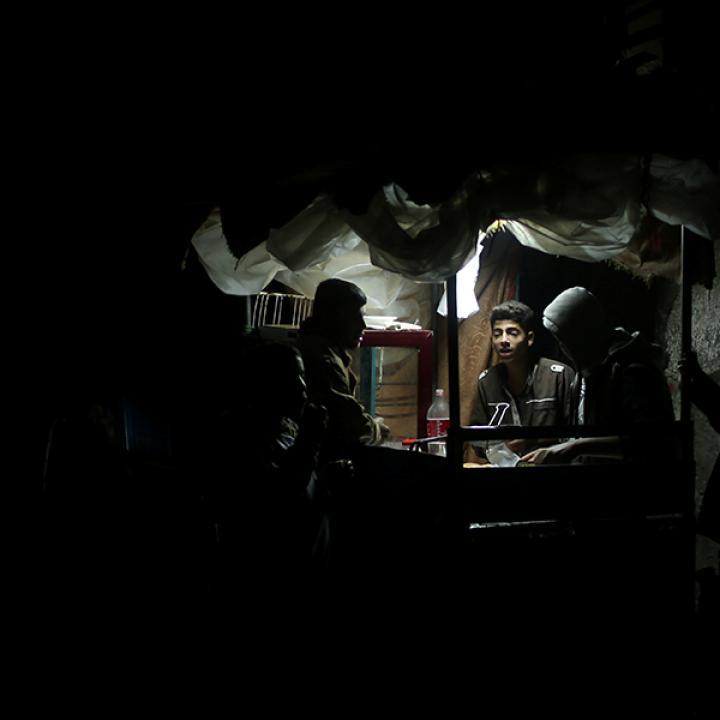 The recent deal to restore electricity to the territory will ease short-term concerns, but given the turbulent Palestinian and regional political scene, a more sustainable solution will require setting up independent mechanisms for utility provision.
On June 22, the Gaza Power Plant (GPP) came back online, following a shipment of diesel fuel from Egypt earlier in the week, offering a temporary reprieve from the crisis that had left Gaza residents with as little as three hours of electricity per day. The news came just as Israel completed an incremental reduction in electricity provision from its own grid to Gaza, at the request of the Palestinian Authority (PA). Renewed electricity generation from the GPP should offset the reduction from Israel.
The power plant -- one of Gaza's three  electricity sources, which also include imported electricity from Israel and Egypt -- has been off-line since Qatari and Turkish donations ran out in April. For at least a number of weeks, the line from Egypt has also been down for technical reasons.
 
Notably, payment for the Egyptian fuel has reportedly come from Hamas, rather than the United Arab Emirates, as some had speculated, and likely at least in part from electricity payments collected by the Hamas-controlled Gaza Electricity Distribution Company. Indeed, one source of the current crisis has been Hamas's refusal to transfer electricity payments to Ramallah to cover PA costs. Previously, Hamas had regularly transferred funds to Ramallah to cover fuel purchases for the plant but stopped in January when the PA said it would no longer pass on associated tax refunds. Taxes double the costs of the fuel, and reports indicate Hamas could not cover the full amount.
Regarding the Egyptian delivery, funds are suspected to have come from electricity payments to the utility when the cost was being covered by Qatar and Turkey. The PA, for its part, had until late April been fully paying for Israeli electricity exports to Gaza, estimated at 40 million Israeli shekels (about $11 million) per month -- as well as those to the West Bank -- from PA customs revenues collected by Israel on imports into both territories.
Political Context
These developments are taking place in a wider context. Beginning June 4, Gaza's new Hamas leader, Yahya al-Sinwar, led a delegation in meetings with Egypt's General Intelligence branch. The delegation also met with Mohammad Dahlan -- an Abu Dhabi-based former Fatah Central Committee member who was expelled from the movement by Palestinian president Mahmoud Abbas but continues to wield considerable influence among its Gaza members -- along with some of his aides. The meetings reportedly resulted in understandings between Hamas and Dahlan, under Egyptian auspices, whereby Dahlan will have a large role in managing Gaza's external relations and in resolving its humanitarian situation. The fuel shipment is seen as an outcome of these understandings.
On one level, this unlikely cooperation has a certain logic. Hamas, squeezed by Abbas's recent steps to reduce support for Gaza and deprived of Qatari backing, needs the relief that can only come through Egypt. Dahlan, who has been steadily marginalized by Abbas since last year's Fatah General Conference, would strengthen his standing among Gazans and once again become an indispensable figure on the Palestinian national scene. Both sides also want to weaken Abbas's standing. Egypt, which has no interest in dealing with another round of Israel-Hamas hostilities, will benefit from the de-escalation that would result from mitigating the electricity crisis and will welcome a stronger role in Gaza for its ally Dahlan and a reduced role for Qatar. Egypt has also reportedly reached its own understandings with Hamas regarding securing the Gaza-Egypt borders.
This cooperation, however, is unlikely to be sustainable. While Hamas's and Dahlan's interests may occasionally intersect, as they did here, a number of factors could hinder the conversion of these kinds of cooperative steps into a full-fledged partnership. Principally, the ultimate objectives of the two parties are in conflict, with each desiring primacy in Gaza and ultimately at the national Palestinian level. Moreover, any deeper cooperation will have to overcome their mutual distrust resulting from decades of often-bloody conflict. In the wider regional context, while both Egypt and the UAE -- Dahlan's main regional supporter -- would welcome developments supplanting Qatar's role in Gaza, both are vigorously anti-Islamist and unlikely to accept any long-term arrangements that would leave Hamas in charge of Gaza. Any fundamental shift would require that the main protagonists, and their regional backers, make key concessions, none of which seems to be likely at the moment.
Moreover, Abbas, whose authority would be severely challenged by such an alliance, is unlikely to sit idly by. He has proven skilled in the past at maintaining his relevance in the face of internal and external pressures, and is feeling energized and empowered by the Trump administration's robust interest in reviving the peace process.
Conclusion
The recent developments regarding electricity in Gaza reflect a convergence of interests between Hamas and Dahlan under terms also beneficial to Egypt. But this confluence must contend with deeper Palestinian and regional dynamics that are unlikely to be overcome any time soon, if ever. Furthermore, even if all three sources of power to Gaza return online and the status quo ante is restored, the Strip will continue to suffer from frequent outages. Current demand is estimated to be twice that of supply. For a number of years, Gazans have enjoyed eight hours of electricity a day, at best. 
A more sustainable resolution of Gaza's electricity problems would require setting up independent structures and mechanisms for utility provision, perhaps drawing on lessons from World Bank efforts to establish the area's Coastal Municipalities Water Utility as well as considering more efficient sources of electricity, such as increased imports from Israel. Although the recent developments seem to have resolved the immediate Gaza electricity crisis and significantly lowered the chances of a new Gaza war this summer -- to the benefit of all -- they constitute a band-aid likely at some point to fall off.
Katherine Bauer is the Blumenstein-Katz Family Fellow at The Washington Institute. Ghaith al-Omari is an Institute senior fellow and author of its recent report Governance as a Path to Palestinian Political Rejuvenation.