Countering Iran's Missile Proliferation in Yemen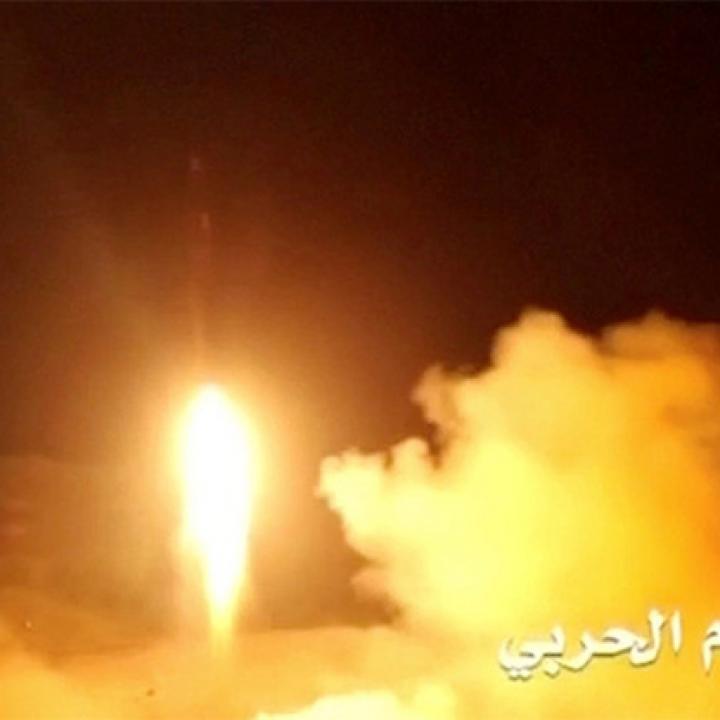 Tehran is using the Houthis to test President Trump's resolve, as mounting evidence shows that it is helping the rebels build long-range missiles capable of hitting Gulf capitals.
On November 4, a Burkan-2H (Volcano) ballistic missile was launched toward Riyadh by Houthi forces in Yemen and intercepted by a U.S.-supplied Patriot defense system. Wreckage from the missile fell on the outskirts of King Khalid International Airport on the northern edge of the Saudi capital, indicating that it overflew the densely populated city.
This was not the first Houthi missile attack on the Riyadh area -- on May 19, they fired another Burkan-2 variant at the city just hours before President Trump touched down for a visit. But the latest strike comes at a particularly sensitive time due to the U.S. announcement of a new "pushback" strategy against the Iranian regime and its Islamic Revolutionary Guard Corps (IRGC). President Trump responded to the weekend attack by stating, "A shot was taken by Iran, in my opinion, at Saudi Arabia." The Saudi government also explicitly blamed "the Iranian regime" and said the strike could "be considered an act of war." Meanwhile, Iran's Kayhan newspaper, which functions as a mouthpiece for the IRGC and Supreme Leader Ali Khamenei, reported the strike with the headline "Ansar Allah Missile Attack on Riyadh. Next Target: Dubai," using the official name for the militant arm of the Houthi movement. Such statements from both sides set the stage for an intensified U.S. effort to expose Iran's hand in the Houthi missile development program.
THE MISSILE CAMPAIGN AGAINST SAUDI ARABIA
Since the Saudi-led intervention began in March 2015, Houthi rebels have fired hundreds of short-range tactical rockets and missiles into Saudi Arabia, along with at least thirty longer-range ballistic missiles. The vast majority of these strikes have involved BM-27 multiple rocket launchers and SS-21 Scarab B tactical ballistic missile systems targeting Saudi border towns and military bases, resulting in thousands of civilians wounded or displaced.
Other types of systems have also been used in large numbers, including unguided Qaher-1 (Conqueror) free-flight missiles launched at targets up to 250 km inside Saudi Arabia, particularly King Khaled Air Base and the adjacent Khamis Mushait Military City. (Around sixty Qaher-1 strikes have been claimed overall.) The Qaher is a conversion of the V75 missile used in the SA-2 surface-to-air missile system, which Yemen received from the Soviet Union in large quantities from the 1970s onward (approximately 800-1,000 in total). Indeed, rebel forces have demonstrated significant acumen in their development and use of short-range ballistic missile systems:
Extended range. A March 28 attack involved a Qaher-M2 variant with a longer claimed range of 400 km and a larger warhead (350 kg of explosive compared to 195 kg in the Qaher-1).
Saturation attacks. The March 28 attack also saw the use of a multi-missile salvo in an apparent effort to overwhelm Patriot batteries at Khamis Mushait. In addition, the monitoring organization Conflict Armament Research reported that the Houthis crashed indigenously developed Qasef-1 drones into Patriot radars to facilitate their missile attacks.
Conservation of longer-range systems. On May 26, the rebels unveiled al-Najim al-Thaqib (Piercing Star-2), an indigenously assembled 75 km tactical rocket system with a 75 kg warhead. Similar in design to the M-75 fielded by Hamas in the Gaza Strip, this system allows the rebels to conserve their Qaher missiles for medium-range targets.
The rebels have also developed longer-range ballistic systems by converting stocks of SS-1C/Hwasong-5 (Scud-B) and extended-range SS-1D/Hwasong-6 (Scud-C) missiles, which originally could not reach major Saudi targets such as Jeddah, Yanbu, or Riyadh. The first locally upgraded Scud variant, unveiled on February 6, 2016, was the Burkan-1, which the Houthis fired at the Jeddah-Taif-Mecca tri-city area on three occasions in September-October of that year. A salvo of these missiles was apparently used to target King Fahd Air Base near Taif on July 27, 2017.
A longer-range variant emerged in February 2017: the Burkan-2H, which the rebels used to target Riyadh at least four times (in February, March, May, and November) and to strike Yanbu on July 22. The latter attack was probably conducted at a range of more than 1,000 km. Saudi Arabia also claims that one strike in July was carried out by a Qiam missile, an Iranian copy of the extended-range Scud-C. U.S. ambassador to the UN Nikki Haley repeated this claim on November 7.
Besides striking the Saudis, rebel leader Abdul-Malik al-Houthi recently added another target to his potential hit list: the United Arab Emirates, located around 1,000 km from Houthi territory. Speaking with Houthi-controlled Al Masirah television on September 14, he warned that the UAE was "now within range of our missiles. The companies that have been set up or have investments in the UAE should no longer consider it a safe country."
INDICATORS OF IRANIAN SUPPORT
Yemen's military has a long history of using tactical rockets and ballistic missiles, including extensive operational use in the 1994 civil war. Near the beginning of the current conflict, three missile brigades joined the Houthi side due to their alignment with former president and current Houthi partner Ali Abdullah Saleh.
According to Houthi-controlled media, the Yemeni military's Missile Research and Development Center is capable of developing systems such as the Burkan, al-Najim al-Thaqib, and Qaher on its own. And this April, Iranian defense minister Hossein Dehghan poured scorn on U.S. claims that Tehran was supporting the Houthi missile program.
Yet many experts reject the notion that the Houthis and their Yemeni military allies are working alone. In October 2016, a State Department official noted that "Iran has provided critical capability and assistance to the Houthis in their campaign to attack Saudi Arabian territory with ballistic missiles and rockets." And in January 2017, the UN Panel of Experts on Yemen concluded that the Houthi-led alliance's claims of manufacturing new missile types locally "are highly unlikely." Although the personnel in Yemen's missile forces have extensive experience operating complete systems, they had never previously performed the tasks required to develop new missile variants, such as disassembling and rebuilding old systems, extending fuel tanks, moving batteries, stretching fuselages, welding special parts, or rebalancing missile trim.
Iran has a long history of helping foreign militant allies with missile programs, providing Lebanese Hezbollah and Palestinian Islamic Jihad with expert support operatives and a series of rocket/missile systems ranging from the 300 km Zelzal-2 to the 75 km M-75. It has also been converting SA-2 missiles into Tondar-69 ballistic missiles since the 1990s, much like the Houthis arrived at their equivalent variant, the Qaher-1.
More to the point, Iran has openly acknowledged its military assistance to the Houthis. On May 23, 2015, IRGC Qods Force deputy commander Esmail Ghani stated, "Those defending Yemen have been trained under the flag of the Islamic Republic." And in late April 2017, influential hardline cleric Mehdi Taeb -- brother to the IRGC's intelligence chief -- publicly boasted that "Iran's catering of missiles to the Houthis was carried out in stages by the Revolutionary Guards with the support and assistance of the Iranian navy." According to Conflict Armament Research, the Houthis' Qasef-1 drone is a copy of Iran's Ababil-T, right down to "identical serial number prefixes," so it not a stretch to believe that Tehran is supporting the Houthi missile program with technical advice and specialized components. After all, the Houthis have rapidly fielded three major new missile systems in less than two years while under wartime conditions and international blockade.
IMPLICATIONS FOR U.S. POLICY
At the moment, Houthi long-range missiles have clear limitations: they are few in number and likely to remain so, and they are not very effective (none of those launched thus far has caused widespread destruction, and around half have been intercepted). Yet they are geopolitically important for a number of reasons.
For Iran, providing missile and other military support to the Houthis is a no-brainer. At very little cost, the IRGC can strengthen ties with a regional ally and demonstrate its ability to threaten Saudi Arabia, and perhaps the UAE and Qatar as well, where vital U.S. bases lay just outside the current range of Houthi missiles. And if the rebels manage to hit a crucial U.S. or allied target, the Iranians are confident that the Houthis will pay the price, not them. At the tactical level, the IRGC is well aware that every missile attack drains Saudi capabilities, since a Houthi missile costing at most $1 million must be intercepted by Patriot missiles costing $2-3 million each. Continued attacks could even force the Saudis to develop another axis of expensive missile defenses in addition to the set required to defend against Iran across the Persian Gulf. The IRGC is also learning valuable lessons about how its own missiles might perform against U.S.-provided defenses. For all these reasons, the missile war needs to stop.
Tehran's plainly fearless response to the November 4 attack on Riyadh is a useful reminder that the regime will continually test President Trump's resolve to implement his pushback strategy. Saudi Arabia already views the Houthis as an existential threat due to their domination of the southern border with missiles and ground raids, so the introduction of more advanced missiles may drive the kingdom to lash out against both the Houthis and Iran in unpredictable and counterproductive ways. Washington should therefore take the following resolute steps to stop Iranian support to the Houthis and end the conflict in Yemen:
Accelerate efforts to splinter the Houthi-Saleh alliance. A smart peace process would first draw the elite Saleh-aligned missile forces away from the Houthis, and later splinter the Houthis themselves from Tehran, whose military help they will no longer need once the war ends. Saleh loyalists could be useful sources of evidence to prove that Iran is violating international sanctions and arms embargos; this proof could then be brought to the UN and the Joint Commission that oversees the P5+1 nuclear deal.
Strengthen and "smarten" the naval blockade. If Tehran were inclined to provide complete missile systems to the Houthis, it would probably be unable to do so because of the Gulf coalition's effective naval and air blockade (though the Saudi claim about Houthis using an imported Iranian Qiam missile needs to be fully investigated, since that could alter the picture if true). To better prevent the transfer of missile parts, the United States should maintain its commitment to the arms blockade, extend more intelligence and special operations support to block overland smuggling routes from Oman, and ensure strong multinational support for a tight but humane maritime interdiction effort.
Help Saudi Arabia defeat the ballistic missile threat. The Houthis may have a large stock of Qaher-variant missiles and tactical rockets, as well as some local manufacturing capability to make more systems. Large Saudi population and economic centers such as Jizan, Abha, and Khamis Mushait cannot remain under threat of regular missile attacks for years on end. If the current situation continues, a catastrophe is inevitable, such as a missile strike that kills many civilians, destroys key energy infrastructure, or takes out an airport.
The U.S. military should therefore provide direct intelligence support, perhaps even deploying U.S. air or missile assets to intervene quickly when Houthi launch vehicles are detected. Washington has already signaled that it will protect civilian shipping from Houthi missile attacks, so why not make the same pledge regarding civilian and economic infrastructure on land? Such a declaratory position could deter Houthi missile attacks on Saudi cities, just as past White House statements and U.S. strikes on Houthi missile units have seemingly deterred further missile attacks on shipping in the Bab al-Mandab Strait.
Michael Knights is a Lafer Fellow with The Washington Institute. He has worked in Yemen and spent time embedded with the country's security forces.