Could Italy Get Trump to Care About Fixing Libya?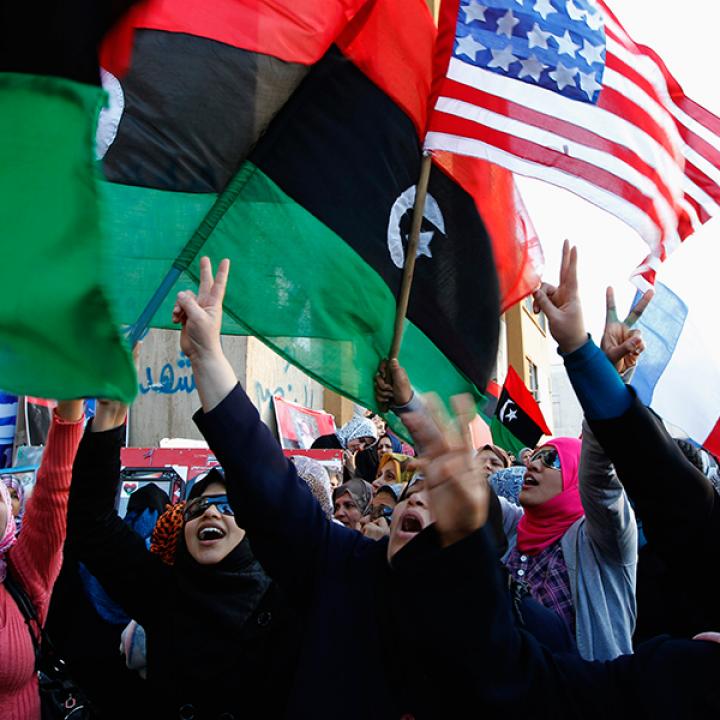 To take a strong step forward on a major ongoing conflict, the president should listen closely to a U.S. ally and make a clear statement in support of Libya's unity government and the UN-sponsored peace process.
Foreign leaders are playing an important role in President Donald Trump's foreign policy education. Jordan's King Abdullah II, Chinese President Xi Jinping, and NATO Secretary-General Jens Stoltenberg have clearly influenced Trump's positions on the Israeli-Palestinian conflict, Syria, North Korea, and the NATO alliance. They have all cautioned against radical shifts in policy, and Trump has evidently listened.
Italian Prime Minister Paolo Gentiloni's visit to Washington on Thursday provides another opportunity for Trump to heed an ally's advice on an important issue the White House has not yet addressed publicly: Libya. Getting Trump on board with supporting Libya's unity government and the UN-led peace process would be a major achievement for Gentiloni. It would also be good policy for the United States.
While Libya will never be at the top of the U.S. agenda, it is Italy's first foreign-policy priority because its vital national interests are at stake in the country, from the migration crisis to energy security. So Gentiloni first needs to convince Trump that Libya matters not just to Europe, but also to the United States, or to U.S. taxpayers, as Secretary of State Rex Tillerson might say. Trump will hear why a political solution, not periodic airstrikes, is the only durable way to limit the Islamic State and jihadist presence in Libya, which threatens the entire Mediterranean region. And that it will require U.S. diplomacy to achieve.
Why should Trump care at all? He could cynically use Libya as a persistent symbol of President Barack Obama's foreign policy "failures."
Last year, the Islamic State suffered a major defeat in Libya when local forces, with the assistance of U.S. air power, drove the jihadis from their safe haven in Sirte. The Islamic State retreated to Libya's vast southern desert, but remains a threat. The Islamic State thrives in ungoverned spaces and will strengthen if the battle continues between the two main factions in Libya -- those who now support the UN-backed Government of National Accord (GNA) in Tripoli and Misrata, and those in Libya's east backing Gen. Khalifa Haftar, who refuse to recognize the unity government. This ongoing political conflict creates a security vacuum that the Islamic State exploits.
For over a year, Martin Kobler, head of the UN support mission in Libya, has been trying to bring all parties under a single political rubric. His efforts have prevented the explosion of the internecine violence Libya witnessed in 2015, but efforts to reach a durable political agreement have stalled over a few key issues, especially the prospective role of Haftar. The longer the stalemate lasts, the greater the opportunity there is for a resurgence of the Islamic State, which would threaten U.S. interests and personnel in the region. AFRICOM commander Gen. Thomas Waldhauser warned of such a scenario in recent Senate testimony.
Additionally, Gentiloni is well positioned to detail to Trump how much regional powers and Russia have used the last few months as an opportunity to advance their parochial interests in Libya. Egypt, Russia, and the United Arab Emirates all hold a skeptical view of the UN process, and by all appearances view supporting Haftar as the best way to restore Libyan stability. They fear that the UN process will empower the wrong forces in Libya, lumping nearly everyone in a single category (read: Islamists).
Trump should listen carefully to Gentiloni's analysis that supporting Haftar alone is a recipe for renewed civil war. Because of Haftar's virulently anti-Islamist statements about western Libya, a Haftar-only approach to Libya is politically toxic. Gentiloni's take would reaffirm assessments within much of the U.S. government and benefit from the fact that external voices always seem more compelling to Trump than internal analyses.
First, Gentiloni could tell Trump that he has an opportunity to lead on Libya. By standing shoulder-to-shoulder with Gentiloni in the Oval Office or at a press conference and stating that the only solution to Libya runs through the UN-facilitated political process, Trump could make a statement that would help deter Haftar's much-discussed military campaign against Tripoli. It would demonstrate to Haftar's external supporters that the United States has not lost interest in Libya.
Second, Gentiloni could seek U.S. help in identifying a compromise role for Haftar that preserves the role of the GNA, the government recognized by the UN Security Council and reaffirmed by the G-7 foreign ministers in Lucca, Italy, earlier this month. Many reasonable compromises have been offered, but Haftar continues to forum-shop and threaten military action. Progress will only be made when Haftar no longer has external options. Now that the U.S. election is over, American diplomacy can build a consensus around shared power in Libya. That means candid conversations with the Emirati and Egyptian governments. Without the UAE and Egypt more closely aligned with the United States, Russia will continue to have a free hand to disrupt any attempt to contain Haftar's military ambitions, or worse, establish a line of direct materiel support to Haftar -- as they are doing in Ukraine.
Third, Gentiloni has hard work ahead of him in persuading Trump that the international community, including the United States, should play a role in strengthening the GNA to govern Libya. Some U.S. officials have said that the counter-Islamic State coalition is not in the business of nation building or reconstruction. However, quitting rather than expanding U.S. efforts to support the GNA will ensure that the civil conflict continues, as Haftar will continue to see broad weakness in western Libya. The GNA's budget execution and service delivery are proceeding only haltingly and desperately need to be accelerated. Stabilization projects carefully planned for Sirte after the eviction of the Islamic State -- such as demining and revitalized governance assistance for the beleaguered city -- are teetering, which will only open the door for further instability. That is the risk of zeroing out important and relatively limited American assistance projects in 2017.
These are not easy tasks, but Trump has another opportunity to take a strong step forward on a major ongoing conflict if he listens closely to U.S. allies, acknowledges their views, and makes a clear statement in support of Libya's unity government and the UN-sponsored peace process. At a minimum, that would help deter spoilers such as the Islamic State and Russia from expanding their influence in the war-torn country.
Ben Fishman, an associate with The Washington Institute, served as director for North Africa on the National Security Council staff from 2011 to 2013.