Claiming Without Claiming: Iraqi Militia Responses to Turkish Attacks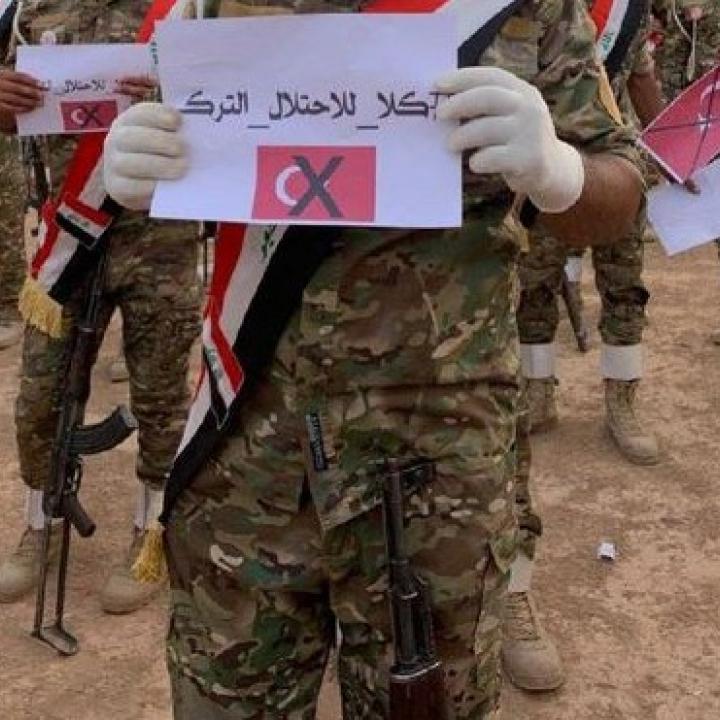 Sabereen News has been operating as the clearinghouse for coverage of "resistance" strikes on Turkish targets, nodding to specific facade groups and hinting at future attacks inside Turkey.
After Turkish artillery killed nine Iraqi civilians and wounded nearly thirty in the Kurdistan Region province of Duhok on July 20, retaliation by the Iranian-backed Iraqi muqawama (resistance) was sure to follow. Later that night, muqawama militias launched two attacks: a drone strike against a Turkish artillery firebase at Bamerni in northern Duhok, and a rocket strike on the Turkish base at Zilkan in Nineveh province. As Militia Spotlight warned in May, the potential for conflict between Turkey and the militias has been escalating as the self-styled "resistance" searches for an occupation it can credibly claim to be resisting.
The claim pattern for both of the above muqawama strikes is revealing. The July 20 Bamerni drone attack (which appears to have been followed with a multi-drone attack against the base in the early hours of July 22) saw the following sequence:
22:15 hours Iraq local time: The Telegram account for the facade group Ashab al-Kahf (AK) quoted a Middle Ages Arab poet stating, "Anyone who wants to achieve great victories, he needs to use a sword."
22:17: Sabereen News claims that "two squadrons of fixed-wing drones took off toward one of the Turkish occupation bases in Iraq."
22:21: Sabereen attributes the attack to AK, stating, "The air force of the Islamic Resistance, Ashab al-Kahf, targeted military points belonging to the Turkish occupation army in Duhok governorate, in the vicinity of the Bamerni base in Amadiyah town, with squadrons of explosive fixed-wing drones."
22:31: An AK post declares, "Killing for killing, drone for drone, rocket for cannon...Bamerni is burning by fixed-wing drones...No air defense can prevent planes from reaching their targets."
(Interestingly, the July 22 follow-up drone strike seems to have been fully intercepted by Turkish counter-drone systems at Bamerni, despite Sabereen's claim that  "Murad-5" type fixed-wing drones were used in the attack. It will be interesting to see how the muqawama treat this tactical/technical failure.)
A similarly revealing claim sequence characterized the July 20 rocket strike on Zilkan, the Turkish site most regularly targeted by the militias:
19:42: A Telegram account for Kataib Hezbollah persona Abu Ali al-Askari quotes a Quranic verse: "When the inevitable occurs, of its occurrence, there is no denial."
22:23: The facade group Liwa Thar Muhandis (LTM) quotes the same verse.
22:25: Sabereen attributes the Zilkan attack to LTM: "The rocket launchers of the Islamic Resistance Thar al-Muhandis brigade target the bases of the Turkish occupation."
The trend here is a murky kind of claim process whereby an attack is foreshadowed with a poem or Quranic verse, publicized by Sabereen, and then attributed by Sabereen to a facade group. These incidents are also notable as only the second known association of AK with anti-Turkish attacks, and the first for LTM. This may indicate that additional real-world kinetic cells associated with the militias Kataib Hezbollah, Asaib Ahl al-Haq, and Harakat Hezbollah al-Nujaba are being drawn north to get in on the anti-Turkish-themed attacks.
Also of interest, a July 22 Sabereen post foreshadowed a longer-range drone strike on Istanbul. Using the phrase moalemi (teacher), which typically denotes a communique passed by a senior Iranian or militia/terrorist leader, Sabereen noted: "My moalemi told me that our drones will reach Istanbul, and whoever knocked the door will hear the response." Such a strike is not unthinkable considering the recent record of Iran-backed militias launching drone attacks from Iraq against targets in Riyadh, Gulf oil installations, and Abu Dhabi.