Civil Society in Tunisia: Resetting Western Policy Expectations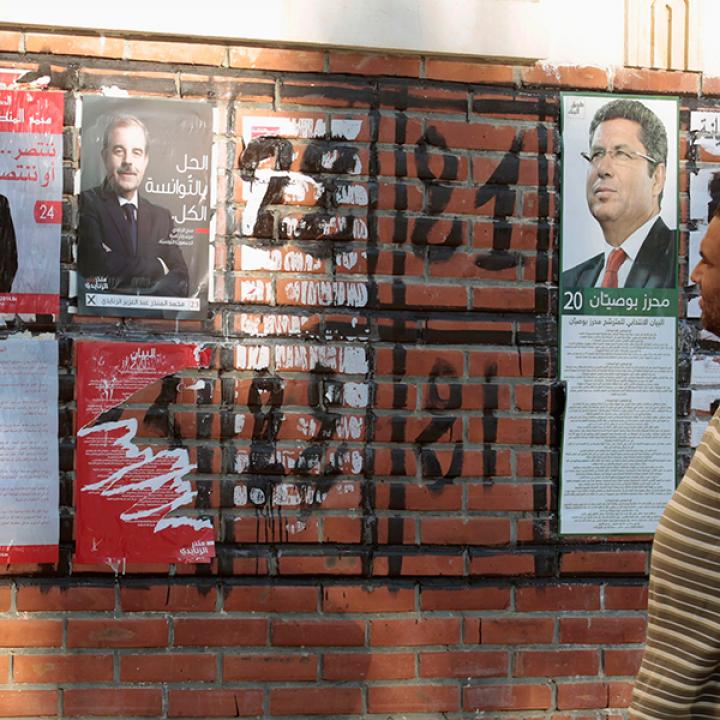 Three experts discuss the relevance and focus of Western efforts to nurture reform in post-revolutionary Tunisia amid recent democratic backsliding by President Saied.
On January 23, The Washington Institute held a virtual Policy Forum with Sabina Henneberg, Amy Hawthorne, and Jean-Louis Romanet Perroux. Henneberg is the Institute's Soref Fellow and author of its new study Civil Society in Tunisia: Resetting Expectations. Hawthorne is deputy director for research at the Project on Middle East Democracy (POMED). Perroux is director of the Tunisia-based North African Policy Initiative. The following is a rapporteur's summary of their remarks.
Sabina Henneberg
The trajectory of Tunisian civil society since the 2011 revolution and the mixed reactions that greeted President Kais Saied's July 2021 power grab have important implications for U.S. foreign policy and aid. When Decree-Law 88/2011 was adopted more than a decade ago, it provided a key legal framework to govern civil society associations, giving them legal protection to operate freely and receive donations from abroad. More recently, however, the issue of foreign funding has been weaponized to challenge the law. While some critics have raised security concerns (e.g., money potentially being diverted to support terrorism), civil society organizations largely agree on the law's importance to their activities and worry that the state will eventually rescind it.
Yet the debate over Decree-Law 88 also highlights concerns expressed by international organizations and donors who work closely with Tunisian civil society, including questions about the latter's commitment to democracy and liberal values. Despite Saied's power grab, the country's largely secular civil society groups were hesitant to oppose him outright because many of them tacitly share his anti-Islamist agenda. Moreover, while the coalition of leading groups known as the Tunisian Quartet notched early successes in facilitating a national debate, they ultimately failed to reconcile the country's deeply polarized Islamist and secular factions. These divisions have only deepened the grievances of the wider population. Many citizens believe they have been excluded by the cliquish, elitist political class, whose agenda is often criticized for ignoring the people's woes.
Unfortunately, this situation has left the U.S. government with the conundrum of whether to double down on aid to Tunisia or curtail it. The best approach under the current constraints is a combination of several balanced steps.
First, Washington should continue showing solidarity with Tunisian civil society by objecting to new amendments that erode Decree-Law 88. Second, it should support anti-corruption reforms that help ease economic hardships and strengthen political life. Saied would be hard-pressed to oppose such reforms given his rhetoric on these issues. Third, continuing to fund education could provide a good way of maintaining economic assistance without provoking Saied. Education development programs can help even out the inequalities between Tunisia's coastal communities and more deprived interior regions.
Amy Hawthorne
As Sabina's paper points out, civil society's limited response to Saied's power grab should not have been surprising to Western officials given the country's deeply entrenched societal divisions. One key division is over how much the Islamist faction Ennahda should be permitted to participate in politics; indeed, some civil society organizations were willing to accept undemocratic measures if only to weaken Ennahda. Tunisian NGOs have long been limited in their ability to mobilize in support of democracy, but their current weakness is more reflective of the fragmented public and its dissatisfaction with the ineffective political class.
Contrary to other cases in the Middle East, the West did not interfere heavily in the formation of Tunisia's civil society. But donors did err in one crucial regard: establishing unrealistic expectations that civil society could overcome Tunisia's longstanding divisions through modest foreign aid programs. Another major failure was sidelining anti-corruption efforts in favor of establishing democratic processes and countering terrorism. Western donors did not fully grasp how deeply Tunisia's economic and social hardships would affect the people's attitudes toward democratic transition. Other failures include ignoring coastal-interior inequalities (which should be accounted for in future foreign funding) and overemphasizing security issues to the detriment of economic and democratic assistance. Although some forms of security assistance have indeed created a safer environment for many Tunisians and Americans, this success has been limited to the counterterrorism sector, largely bypassing other problem areas such as police brutality.
Looking ahead, the United States, Europe, and other donors can support Tunisian civil society by pushing back against legal measures that prevent it from functioning freely (e.g., the erosion of Decree-Law 88/2011; the more recent Cybercrime Decree-Law 54/2022). This message should be conveyed clearly through diplomatic channels, avoiding the Biden administration's previous zigzag approach to events in Tunisia.
At the same time, providing large-scale funding to civil society organizations could produce unintended consequences given Saied's hostile position toward such groups and foreign aid in general. The key is to fund them in a manner that does not antagonize Saied into cracking down on them. Supporters of stability and democratization in Tunisia should also not discount scenarios wherein he is replaced by an even more repressive figure.
Jean-Louis Romanet Perroux
Although Tunisian civil society has betrayed its values and objectives to a certain extent, Western governments have made several mistakes in how they approach it. First, they wrongly assumed that they could foster deep reform through modest funding of civil society. Instilling a high degree of liberty was not enough to ensure democratic progress; in many cases, Tunisians have prioritized economic and physical security over liberal values. Second, Western officials have frequently mischaracterized Tunisian civil society as a wholly independent and unitary actor capable of balancing the state, when in fact it turned out to be extremely diverse. Third, donors have tended to focus their funding on organizations that represent values similar to their own, exacerbating the country's inequalities. Fourth, the West has relied excessively on formal civil society organizations, largely ignoring grassroots, informal social initiatives that need more funding. These varied initiatives and entities are difficult to contain and therefore more durable; they can include anything from social media activism to art projects and sports ultras.
Education remains one of the most complicated issues in Tunisia. Although international assistance alone cannot address the plethora of problems in this sector, it can steer local efforts toward that end and provide assurances. The country's regional disparities are difficult to surmount given their institutionalized nature and the continued lack of economic investments. But this fact should not obscure the progress that has been made on strengthening local governance across Tunisia. The next goal should be to create more programs that foster youth engagement with local officials—though foreign funding for such initiatives should be strictly conditioned on reforms.
As for the polarized political environment, failures at the government level should not be attributed to Ennahda alone. When in power, the party took many of the same steps adopted by other governments, such as providing more public employment. Tunisia's failures are more attributable to the entire political class, indicating a deeper need to rebuild social values and increase political participation among the wider populace. Whatever the case, Saied's government does not seem to have a long-term horizon.
Foreign support and economic aid to Tunisia are more important than ever, but they should be provided in a manner that contributes to the five prerequisites for good democratic governance: namely, a healthy civic political culture; a citizenry with sufficient critical thinking skills; safe and accessible public spaces for activism; mechanisms for popular engagement and state-society dialogue; and broad civic engagement. Toward that end, Western governments should focus less on funding civil society organizations and more on assisting individuals at the grassroots level, where democratic values are nourished. Civil society organizations can then emerge organically, in tandem with the development of individual values. Likewise, support for state-society dialogue at the local level would be more helpful than support at the central level.
This summary was prepared by Faris Almaari. The Policy Forum series is made possible through the generosity of the Florence and Robert Kaufman Family.