Charting a New Course on the Gulf Rift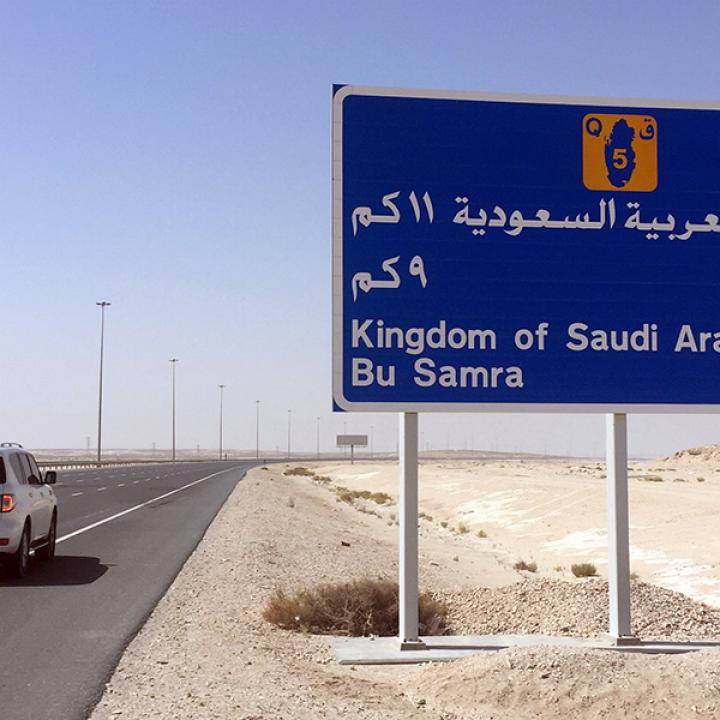 Washington should boost practical incentives to GCC partners on all sides of the Qatar dispute in an effort to save the Gulf union and U.S. strategic interests tied to it.
On April 10, President Trump is scheduled to host Qatari emir Sheikh Tamim bin Hamad al-Thani at the White House. Issues likely to top the agenda include strengthening Doha's counterterrorism measures and reinforcing bilateral military ties. A shared interest in resolving the dispute between Qatar and the four countries imposing a blockade on it (Saudi Arabia, the United Arab Emirates, Bahrain, and Egypt) will provide important context for these conversations.
Yet Tamim's visit also comes during a period of apparent shifts in U.S. policy toward the Gulf rift, including a more visible interest in tighter working ties with Riyadh and Abu Dhabi on shared regional goals such as countering Iran's malign activity. These shifts may include deprioritizing—though not abandoning—the goal of unity among Gulf Cooperation Council states to achieve common interests. The White House's formal summary of President Trump's March 20 meeting with Saudi crown prince Muhammad bin Salman did not mention GCC unity as a point of discussion. Even so, it was cited as an important interest in subsequent calls with King Salman on April 2, Emir Tamim on April 3, and de facto UAE leader Muhammad bin Zayed on April 6.
Meanwhile, a new U.S.-Saudi-UAE working group may supersede cooperation with the wider GCC on at least some issues. On March 26, the White House announced plans for regular trilateral meetings between their respective national security advisors in order to develop and implement joint regional security frameworks. This special arrangement builds on Abu Dhabi's December 4 announcement of a joint Emirati-Saudi cooperation committee charged with coordinating all military, political, economic, trade, and cultural activities.
Last month, Qatar released a new list of terrorist designations, and the reactions of blockading countries lay bare the challenge of enhancing cooperation with the GCC writ large during the current dispute. Announced on March 22, the list was intended to highlight Doha's progress in addressing foreign concerns about support for terrorists. Yet the published names included ten individuals who are also on terrorism lists issued by the blockading countries. Soon afterward, UAE foreign minister Anwar Gargash tweeted that the announcement "confirms the evidence against [Qatar] and that its support for extremism and terrorism is the core of the crisis." Similarly, Saudi foreign minister Adel al-Jubeir called the designations "an acknowledgement of the problem" and expressed "hope that Qatar will return to the right path and correct its mistakes." And Bahraini foreign minister Khalid bin Ahmed al-Khalifa took a moment while attending an Arab media forum in the UAE to argue that "there is no way for reconciliation" with Qatar given its past behavior.
In reality, these countries believe that addressing any Qatari tolerance for supporters of al-Qaeda, the Islamic State, Hamas, and other U.S.-designated terrorist groups does not fully tackle the problem. In their view, another core issue is Qatari political, financial, and media support for actual and potential dissenters, agitators, and other opposition elements inside their own borders. To be sure, they have agitated against Emir Tamim and his government, but they believe it is unacceptable for a small country like Qatar to do the same against its more powerful neighbors (including Bahrain, whose stability is seen as closely linked to that of Saudi Arabia). Their policy toward Qatar is actually part of a wider "house cleaning" effort to address sources of instability in the vulnerable period that has followed the Arab Spring.
Nevertheless, as the Trump administration changes its approach to the rift, it should not lose sight of how important a functioning GCC is to U.S. strategic interests in the Gulf. Washington should exert unusual effort to negotiate individually with each Gulf partner, so that they come to believe that transforming the Qatar cold war into a cold peace is in their own interest. A different carrot might work for each state.
In Qatar, officials recognize that their strongest card against powerful neighbors is U.S. support. Washington should continue working with Doha to tighten counterterrorism measures and address foreign agitation as a necessary component of tempering the dispute's impact on Qatar. Although Doha has proven itself to be a crucial U.S. partner by hosting al-Udeid Air Base and taking other measures, the Gulf rift is a great opportunity to more comprehensively address areas of bilateral strategic divergence.
For the Saudis and Emiratis, U.S. carrots could include more support against Iranian activities in the Gulf Peninsula or against Islamist militants, respectively. Naming John Bolton as national security advisor and nominating Mike Pompeo as secretary of state could boost the chances of negotiating successfully to soften the blockade's impact, since both men's policy positions appear to line up more closely with these two partners than former secretary Rex Tillerson's did.
Finally, Washington should reach out to the two GCC partners who are not party to the rift, Kuwait and Oman, with the goal of keeping them in the fold. If the dispute continues as is, both countries may come to view the organization as a collection of menacing neighbors rather than a source of protection. Indeed, a fragile and divided GCC spells trouble for U.S. security interests throughout the region, especially if it allows America's regional and international rivals to take advantage of the divisions. Washington should work diligently with its partners to avert this outcome even if full resolution of the Qatar crisis remains elusive.
Lori Plotkin Boghardt is the Barbara Kay Family Fellow at The Washington Institute.