Changing Egyptian-Turkish Dynamics May Create Opportunities for Libya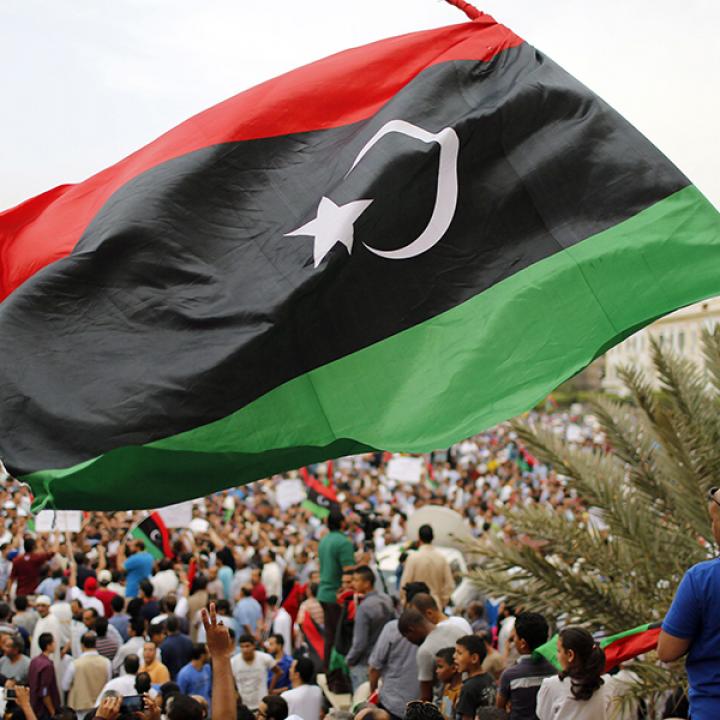 Turkey's tragic earthquake and Egypt's economic crisis may lead both governments to ease their conflicts over Libya.
On February 23, representatives from the United States, Britain, Egypt, France, Germany, Italy, Qatar, Turkey, and the United Arab Emirates will meet in Washington for a periodic discussion on how to break Libya's political logjam. Although such meetings have not produced much in the way of progress or international unity of late, major developments in Egypt and Turkey—longtime arch-rivals over Libya—present a rare opportunity to move the needle.
Forging International Consensus
Over the years, several permutations of Libya-focused international groupings have emerged, from heads-of-state conferences hosted in France, Italy, and Germany, to ministerial-level talks on the sidelines of international meetings, to the latest envoy-level gatherings. At each of these stages, participants have usually sounded united yet disagreed over key issues, such as which Libyan factions to support and when to hold the elections that have been postponed since December 2021.
When the previous envoy-level meeting took place in London last October, attendees did not produce an agreed statement because Egypt refused to go along with the consensus draft—even though the text essentially reflected previous UN statements recognizing the importance of an agreed constitutional basis to push elections forward. Cairo preferred the status quo, in which it held considerable influence over east Libya; if elections were held, the results could shake up its favored actors among the entrenched elite and empower its political or ideological rivals, perhaps expanding Turkey's influence in the west.
The February 23 meeting is the first to be held in Washington, enabling U.S. officials to drive the agenda and work toward a broader international consensus. Expanding the group to include former rivals Qatar and the UAE plays into the latter goal, since the Gulf states maintain significant influence in Libya, Egypt, and Turkey. On February 15, for example, Prime Minister Abdulhamid al-Dabaiba of the western-based Government of National Unity (GNU) met with Emirati president Muhammad bin Zayed in Abu Dhabi, suggesting the UAE's renewed interest. Three other important developments have likewise created opportunities to advance progress on Libya: the new UN special representative's efforts, Turkey's tragic earthquake, and Egypt's growing economic crisis.
The New SRSG
In September, Senegalese diplomat Abdoulaye Bathily was appointed as the seventh special representative of the secretary-general (SRSG) for Libya since 2011. Previously, American diplomat Stephanie Williams had served as acting SRSG and later as special advisor to the secretary-general while the Security Council debated a successor.
Although some SRSGs have essentially dithered during their terms, others have developed their own political plans to address Libya's morass. For example, Ghassan Salame presented a proposal to the Security Council very early in his tenure in September 2017. Bathily is expected to do the same in New York on February 27. After visiting European capitals this week, he will likely preview his initiative in Washington to build support for a Security Council resolution backing his efforts the following week.
For Washington and its European partners, the main goal should be to ensure that Bathily's plan is realistic and offers the best chance of producing an agreed constitutional basis to hold elections, hopefully before year's end. Two elements are essential in this regard.
First, Bathily should abandon the track that leaves key issues in the hands of Libya's rival chambers (the House of Representatives and the High State Council) and their respective leaders (Aguila Saleh Issa and Khalid al-Mishri, who have drawn out negotiations for years to retain their positions and influence). Second, whatever grouping of Libyans Bathily chooses to facilitate constitutional dialogue with, he should produce a timeline for an agreed constitutional basis, electoral law, and code of conduct, and ask major factions to sign onto a well-defined set of campaign and election procedures. The gist of these codes and procedures should be clear—factions must commit to avoiding violence or incitement and respecting the election results. The United States and its partners should encourage Bathily's efforts and reinforce them with Libyan interlocutors.
Turkey and Egypt's Role
In addition to assessing the full human toll of the catastrophic February 6 earthquake, it will take some time to determine how the Turkish government's preoccupation with rescue and relief efforts will affect its policy in Libya. So far, Turkish military support and training for the GNU appear to be continuing. Turkish economic investments in Libya may be curtailed as infrastructure companies begin to focus on post-earthquake reconstruction, but most of Ankara's strategic interests in maintaining economic and security influence there will likely remain.
For its part, Egypt may now have greater motivation to help stabilize Libya given its increasingly dire economic crisis back home, which has included extreme currency devaluation, rising inflation, and shortages of basic goods. The question is whether Cairo still prefers to maintain the east Libyan political status quo or reap the economic benefits of a stable Libyan government—most notably in the form of hundreds of thousands of jobs for Egyptian workers, as was the case before the 2011 revolution. Libya has also reportedly offered to stabilize the Egyptian pound by providing deposits in its central bank.
At the same time, the longstanding rift between Egypt and Turkey has shown signs of easing lately. During last year's World Cup, President Abdul Fattah al-Sisi met with President Recep Tayyip Erdogan in Qatar. And after the earthquake, Sisi made the rare move of calling the Turkish leader, offering condolences and promising aid that was delivered soon thereafter. In an apparent follow-up move, Egyptian prime minister Mostafa Madbouly hosted a group of Turkish businesspeople in Cairo on February 15 to discuss planned investments of $500 million—the first such meeting in a decade. Egypt is in the process of privatizing several state-run firms, and Turkey could play a role in that process alongside heavy investments by Gulf states.
Each of these steps could contribute to Egyptian-Turkish reconciliation regarding their strategic disagreement over Libya, which includes a maritime dispute, various military concerns, and ideological differences over Islam and politics. The United States now has a significant opportunity to broker bilateral or even trilateral discussions with Cairo and Ankara in order to explore whether their changing priorities will allow for relaxing tensions over Libya. The presence of the UAE and Qatar could further improve the chances of progress. Even modest progress would significantly improve the chances of reaching an agreement to move Libya forward.
Limitations of the Current Meeting
Aside from the difficulties of negotiating a united, substantive statement among nine actors, envoy-level discussions are rarely the place to break new policy ground given the lack of seniority. The foreign ministry representatives who tend to participate in these discussions are also at a disadvantage because intelligence and security entities currently play a much more significant role in determining Libya policy among the regional governments.
Another challenge for Washington is that Libya remains a secondary issue in U.S. bilateral discussions with Egypt and Turkey, so elevating it may prove difficult. With Egypt, the Biden administration should be able to talk seriously about Libya while maintaining a productive dialogue on other pressing issues—most notably, Cairo's contribution to de-escalating renewed Israeli-Palestinian violence. With Turkey, Washington can surely find a way to substantively address Libya while still advancing vital earthquake assistance, NATO discussions, military sales, and Russia policy—even though Turkey's bandwidth for issues beyond humanitarian relief is now more limited.
With deft diplomacy, Washington can use this week's Libya meeting to build on the apparent thaw in Egypt-Turkey relations, creating momentum for further conversations about how they can mutually benefit from relaxing their friction over Libya. At the same time, such efforts could facilitate the most important change in the Libyan landscape in months, giving Bathily the space he needs to create an elections timeline.
Ben Fishman is a senior fellow at The Washington Institute and former director for North Africa on the National Security Council.