The Big, the Small, and the Needless: Rebalancing Three UN Peacekeeping Missions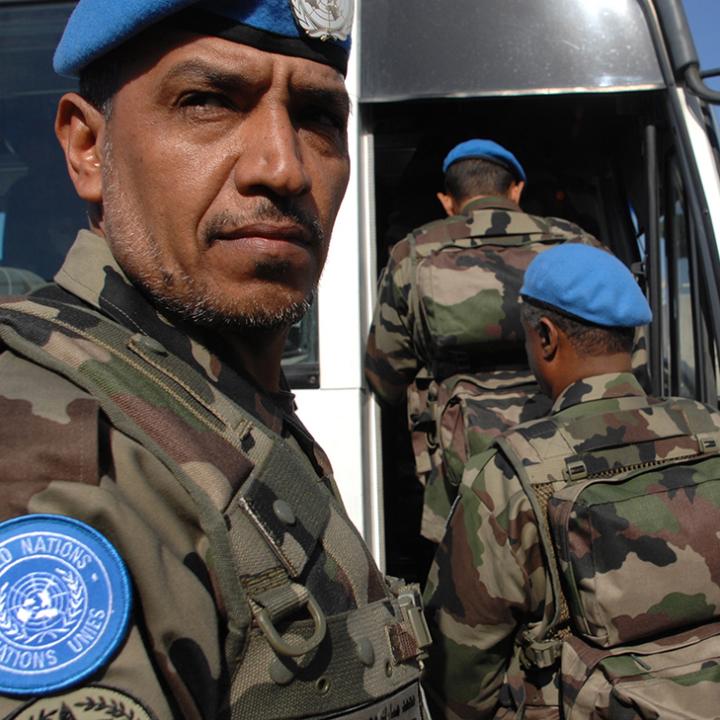 A former Israeli general explains why rethinking the missions is crucial to containing Iran's proxies and reducing waste in international security expenditures.
In recent weeks, Israel has sought to address Hezbollah cross-border attack tunnels, asked Washington to impose sanctions on Beirut, and conferred with U.S. officials about countering precision missile production inside Lebanon. As tensions mount, one fact has become clearer than ever: the UN peacekeeping missions deployed around Israel are dangerously mismatched. To address this problem, the international community should substantially downsize UNIFIL, enhance UNDOF, and incorporate UNTSO into those two missions.
UNIFIL: OVERSIZED
The current UN Interim Force in Lebanon mission (UNIFIL II) goes back to UN Security Council Resolution 1701, which ended the 2006 Lebanon war. Because that conflict was instigated by Hezbollah military actions emanating from south Lebanon, the resolution sought to avert another war by asserting Beirut's monopoly over armed forces near Israel, with UNIFIL supporting the Lebanese Armed Forces in this vision. Moreover, given the war-torn theater it was entering and the weakness of its LAF partner, UNIFIL was granted a large land force (up to 15,000 troops), a significant Maritime Task Force to prevent seaborne weapons transfers, and a rich toolkit for civil engineering projects and civilian outreach.
After twelve years of UNIFIL deployment, the good news is that Hezbollah and Israel have not gone to war again. Although this achievement is mainly attributable to each party's restraint and mutual deterrence, UNIFIL has helped prevent tactical friction from escalating into wider conflict by maintaining liaison arrangements and interposing itself in border hotspots.
Yet the bad news far outweighs the good. Regarding the core issue of Hezbollah weapons in UNIFIL's area of operations, the mission scores a double failure: allowing south Lebanon to become a massive forward deployment area for Iran's chief military proxy, and distorting international perceptions of the reality on the ground. Indeed, UN reports essentially claim that there is no significant Hezbollah deployment in the south, despite ample statements to the contrary from Israel and the militia itself. To accept this claim, one must make a number of untenable assumptions:
That Hezbollah's weapons are deployed everywhere in Lebanon except where they are most needed, the south.
That UNIFIL's situational awareness outweighs Israel's intelligence findings—despite the force's lack of a dedicated intelligence collection capability, and despite Israel's repeatedly demonstrated ability to find and precisely target Hezbollah and Iranian weapons facilities in Syria.
That the recently exposed tunneling project from Lebanon into Israel is nonexistent.
That the multiple, documented instances of Hezbollah using missiles and improvised explosive devices (IEDs) to attack Israel and UNIFIL since 2006 never occurred.
Alternatively, one can accept that Israel and Hezbollah have it right: south Lebanon is home to a massive Hezbollah military deployment that UNIFIL has failed to observe and report.
According to the UN, however, UNIFIL has found no evidence of these facts—an argument that lacks credibility because the force does not have the investigative, search, and interrogative tools needed to gather such evidence. This detachment from reality is compounded by several chronic problems:
Hezbollah's well-known practice of embedding military assets in populated areas and in civilian cloaks.
The LAF's complicity in preserving the group's deniability on this front.
UNIFIL's impeded access to Hezbollah areas based on claims that they are "private property."
Frequent claims that Hezbollah attacks against Israel and UNIFIL are carried out by "angry local civilians."
For example, the recently exposed Hezbollah tunnel near Kfar Kila was dug out of a supposedly "private" cement factory site; the group also tried to cover its tracks by declaring that the site was home to a chicken coop. Yet the Israel Defense Forces published clear video footage of confirmed Hezbollah militants walking in this tunnel wearing civilian clothing, once again exposing the fallacy in how the UN depicts interactions between Hezbollah, the LAF, and UNIFIL. Similarly, the environmental NGO "Green Without Borders" has been uncovered as a thinly veiled Hezbollah reconnaissance operation that blocks UNIFIL access to its "private property" with the LAF's help.
In August 2017, U.S. ambassador to the UN Nikki Haley sought to enhance UNIFIL's efficacy but was thwarted by other member states. The resultant Security Council resolution, UNSCR 2373, called for "increased visibility," higher operational tempo in implementing UNIFIL's mandate, and more detailed reporting, but subsequent UN documents show increased "activity numbers" with no substantial results. This is hardly surprising—there is little value in upping the frequency of observations when one's eyes are wide shut. In August 2018, UNSCR 2433 once again extended the force's mandate without change.
Numerous reports shed light on the reality of UNIFIL's operational environment. Some have described Iranian flights landing at Beirut International Airport with weapons components for Hezbollah, casting doubts on the fidelity of the government's clearance of illicit cargo by air and sea. And in the past twelve years of hailing hundreds of thousands of vessels, authorities in Lebanon have reported the discovery of substantial weapons smuggling only once: a 2012 arms shipment reportedly bound for rebel fighters in the Free Syrian Army, the interdiction of which served Hezbollah's interests.
Hezbollah and its allies have only increased their dominance of the Lebanese government since the May parliamentary elections, so there is little hope that the LAF will be ordered to counterbalance the militia. Meanwhile, despite British designations and U.S. sanctions confirming Hezbollah's status as a terrorist organization, UNIFIL continues to spend significant funds on 580 "national staff" jobs for local Lebanese employees as well as "projects to address the pressing needs of local communities." In essence, this means that the UN is providing a cash flow to Hezbollah supporters and protection money to local power-lords.
It is time to acknowledge that UNIFIL will not expose Hezbollah's military assets in its area of operations—to use the force's own language, UNIFIL is "not in a position to verify these reports independently." Its large footprint in Lebanon is replete with dangerous prospects, creating a situation in which Israel may need to defend against Hezbollah attacks while trying to avoid collateral impact on the friendly UN forces that are essentially shielding Hezbollah's military assets. If that scenario comes to pass, the consequences for the UN's credibility would be dire. Recognizing this reality means admitting that UNIFIL is oversized, over-equipped, and over-funded.
UNDOF: UNDER-RESOURCED
Established by UNSCR 350 at the end of the 1973 war, UNDOF was originally intended to avert another war between Israel and Syria, mainly by creating a buffer zone in the Golan Heights and monitoring their adherence to the disengagement agreement. In recent years, the force lost most of its positions in Syria once rebels seized territory from the regime, especially after 2014.
The situation changed somewhat this summer: in June, UNSCR 2426 renewed UNDOF's mandate for six months; in July, the Assad regime regained control over its side of the Golan Heights; and beginning in September, UNDOF returned most of its forces from Israel to Syria, with support from both countries and additional reassurance from Russia. For the first time since the war broke out, the UN secretary-general's September 26 report included an updated UNDOF position map detailing the "unoccupied positions" previously lost by the force. And on October 15, Syria and Israel reopened the Quneitra crossing to UN personnel after four years of closure.
UNDOF's main challenge today is safely resuming its monitoring mission in Syria now that most of its positions there have been ransacked. As with UNIFIL in 2006, UNDOF is returning to a postwar environment in which it will be tasked with clearing IEDs mines, and unexploded ordnance, and conducting civil engineering projects and civilian outreach. Operationally, it needs better force protection and early warning, and more of its troops need to deploy in temporary positions to resume regular patrolling on the Syrian side of the Golan, with the goal of preventing a vacuum that Iranian proxies can infiltrate. Yet, UNDOF's current capabilities—including 975 troops and an annual budget of $60.3 million—will not allow it to meet these mission challenges, even after an additional mechanized company arrives early next year.
UNTSO: NO LONGER RELEVANT
In May 1948, UNSCR 50 called for a cessation of hostilities in Palestine, to be supervised by the UN Mediator with the help of military observers. This collective later became known as the UN Truce Supervision Organization. 
UNTSO officials have often pointed that their peacekeeping mission is the UN's cheapest, but its 2018-19 budget is hardly inconsiderable: nearly $70 million to support 153 military officers, 153 international civilian staff, and 91 national staff. This fact—along with the realization that the 1949 armistice will soon turn seventy, that Israel has peace treaties with Jordan and Egypt, and that many UNTSO observers do most of their work for UNDOF and UNIFIL—raises serious questions about UNTSO's relevance.
RECOMMENDATIONS
In light of this analysis, the international community should take several steps to address each organization's shortcomings. UNIFIL should maintain its important de-escalation functions: namely, its presence and interposition along the Blue Line, and its strong liaison between Israel and the LAF, including the successful tripartite mechanism under which the parties have held direct talks every month or two since 2006. Yet the UN should report the realities on the ground more faithfully, without obfuscating the hard facts behind ambiguous wording and meaningless "activity" counting.
The threat of war is real even with these measures, however, and the prospects of UNIFIL drastically improving its track record are slim, so maintaining such a large force is unnecessary and perhaps dangerous. A force size of around 3,000 would make more sense, with a focus on personnel from highly professional armies who can contribute to situational awareness in their home countries. Moreover, to increase the financial pressure on Iran and its proxies, UNIFIL's expenditures on local workers and projects should be reduced, especially in communities involved in aggression against UN personnel. The cumulative savings of these recommendations could amount to $200-300 million of the force's $474 million annual budget.
As for UNDOF, it should consider enhancing its liaison role between Israel and Syria, perhaps with a tripartite mechanism. Most important, it should resume substantial patrolling and observation in Syria via temporary positions. Rebuilding its old positions may be too costly, too slow, and too static for the transformed environment. It should also be given around 300 additional infantry troops, as well as armored vehicles and fire detection radars, despite opposition from Damascus. Furthermore, military and civil engineering assets would allow the force to restore its area of operation to livable conditions and reduce risk to troops and civilians alike, while population outreach efforts could increase its acceptance among locals.
Taken together, these recommendations highlight the complementary nature of each organization's mission—the forces, assets, and budget that are lacking in UNDOF are superfluous in UNIFIL, and therefore available. UN Headquarters seems to understand this synergy, since it commissioned a former UNIFIL commander (Gen. Paolo Serra) to complete a recent strategic review of UNDOF.
As for UNTSO, its personnel should be folded into the other two missions or into UN Headquarters, since most of them are already serving in observer or human-resource roles with those other organizations. The desire to maintain it as a separate entity hardly justifies the considerable costs involved, not to mention the occasional friction between mission chiefs.
Currently, the total budget for all three missions is around $600 million, so the above changes represent a potentially dramatic cost reduction. Given the Trump administration's oft-stated desire to decrease U.S. funding for UN peacekeeping organizations, there is ample leverage to promote these important steps.
Assaf Orion, a retired Israeli brigadier general and defense strategist, is a visiting military fellow at The Washington Institute.