Behind the GCC's Terrorist Designation of Hizbullah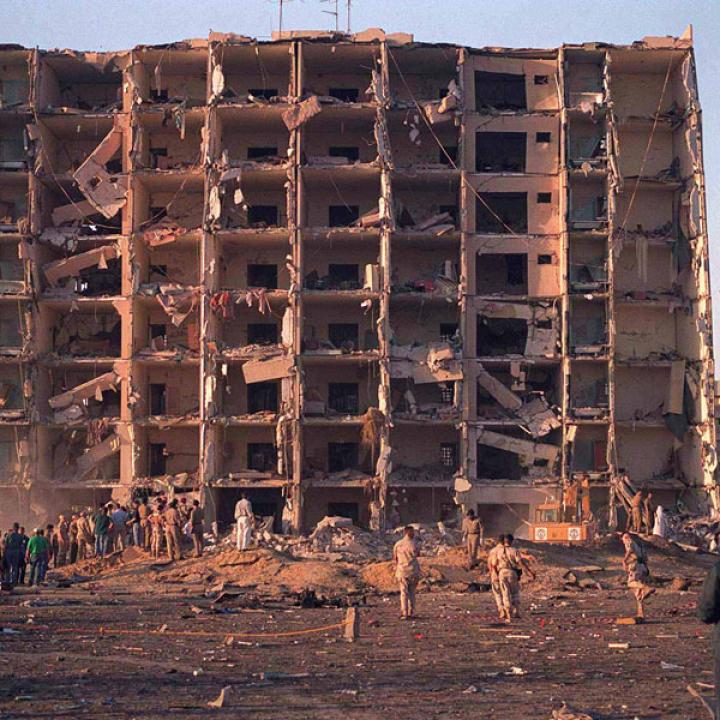 The decision, which has been coming for some time, is a function of increased Hizbullah activities in the Gulf states and growing tensions with Iran.
The recent designation of Hizbullah as a terrorist organisation by the Gulf Cooperation Council is largely a function of sectarian and geopolitical tensions between the Sunni Gulf States and Shia Iran. But it is also the cumulative result of a long history of the Lebanese militia's activity in the region. The move comes on the heels of the Iran nuclear deal and a recent spike in Tehran and Hizbullah-linked plots across the Gulf.
The GCC's decision to blacklist the Lebanese Shia militia goes back at least three years. In June 2013, GCC countries came to the unanimous conclusion that Hizbullah was terrorist, and several member states began taking discrete actions against the group's supporters in their countries. In May 2014, for instance, Saudi Arabia withdrew the business license of a Lebanese national reportedly linked to Hizbullah. But at the time, the GCC was trying to woo Iran away from its then-deepening commitment to Syria's Assad regime, which Tehran largely accomplished by dispatching its Lebanese proxy, Hizbullah, to defend it. GCC Secretary-General Abdullatif Al-Zayani said then that the body was ready to engage Iran in dialogue if Tehran changed policy. That did not happen.
Fast forward to March 2016, and the GCC has formalised its designation of Hizbullah as terrorist for committing hostile acts within Gulf state borders. The six members of the Gulf body are still concerned about Hizbullah in Syria, but the move is also part of wider tensions between Saudi Arabia and Iran. In fact, the designation also followed Riyadh cutting some $3 billion dollars in military aid to Lebanon in February.
The GCC states' increasing concerns about Hizbullah are justified, however. Hizbullah has long been active beyond Lebanon's borders, including in the Gulf. According to the CIA, Hizbullah branches have operated there since the late 1980s. In 1986, Manama began to crack down on Bahraini Hizbullah; a year later, it arrested and tried 59 accused members. Yet the group was far from beaten. In March 1997, Kuwaiti intelligence arrested thirteen Bahrainis and two Iraqis in Kuwait City operating under the name "Hizbullah Gulf." Correspondence seized at their homes revealed they had connections with individuals in Damascus, Syria, and Qom, Iran. Other evidence suggested they were getting directives straight from Iran's Ministry of Intelligence and Security.
ACTIVITY IN THE GULF
On 12 December 1983, Hizbullah and Iraqi Dawa operatives carried out seven bombings in Kuwait, killing six people and wounding nearly 90. The targets included the American and French embassies, a primary airport in Kuwait City, the grounds of US firm the Raytheon Corporation, a Kuwait National Petroleum Company oil rig, and a government-owned power station. Ultimately, seventeen people were jailed in Kuwait -- the Kuwait 17, as they came to be called -- including several Hizbullah members.
Saudi Hizbullah carried out its first attack on a petroleum facility inside the kingdom in May 1987. Ten months later, it claimed responsibility for an explosion at the Sadaf petrochemical plant in Jubail. Saudi authorities responded forcefully, arresting and executing a number of suspected militants. In retaliation Saudi Hizbullah declared war on "the House of Saud," and assassinated Abdulgani Bedawi, the second secretary at the Saudi embassy in Turkey. Two months later, it attempted to assassinate Ahmed al-Amri, the second secretary at the Saudi mission in Karachi, Pakistan, who survived but with serious injuries. Then, on 4 January, 1989, Saleh Abdullah al-Maliki, the third secretary at the Saudi embassy in Bangkok, was shot and killed outside his home. The most well-known Hizbullah attack on Saudi interests was the June 1996 Khobar Towers bombing. Nineteen U.S. servicemen and an unspecified number of Saudi civilians in a nearby park died in that attack, which wounded another 372 Americans.
Over the following years, the Lebanese militia would carry out many more attacks at home and abroad, seeking the release of jailed comrades. These included Mustapha Badreddine, brother-in-law of senior Hizbullah commander Imad Mughniyeh. Following Mughniyeh's 2008 assassination, Badreddine assumed leadership of Hizbullah's terrorist wing, the Islamic Jihad Organisation, and later of its militia battalion in Syria, too.
More recently, during the Iraq war, Hizbullah established a dedicated unit -- Unit 3800 -- to support Iraqi Shia militias targeting coalition forces, which mostly focused on training Shia militias. Active from 2003, it also engaged in operations targeting American and British forces in the country.
Then came the war in Syria, which dramatically changed Hizbullah. While Hizbullah had dabbled in operations in the Gulf or Iraq in the past at Iran's behest, its foray into Syria completely changed its organising principles. Once focused primarily on jockeying for political power in Lebanon and fighting Israel, the group is now a regional player engaged in conflicts far beyond Lebanon's borders, often in cooperation with Iran. These are not one-off missions but part of the group's now regionally focused, pan-Shia orientation. Beyond Syria, nowhere is that more clear than in the group's increased activities in the Gulf.
Hizbullah has also sent small numbers of key operatives to train Houthi rebels in Yemen, something that angers the Gulf. On February 24, 2016, the Gulf-backed government in Yemen asserted it had physical evidence of "Hizbullah training the Houthi rebels and fighting alongside them in attacks on Saudi Arabia's border." According to the U.S. government, Khalil Harb, a former special operations commander and a close adviser to Hizbullah's leader Hassan Nasrallah, oversees Hizbullah's activities in Yemen and travels to Tehran to coordinate with Iran. Other senior Hizbullah operatives, like Abu Ali Tabtabai, a senior commander formerly stationed in Syria, have also reportedly been dispatched to Yemen.
A LONG TIME COMING
The GCC's decision to blacklist Hizbullah has been coming for some time, as underscored by the more informal June 2013 determination that Hizbullah is a terrorist group. Since then, Hizbullah activities in the region have increased. Over the past few months, Hizbullah operatives have been arrested in Kuwait, Bahrain, and the United Arab Emirates. The US Treasury blacklisted Hizbullah operatives who were using their business interests in Iraq to raise funds and provide logistical support to the group's activities there. On 26 February 2016, Saudi Arabia designated four companies and three Lebanese businessmen over ties to Hizbullah. Although the United States had already proscribed these same entities a year earlier, it was still an indication of the increasing attention the Saudi-led GCC was paying to Hizbullah.
This activity is also indicative of the geopolitical and sectarian tensions between Saudi Arabia and its Gulf Allies and Iran. These tensions, which are playing out across the region, peaked with the execution of Sheikh Nimr al-Nimr in January and the subsequent storming of two Saudi Arabian diplomatic communities in Iran. Days later, the Saudis sought Arab League and Organization of Islamic Cooperation condemnations of the attacks and of Iranian and Hizbullah activities. When Lebanon offered only "solidarity," the Saudis responded in February by cutting off monetary support to Lebanon and pulling funds from Lebanese banks. Bahrain joined Saudi Arabia in its retaliation by issuing a travel advisory warning citizens against traveling to Lebanon. The UAE said it would ban citizens from visiting the country.
While Nasrallah attempted to deflect the GCC blacklisting as an example of Israeli machinations, the truth is that, though the timing of recent GCC actions against Hizbullah is largely a factor of regional sectarian divides, Hizbullah and Iran have become increasingly active in the Gulf in recent years. Coming against the backdrop of the Iran nuclear deal, which has raised concerns among Gulf States that Tehran will use an influx of funds to destabilize them, the Gulf is especially sensitive to the activities of Iran and its proxies.
Matthew Levitt is the Fromer-Wexler Fellow and director of the Stein Program on Counterterrorism and Intelligence at The Washington Institute.
Tony Blair Faith Foundation