Bahrain Hosts Regional Maritime Security Meeting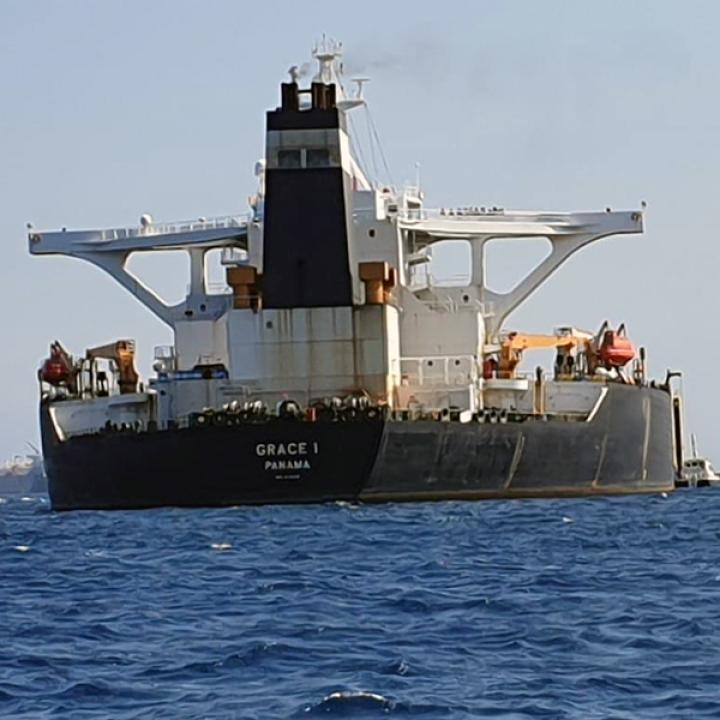 The first such gathering since the recent spate of Iranian attacks, the multinational meeting could help Washington build a coalition capable of preventing future flare-ups.
Beginning on October 21, Poland and the United States will cosponsor a two-day event in Bahrain addressing global efforts to counter Iran, the latest follow-up to the February ministerial meeting in Warsaw. Apart from discussions on weapons smuggling and other issues, the event's chief significance may lie in whether and how it positions international players to bolster maritime security in the Persian Gulf and Red Sea—a task that entails flouting Tehran's objections to foreign "interference" while respecting Gulf fears about publicly blaming Iran for recent attacks on shipping and oil infrastructure. The presence of an Israeli delegation is also noteworthy as another potential step toward wider security cooperation with Arab states.
The so-called "Warsaw Process," which involves more than sixty countries, has been gathering momentum lately, though its focus is seemingly shifting from Iran to regional stability. The Bahrain event follows two related gatherings earlier this month: a Seoul meeting on regional cybersecurity and a Washington meeting on human rights.
Israeli representatives have been involved in each event, though this week's gathering marks the first time in the Warsaw Process that they have attended despite the host country's lack of diplomatic relations with their country. Israeli officials frequently meet with their Bahraini counterparts despite this lack, though they did not attend the U.S.-sponsored "Peace to Prosperity" workshop held there in June because of security concerns. This week's representative will be an official from the Foreign Ministry; Israel's military censor has banned local media from identifying her, though her name and title were revealed in a Times of Israel report.
It is unclear to what extent the current meeting will address this summer's string of attacks on oil tankers in the Gulf and oil infrastructure in Saudi Arabia, particularly last month's major drone and missile assault on the Abqaiq processing facility. Notably, the gathering is separate from the joint military initiatives that the United States, Australia, Bahrain, and Britain have announced since those strikes. Despite all the evidence of Iranian involvement, Gulf leaders have been reluctant to blame the regime directly, so the international community will probably have to seek less direct means if it aims to forestall future attacks.
Tehran's view of Gulf security is that it is the responsibility of Gulf countries—a definition that excludes two of the meeting's key attendees, the United States (whose Fifth Fleet is headquartered in Bahrain) and Israel. President Hassan Rouhani recently presented Iran's own vision for local maritime security, the Hormuz Peace Initiative (aka "HOPE"), but it is not being taken seriously.
Tehran's diplomatic attitude may soon change following the apparent attack on one of its own tankers in the Red Sea earlier this month. Iran has yet to produce its claimed video evidence of the attack, which one official has blamed on Israel or Saudi Arabia. Assuming Iran did not stage the incident itself—no sure bet at this point—it may try to insert itself into the nascent Saudi-led Red Sea forum. Yet doing so could compel it to accept the involvement of non-littoral states, both there and in the Persian Gulf. For example, initial diplomacy surrounding the Red Sea initiative was limited to the littoral states (apart from Israel and Eritrea), but other countries could justifiably argue for inclusion as well given the port facilities they have established along the waterway, including Ethiopia, the United Arab Emirates, and Qatar. Likewise, any viable Gulf maritime coalition would have to consider the involvement of non-littoral states with key facilities, interests, and activities in the area.
To understand this imperative, one need only note that this week's diplomatic meeting will run in parallel to a major multinational maritime exercise sponsored by U.S. Central Command, dubbed IMX 19. Both the military maneuvers—which will stretch from the Persian Gulf to the Gulf of Oman, Gulf of Aden, and Red Sea—and the Bahrain discussions will be watched closely in Iran, which has an affinity for the island's majority Shia Muslim population, particularly those elements who feel discriminated against by the Sunni government.
For now, the wide disparity of views on how to deal with Iran persists, alongside lingering disquiet in some allied capitals regarding U.S. policy. It is an open question whether the Bahrain meeting will mark a significant step forward in addressing these concerns and building effective coalitions.
Simon Henderson is the Baker Fellow and director of the Bernstein Program on Gulf and Energy Policy at The Washington Institute.