Assessing Xi Jinping's Middle East Trip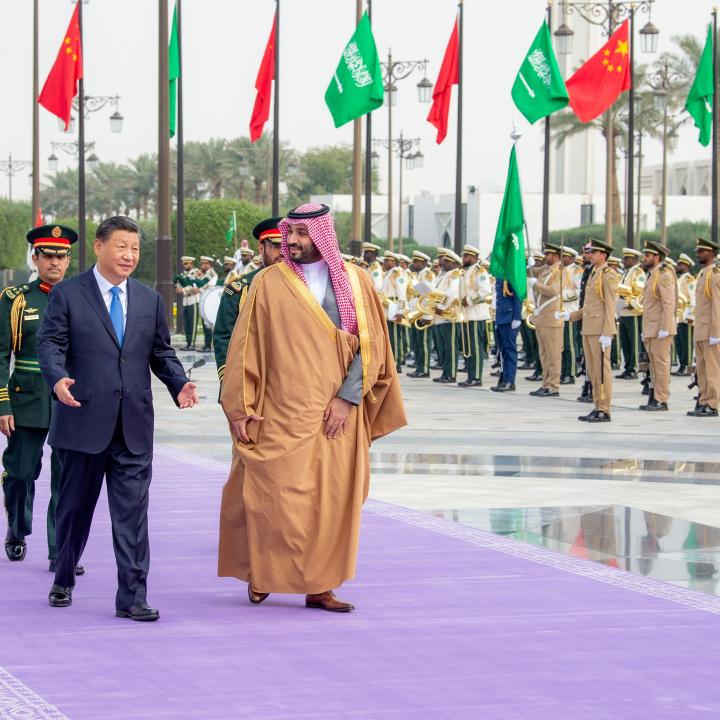 His discussions on nuclear proliferation, energy markets, defense cooperation, and other issues offered numerous contrasts with President Biden's summer meetings in Saudi Arabia—as well as some unexpected criticism of Iran.
President Xi Jinping's third visit to the Middle East as head of state concluded earlier this month in a flurry of summits, bilateral meetings, and grand pledges. In total, Chinese companies signed at least thirty-four agreements with regional firms during the tour, valued at about $50 billion. The tone of the trip was noteworthy as well, often contrasting sharply with President Biden's July visit to Saudi Arabia. While Xi emphasized a new partnership with bright horizons and described an "inexhaustible energy for growing China-Arab friendship," Biden cast the relationship as in need of modification, emphasizing "focused" and "realistic" objectives.
Comparing the Visits by Issue
Biden and Xi touched on several of the same issues during their trips, though some topics garnered more public commentary from one leader than the other.
Energy. This was a key theme for Biden—per the joint Jeddah Communique released during his trip, the United States and Saudi Arabia agreed to "consult regularly on global energy markets" and cooperate as "strategic partners" on energy initiatives (though they have since been at loggerheads on oil production). Meanwhile, Xi called for oil and natural gas transactions with Gulf Cooperation Council (GCC) countries to be traded in Chinese yuan rather than U.S. dollars. Beijing has been raising this issue with regional officials for years, but with little public progress. An anonymous Saudi official recently noted that the kingdom might begin selling small amounts of oil in yuan soon, but that it was "not yet the right time."
Trade and investment. Both China and the United States have marketed sweeping foreign investment initiatives for the Middle East and other regions: Beijing has the Belt and Road Initiative (BRI), while Washington has the newer Partnership for Global Infrastructure and Investment (PGII). Arab officials emphasized the BRI repeatedly during their multilateral summits with Xi, echoing his expressed interest in cooperation on infrastructure, manufacturing, and other sectors.
In the joint statements issued with Saudi Arabia, the language surrounding the BRI and PGII differed greatly. The U.S.-Saudi statement framed PGII projects as crucial to national security and the global energy transition, while the Chinese-Saudi statement underscored the "importance" of synchronizing the BRI with Vision 2030, Riyadh's primary economic development initiative.
Another topic of discussion was a potential free trade agreement between China and the GCC, a long-held aspiration in Beijing. Discussions over such an agreement go as far back as 2004 and have been a frequent topic for Xi, though no deal was announced during his visit.
Defense and security. Regional security featured prominently during Biden's visit. At the GCC+3 summit, he stated, "We maintain both the capacity and the absolute determination to suppress the terrorist threat wherever we find it…We're going to continue our counterterrorism efforts working with a broad coalition of countries, including everyone around this table." Similarly, the Jeddah Communique "strongly affirmed" the U.S. commitment to Saudi Arabia's "territorial defense" and vowed to keep facilitating the kingdom's efforts to "obtain necessary capabilities" toward this end.
Although no major arm sales were announced during his trip, the State Department approved two crucial air defense deals a month later. Saudi Arabia agreed to purchase 300 interceptors for its Patriot air defense system (valued at $3.05 billion), while the United Arab Emirates agreed to purchase $2.25 billion in missiles and command-and-control stations for its Terminal High-Altitude Area Defense (THAAD) system.
Defense issues were less prominent in the public statements surrounding Xi's trip. His opening speech in Saudi Arabia highlighted economic, cultural, and political ties first, then offered the standard Chinese commitments to territorial integrity and regional stability. Notably, he also mentioned that Beijing supports "the Arab side in…[building] a common, comprehensive, cooperative, and sustainable security architecture in the Middle East," inviting the Arab states to participate in China's "Global Security Initiative"—a recently launched vision for international security relationships that stand in contrast to U.S.-led alliances.
In addition, the joint Chinese-Saudi statement "affirmed their determination to develop cooperation and coordination in defense fields," enhance information sharing in combating terrorism and extremism, and exchange expertise "in the areas of early-warning risk intelligence." The joint Chinese-GCC statement echoed these sentiments and pledged cooperation to "prevent financing, arming, and recruitment" of terrorist groups in the region. Thus far, however, no new arms sales have emerged from Xi's visit.
Iran's nuclear program and regional activities. Surprisingly, U.S. and Chinese statements sounded similar notes on Iran and regional proliferation. Biden's GCC+3 remarks underscored that the United States will work closely with regional partners to "counter the threats…posed to the region by Iran." He also reaffirmed the U.S. commitment to "ensuring that Iran never gets a nuclear weapon."
The Chinese joint statement with the GCC struck a harsher tone than Beijing's previous statements on the nuclear issue, calling on Iran to "fully cooperate" with the International Atomic Energy Agency. In the past, Beijing had typically called for "dialogue" between Iran, the IAEA, and other parties to the 2015 nuclear deal. The GCC statement also noted the attendees' support for preventing "the proliferation of weapons of mass destruction in the GCC region" and ensuring "the peaceful nature of the Iranian nuclear program."                                                    
The wording on Iran's non-nuclear activities was unprecedented as well. In previous meetings with Arab and Gulf states, China has carefully calibrated its statements to avoid upsetting Tehran. Yet the GCC statement explicitly urged regional discussion to address Iran's "destabilizing regional activities" and its "support for terrorist and sectarian groups and illegal armed organizations"—topics that Beijing hardly ever mentions in public. The statement also emphasized that Iran-GCC relations should be based on "the principle of good neighborliness and non-interference in internal affairs."
Iranian officials were quick to criticize these statements. A Foreign Ministry spokesman condemned the nuclear points and maintained that Tehran had "never left" the nuclear deal. The ministry also summoned the Chinese ambassador the day after the summit to express "strong dissatisfaction."
Beijing's damage control was prompt as well. On December 13, Vice Premier Hu Chunhua was dispatched to Tehran to smooth over tensions, while a Chinese Foreign Ministry spokesman declared that the GCC countries and Iran are "all China's friends." Similarly, China's ambassador to the UN praised Tehran's "recent flexible stance" and expressed hope that the United States and others would meet Iran "halfway."
Civil nuclear programs. GCC states have publicly explored the idea of establishing nuclear energy programs for years, but little progress has been made so far. Saudi negotiations with Washington stalled during the Trump administration over disagreements on nonproliferation conditions, despite U.S. firms submitting tenders for potential construction. President Biden's July comments seemed to acknowledge this impasse—he broadly mentioned nuclear energy partnerships in the context of clean energy cooperation but said nothing more on the matter.
In contrast, President Xi repeatedly expressed interest in enhancing cooperation on the "peaceful use of nuclear energy." At the GCC summit, he underscored China's desire to establish a joint forum for peaceful nuclear technology and a joint nuclear demonstration center. Beijing has publicly announced several nuclear projects with Saudi Arabia in the past. In 2020, reports emerged that it had helped the kingdom construct a uranium extraction facility, prompting a bipartisan group of U.S. senators to raise concerns about Saudi proliferation.
Telecommunications. A major area of U.S. concern is the preponderance of regional connections to Chinese telecommunications firms. Biden's trip featured a joint memorandum on connecting U.S. and Saudi companies in order to advance two efforts: deploying 5G technology "using open radio access networks," and enabling "the development of 6G through similar technologies." The U.S. government has long worried that some countries are over-reliant on single suppliers in the telecom market, particularly those with connections to Chinese entities. Several months before Biden's trip, the Pentagon noted that the current industry dynamic "slows innovation" and makes "security issues difficult to detect and resolve."
The Saudis signed a related memorandum during Xi's trip, agreeing to deepen cooperation with the Chinese firm Huawei on cloud computing, data centers, and the construction of high-tech complexes in Saudi cities. Indeed, regional states have overwhelmingly turned to Chinese telecom firms for their network infrastructure despite U.S. warnings about the security risks. In 2020 alone, every GCC country signed 5G contracts with Huawei.
Space. The White House fact sheet on Biden's Saudi trip highlighted bilateral cooperation in "all fields of space exploration," including "human spaceflight, earth observation, commercial and regulatory development, and responsible behavior in outer space." Washington also hailed Riyadh's signing of the Artemis Accords, a series of NASA-led multilateral agreements to govern peaceful behavior in space and pursue another manned expedition to the moon by 2025.
Although China is not a signatory to those accords, Xi likewise noted that space cooperation with Riyadh is "gaining momentum." In 2021, the Saudi Space Commission signed an agreement with the China Manned Space Agency to carry out a joint mission on the Tiangong space station in 2022. During Xi's trip, Chinese media reported that the mission will be occurring "soon" but did not provide a specific date. Xi also invited other regional states to participate in joint missions on the station.
Varying Attendance and Support for China's Positions
Xi's trip had three major dialogue tracks: with Saudi Arabia, the GCC, and the broader collective of Arab states. Every Arab League country apart from Syria sent representatives to his summits, and the secretary-general of the Organization of Islamic Cooperation attended as well. Most countries sent their head of state, prime minister, or deputy crown prince, with the notable exceptions of Oman (deputy prime minister) and the UAE (the ruler of the emirate of Fujairah). Xi had one-on-one meetings with many attendees, though notably not with Jordan's King Abdullah II, Emirati ruler Sheikh Hamad al-Thani, Moroccan prime minister Aziz Akhannouch, or Libyan Presidential Council chair Muhammad al-Menfi.
According to China's readouts, Xi's bilateral meetings with Djibouti, Egypt, Kuwait, and the Palestinian Authority included affirmations of support for Beijing's policies toward Taiwan, Hong Kong, and Xinjiang, the province where successive U.S. administrations have accused Chinese authorities of committing genocide against the Muslim Uyghur population. His meetings with Algeria, Lebanon, Mauritania, Qatar, and Saudi Arabia did not go into detail on these issues, though they included support for the "One China" principle and Beijing's broader interests. His meetings with Bahrain, Iraq, Somalia, and Sudan included broad support for Chinese interests but did not list any specifics. Lastly, representatives from Oman, Tunisia, and Yemen thanked China for its support without touching on other issues. In contrast, the final communique of the China-Arab summit emphasized the "firm commitment of the Arab countries to the principle of one China," the view that "Taiwan is an integral part of Chinese territory," the rejection of "Taiwan's 'independence' in all its forms," and support for "the Chinese position in the Hong Kong file."
Grant Rumley is the Goldberger Fellow at The Washington Institute and author of its recent study "China's Security Presence in the Middle East: Redlines and Guidelines for the United States." Carol Silber, Eric Feely, Sarah Cahn, Sude Akgundogdu, Lauren von Thaden, and Faris Almaari are research assistants at the Institute. This PolicyWatch is published under the auspices of the Institute's Diane and Guilford Glazer Foundation Program on Great Power Competition and the Middle East.
Topics
Regions & Countries