Assessing the Post–July 15 Turkish Military:
Operations Euphrates Shield and Olive Branch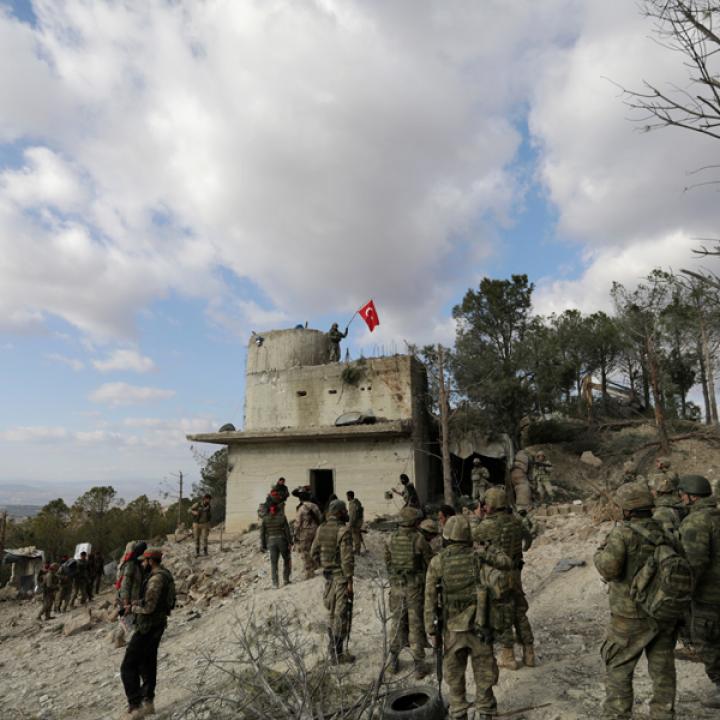 After Turkey's July 2016 failed military uprising, the leadership initiated purges and reforms aimed at ensuring the military's future loyalty, but raising questions about the operational efficiency and effectiveness of the newly configured Turkish Armed Forces. Two subsequent cross-border operations into northern Syria provide valuable insight: Operation Euphrates Shield, lasting from August 2016 to March 2017, and Operation Olive Branch, from January to March 2018. OES, as it is known, targeted the Islamic State, whereas OOB sought to counter the People's Defense Units (YPG), a Kurdish group operating in Syria. Although neither campaign fully persuaded international actors that the TAF could rise to the top as a broker in northern Syria, the Turkish military demonstrated striking improvements during the second operation.
In this Policy Note, security analyst Metin Gurcan examines the TAF's evolution from one operation to the next, including the challenge of achieving both operational and strategic goals. The United States would be wise to take note, given the likelihood of future Turkish anti-YPG incursions into Syria and their portent for stability in the region.
THE AUTHOR
Metin Gurcan, a Turkish security analyst and columnist for Al-Monitor, has been published extensively in Turkish and foreign academic journals on terrorism, Turkish civil-military relations, military history, Turkish foreign policy, and the changing nature of warfare. He is the co-editor of The Gallipoli Campaign: The Turkish Perspective (Routledge, 2016) and author of What Went Wrong in Afghanistan? Understanding Counter-Insurgency in Tribalized Rural Muslim Environments (Helion & Company, 2016).