Ashab al-Kahf Threatens U.S. Helicopters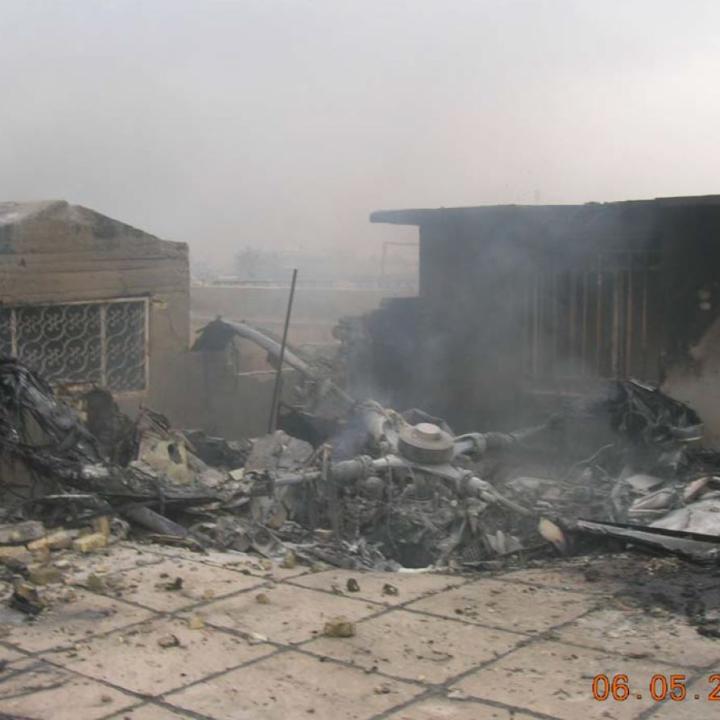 In its latest threats to U.S. aviation, the oldest militia facade group in Iraq made an interesting callback to a deadly 2006 shootdown of a British helicopter.
On April 22, Combined Joint Task Force-Operation Inherent Resolve issued a short statement noting the following: "On the morning of April 22, 2023, a Coalition Unmanned Aerial Vehicle (UAV), in direct support of Iraqi Security Forces (ISF) operations, experienced a mechanical failure and crashed south of Kirkuk, Iraq...Coalition service members cleared the area with a controlled detonation." 
Ashab al-Kahf (AK), a muqawama (resistance) facade group affiliated with Harakat Hezbollah al-Nujaba (HaN) and Asaib Ahl al-Haq (AAH), seized this opportunity to imply that it had shot down the UAV, posting a Telegram message that read: "At the village of Saad, near Daquq [south of Kirkuk], the enemy tastes the bitterness of humiliation and defeat. It's the days of changing equation between the camp of truth and the camp of Satan" (Figure 1). 
AK then quickly delivered a threat to manned aircraft in a subsequent post: "[Downing] the manned [aircraft] is different from [downing] the drone. The targeting may take place in Baghdad, who knows?" (Figure 2).
AK had made similar threats to air assets in two previous posts. An April 6 post showed a Chinook helicopter seemingly flying over Baghdad, and the accompanying English-language message read, "We are serious" (Figure 3). A few days later, AK posted a short video of two helicopters seemingly flying over Baghdad, warning, "We are not like those who threaten without acting. The English know" (Figure 4).
The "English" comment was likely a reference to the May 6, 2006, fatal shootdown of a British Lynx helicopter over Basra, which killed five personnel. The crash was caused by a man-portable air-defense system (MANPADS) according to the British government, with a Daily Telegraph press leak specifying an SA-14 missile brought into Iraq from Iran. At the time, the attack was attributed to AAH.
These anti-air threats are the first to be made by AK, which leans toward Sadrist splinters such as HaN and AAH. The last major round of anti-air threats were made in July 2021 by muqawama outlets more closely tied to Kataib Hezbollah and Kataib Sayyid al-Shuhada. This suggests that AK is honing its distinctive role in the muqawama network as running anti-U.S. militancy in Iraq, a role it claims to have pioneered since 2017.