Ashab al-Kahf Seeks Recruitment Gains from Hints of Violent Operations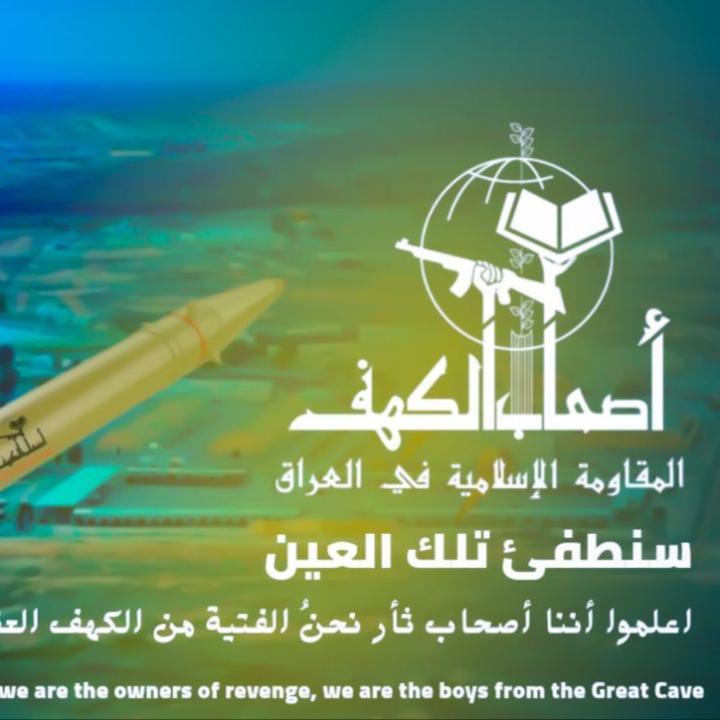 The group has been posting more theatrical messages to suggest it is a real armed "resistance" movement, but without any evidence of actual kinetic operations.
In the early hours of May 29, the Telegram channel of the Iraqi militia facade group Ashab al-Kahf (AK) posted a "temporary" internal message addressed to someone named Abu Yasser. The short message read "Temporary. This is for Abu Yasser." The post was deleted a few minutes later.
Quickly after that, a longer post addressed Abu Yasser again, this time giving him some instructions: "Assalamu Alaikum, our brother the living martyr Abu Yasser...Our beloved brother, we ask you to get the brothers ready. The brothers from the special [forces] will reach you [to see] if you need anything. Get prepared, you who cut off their limbs...Our war will begin in days" (Figure 1). This message was also deleted a few minutes later.
One hour later, another message offered more specific instructions, asking "the youth of 313" to "quickly leave Nineveh (Mosul)...and to move to a new theatre that you will be informed of in the morning." The message continued: "We kiss your firm feet...and your hands that have always fired missiles at the arrogant Turks...Return to Baghdad and the center and the south [of the country], we may ask you to do what your proud souls desire" (Figure 2). This message was also later deleted. Despite being removed from AK's main channel, however, all of these messages remained posted on other Telegram channels affiliated with the group. 
This behavior is unusual for AK, which is typically not careless enough to use a public social media channel for internal messaging. In the past, AK and other Iran-backed muqawama (resistance) groups have used social media to launch information operations, make threats, exaggerate their capabilities, and even claim responsibility for fake attacks. But they have never revealed military plans—such as moving units from one region to another—on social media.
One explanation for this unorthodox messaging could be related to efforts by AK and the wider muqawama to hollow out the rival Sadrist group Saraya al-Salam (SAS). On May 27, social media channels linked to AK revealed the name of one of its deceased commanders for the first time. A newly created Telegram channel called "Ahl al-Kahf" posted a video clip of Naji al-Maryani, a former high-ranking SAS figure who once served as "Jihadi Deputy" to Muqtada al-Sadr. The post introduced Maryani as "one of the elite [fighters] of AK." The message continued: "This is the first time we announce this...Where are Sayyed Naji's brothers? The Americans, the British, the Israelis, and the Gulf states move [freely] in Basra" (Figure 3).
This seems to be an invitation for SAS fighters in Basra—where Maryani was from—to help with AK's operations. It could also be an attempt to recruit SAS fighters as permanent AK members.
In November 2018, Maryani and a few other fighters were expelled from SAS. In August 2020, he died of COVID-19. A month later, the muqawama erected posters of him at the borders of Lebanon and Israel (Figure 4). That same month, Sadrist social media accounts revealed Maryani's links to AK. Yet this information remained unknown to most people until now, with AK seemingly deciding to use it as a way of encouraging more SAS fighters to defect.
Naming Abu Yasser could serve the same purpose. AK's partly deleted messages may have been referring to the high-ranking SAS commander Abu Yasser, who like Maryani used to serve as Sadr's "Jihadi Deputy." In November 2021, Sadr demoted Abu Yasser to "only a Jihadi Advisor." AK may now be trying to attract more Sadrist militiamen by suggesting that other high-ranking SAS commanders have already done so.
Such an approach would be in line with wider muqawama efforts to recruit influential SAS commanders. On May 14, SAS expelled prominent Basra commander Abu Hassan al-Darraji for "treason." He quickly joined the muqawama group Asaib Ahl al-Haq.
Based on the balance of available evidence, Militia Spotlight assesses that numerous recent communications by AK—including threats against U.S. helicopters and retroactive claims to have killed Americans—likely have an ulterior motive. AK is probably not ramping up a powerful kinetic campaign against the residual U.S. presence in Iraq, but instead using the imagery of past resistance actions to strengthen its current brand, despite the lack of contemporary armed resistance to the U.S. presence.