Arabian Rendezvous: What the President Can Achieve in Riyadh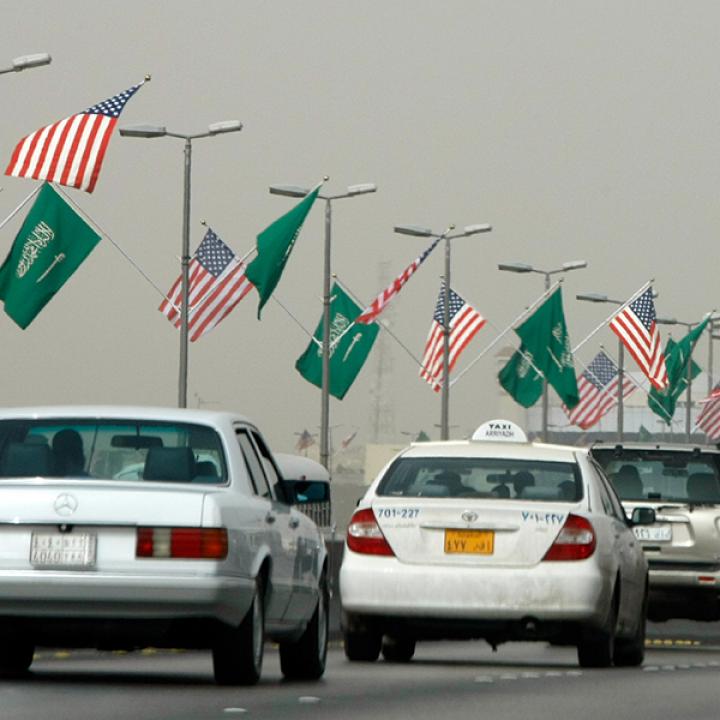 Three Saudi summits in two days could provide powerful images of Washington's new relationship with the region, but key differences on terrorism, Iran, and Arab-Israeli peace will still need to be overcome.
President Trump's first foreign trip -- a nine-day tour scheduled to begin this week -- is hugely ambitious in terms of both geography (Riyadh, Jerusalem, Bethlehem, Rome, Brussels, and Sicily) and policy (terrorism, Iran, Middle East peace, NATO, and the global economy). Given the evolution of his policy preferences since taking office, his every word and facial expression will be scrutinized closely. Yet platitudes are more likely than substance under the current circumstances -- the published agenda of the Riyadh summits, for example, avoids any mention of crucial topics such as dealing with the Islamic State (IS) and al-Qaeda, countering Iran's troublemaking, or advancing Arab-Israeli peace. Even so, there are opportunities in each of these areas.
FINDING A COMMON FOCUS ON TERRORISM
The president is expected to participate in three summits during the Riyadh leg of his tour: one with King Salman, one with the leaders of the Gulf Cooperation Council, and another with leaders from throughout the Arab and Muslim worlds. In the latter case, he is slated to deliver a speech on Islam. This is a potential minefield because many officials in the audience will no doubt profess that Islam is a religion of peace and has nothing to do with terrorism. Yet Trump's February 28 speech to Congress mentioned protecting the American people from "radical Islamic terrorism," which he rendered for emphasis as "Radical. Islamic. Terrorism." This, he explained, was the background to his immigration restrictions on several Muslim countries. National Security Advisor H. R. McMaster reportedly tried to convince the president to stop using the term, so it will be illuminating to see whether it surfaces in the Riyadh speech; yesterday, McMaster told reporters that Trump "will deliver an inspiring, direct speech on the need to confront radical ideology and the president's hopes for a peaceful vision of Islam." Whatever happens, a photo of President Trump surrounded by fifty-plus leaders of the Islamic world could undermine the claim back home that he is anti-Muslim.
In another passage from his February speech, the president said he had ordered the Pentagon to develop a plan to "demolish and destroy" IS. Describing the group as "a network of lawless savages that have slaughtered Muslims and Christians, and men, women, and children of all faiths and beliefs," he pledged to "work with our allies, including our friends and allies in the Muslim world, to extinguish this vile enemy from our planet." The Saudi government probably welcomed this formulation, but differences remain on how to meld anti-IS policies with the future of Syria and the persistent al-Qaeda threat in lawless areas such as Yemen. Some senior Saudi officials have implausibly claimed that IS and al-Qaeda (both exclusively Sunni groups) are controlled by Iran's Shia Islamic regime. In contrast, more than a few of the leaders scheduled to attend the Riyadh summits blame the ongoing outburst of militancy on Wahhabism, the extreme brand of Islam that Saudi preachers have propagated across the world for decades.
SWAYING THE IRAN FENCE-SITTERS
Iran will hold its presidential election the day before Trump's arrival in Riyadh, and voters will essentially be choosing between two main candidates: the reformist incumbent Hassan Rouhani and the hardline conservative Ebrahim Raisi. Although the outcome could have a major impact on the region, the Saudis are convinced that the Iranian regime is the problem, not whoever holds the presidency. Neither Iran nor its Syrian client was invited to the Islamic summit in Riyadh, but Iran is central to what the Saudis want to gain out of the meetings. Apart from confirming their kingdom's status as the leader of the Arab and Muslim worlds, they also want to depict the strength and depth of Islamic opposition to Tehran's brand of revolutionary Shia Islam.
Yet several of the statesmen coming to Riyadh are probably reluctant to endorse this approach. Prime Minister Nawaz Sharif of Pakistan is seen as close to the Saudis, who once gave him political asylum, but his country has been careful to remain outwardly neutral given its tense border situation with Iran. Iraq is typically cautious about Tehran as well, which is perhaps why it will be represented at the summit by President Fuad Masum rather than Prime Minister Haidar al-Abadi, whom Riyadh regards as an Iranian stooge.
Under the circumstances, it would be a coup for Riyadh if Sultan Qaboos of Oman attended, since the pro-Western leader normally tends to balance his relations with Saudi Arabia and Iran carefully. King Abdullah of Jordan likely spent part of last weekend's visit in Muscat trying to cajole Qaboos  to come, but the sultan is upset with the Saudis for their continued military operations in Yemen, where the Gulf coalition has been trying to reinstate the internationally recognized government of Abdu Rabu Mansour Hadi. President Hadi himself will be attending the summit, but he has little choice in the matter -- according to various diplomats, the Saudis placed him under de facto house arrest in Riyadh because they deemed his political activities in the liberated port city of Aden as too meddlesome.
Perhaps the most controversial leader invited to the Islamic summit is President Omar al-Bashir of Sudan, who has been charged with genocide by the International Criminal Court. For the United States, his attendance is a protocol challenge; for Saudi Arabia, it is a gesture of thanks. Formerly an ally of Iran, Bashir was flipped into the Saudi camp a few years ago, almost certainly via financial inducement. Today, Sudanese soldiers are fighting in Yemen as part of the Saudi-led coalition.
FURTHERING ARAB-ISRAELI PEACE
Another big question is whether the summits will produce any shift in position on the Israeli-Palestinian issue. At least some of the Gulf Cooperation Council states -- Saudi Arabia, Kuwait, Bahrain, Qatar, the United Arab Emirates, and Oman -- are widely expected to make gestures toward normalization with Israel, perhaps on issues such as direct telecommunications, more open trade, or overflight rights as discussed below. Countering Iran has become just as important to them as making progress on the Palestinian track, if not more so, and Israel shares this mindset. For his part, Palestinian Authority president Mahmoud Abbas is attending the summit and will be anxious to build on President Trump's recent call for renewed peacemaking.
The United Arab Emirates has been the most forward Gulf state when it comes to normalization. UAE officials have allowed Israel to send a mission to the Abu Dhabi-based International Renewable Energy Agency (IRENA). And in March, the UAE air force participated in a joint military exercise in Greece that included an Israeli contingent.
For the most part, the summits will likely stick to long-held diplomatic positions on the Palestinian issue, but President Trump may still be able to carry some good news to his next scheduled stop in Jerusalem. The Gulf states already conduct a considerable amount of quiet trade with Israel, and at least one undeclared Gulf-based Israeli consulate has been set up to facilitate it. The Saudis could further such rapprochement during this week's discussions by promising Trump that aircraft flying to and from Israel will be permitted to transit the kingdom's air space. President Obama first made this request eight years ago, but the late King Abdullah rejected it out of hand. Perceptions may be changing in the kingdom, however. Last week, the English-language daily Arab News -- widely read by diplomats and foreign executives and part of a media group owned by King Salman -- carried an op-ed titled "My Enemy's Enemy Is My Friend." The enemy was Iran; the friend was Israel. The day before, the same newspaper reported on the annual Jewish pilgrimage to a synagogue in Tunisia.
Intended or not, Riyadh also made a helpful gesture toward Israel by reportedly expressing an interest in buying the sophisticated Terminal High-Altitude Area Defense (THAAD) system as part of a reported $100 billion in arms deals with the United States. Any such systems deployed in the kingdom could also protect Israel from Iranian missile attacks.
CONCLUSION
The very ambition of the three Riyadh summits -- and the huge logistical challenges of dealing with so many heads of state at the same time -- may limit their success. Yet while breakthroughs on tough issues seem unlikely, some regional actors have shown a newfound willingness to change rigid positions, and President Trump should encourage such shifts.
Simon Henderson is the Baker Fellow and director of the Gulf and Energy Policy Program at The Washington Institute, and coauthor of its 2017 Transition Paper "Rebuilding Alliances and Countering Threats in the Gulf."