The Apostasy of Patriotism: ISIS and the Nice Attack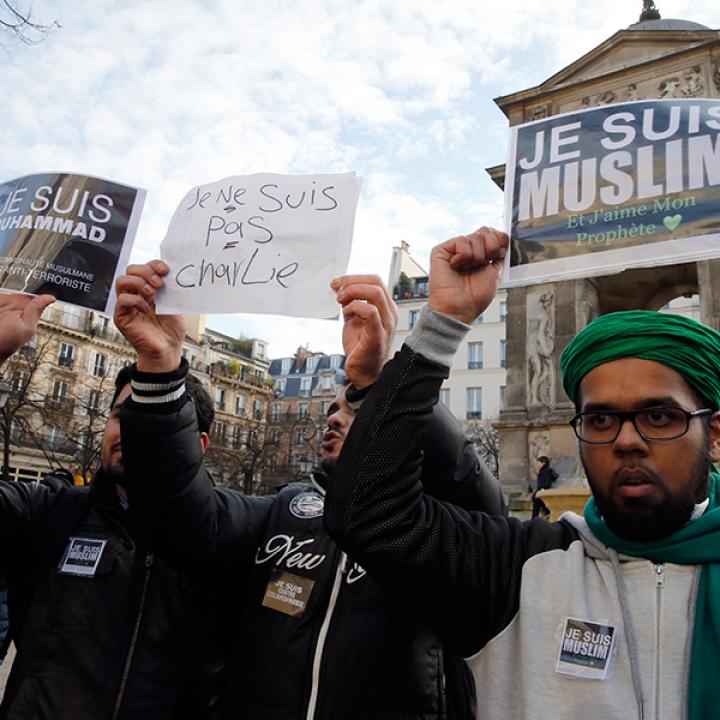 Murdering civilians for celebrating Bastille Day is the group's warped way of showing that any kind of political allegiances and national pride are violations of Islam, and that joining the Islamic State is the only path for true Muslims.
On the French holiday of Bastille Day, Mohamed Lahouaiej Bouhlel drove a truck into a crowd of people celebrating in Nice, killing 84. What does Bastille Day have to do with Islam? To the world, nothing. To the Islamic State, everything.
The tragic truck attack in Nice is a manifestation of a theme at the core of the Islamic State's doctrines, as it has been for Salafis (or Sunni fundamentalists) of all kinds for decades -- that any expressions of support for nation states is a violation of God's oneness and unduly divides Muslims according to unauthorized forms of personal identity. An early expression of this idea came from 'Abd al-'Aziz Ibn Baz (d. 1999) -- one of the doyen of twentieth century Salafism who would later become the Grand Mufti of Saudi Arabia -- in a short treatise on The Critique of Arab Nationalism in light of the Qur'an and Reality in which he warned that allegiance to nationalism would drive Muslims away from following the tenets of Islamic scriptures.
Other thinkers wrote to similar effect. More detailed instructions on what to avoid and the reasons for doing so came from Muhammad Nasir al-Din al-Albani (d. 1999), whose ideas influenced both the messianic cult of Juhayman al-'Utaybi that stormed the Grand Mosque in Mecca in 1979. Observing the popularity of Arab nationalism in his native Damascus in the 1940's, Albani commented that "an Arab is only more deserving of divine blessings over a non-Arab because of piety" and explained that "an Arab should not forget the reason for his virtue...that he is a carrier of the Islamic call unto other nations." Years later, Albani would explain that to follow the Prophet Muhammad means to avoid playing national anthems, to avoid nationalist identity, and avoiding participating in elections and popular protests.
In short, the Islamic State's attack in France on Bastille Day -- a holiday celebrating French national identity -- is one interpretation of a tradition that goes back at least a century. Where did this opposition to nationalism become justification for violence? The answer has to do with what it means to follow the Prophet Muhammad's sunna, or normative example.
Here the Islamic State draws on the legacy of jihadism, but adds to it. Jihadis believe that anyone who departs in any way from the Prophet's sunna ceases to be Muslim. Moreover, following the criteria of belief outlined by Ibn 'Abd al-Wahhab (d. 1792), anyone who fails to out fellow Muslims for unbelief also ceases to be a believer. And so on. Where the Islamic State adds to this tradition is that it claims to provide for the world's Muslims a solution: a pure "Islamic" state. Indeed, in its view, loyalty may only be paid to Islam and not to the nation state -- the title of one of its pamphlets -- and by definition anyone who resists fighting on its behalf or moving to territories under its control ceases to be a Muslim.
As I recently discussed in a publication for the Washington Institute for Near East Policy, the Islamic State teaches children about democracy, nationalism, and patriotism. However, these subjects are not found in a textbook on history or social science, where one might expect them. Rather, there are entire chapters on each of these in its textbooks on creed, and in which all are presented as not only deviations from the Prophet Muhammad's example but -- in line with the jihadist view -- as violations of monotheism. By extension, Muslims who affiliate in any way with these kinds of identities, in the Islamic State's view, cease to be Muslim.
Which brings us to Bastille Day, France, 2016. This was an attack on the West for celebrating liberty. It was also an attack on Muslims for partnering with the West for celebrating their Islam through liberty. The Islamic State is making the point that any kind of political allegiances and national pride are violations of Islam -- more specifically, that one is only a Muslim if one joins the Islamic State. In their pamphlet on "loyalty to Islam and not to the nation state," published in January 2015, they write that "patriotism is a form of great unbelief that removes one from the fold of Islam, and whoever calls to it or follows it or acts for its cause is an apostate from the Islamic faith."
The attack was also a campaign slogan for the Islamic State's cause -- Muslims, in its view, today have no excuse for celebrating national identities when they have an Islamic one of their own in Iraq and Syria. So long as we leave Iraq and Syria unresolved, we will continue seeing this view inspiring more such attacks in the future.
Jacob Olidort is a Soref Fellow at The Washington Institute.