Michael Herzog, Institute International Fellow, Named as Israel's Ambassador to United States
Washington, DC - The Washington Institute for Near East Policy congratulates Michael Herzog, who has long contributed to the organization's research and analysis as an international fellow, on his appointment as Israel's ambassador to the United States.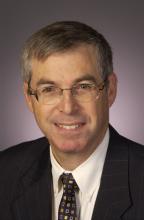 "A soldier and a scholar, respected by policymakers across the political spectrum in both Israel and the United States, Mike is uniquely qualified to represent his country with distinction in Washington," says Institute Executive Director Robert Satloff. "Mike has strengthened US-Israel partnership through his many years of quiet, effective work as a foreign policy analyst and practitioner, experience he will bring to his new role. We look forward to his contributions in bolstering this strategic relationship as Israel's envoy to the United States."
During his tenure with the Institute, Herzog has written and spoken extensively on the issues at the heart of the U.S.-Israel relationship, from the Arab-Israel peace process to Israel's military preparedness to the challenge of a nuclear Iran. Over the years, he has appeared extensively in the global media.
Herzog is a retired brigadier general in the Israel Defense Forces (IDF) who held senior positions as chief of staff or military aide to four ministers of defense. Since 1993, he has played a key role in the Arab-Israeli peace process, participating in most of Israel's negotiations with the Palestinians, Jordanians, and Syrians, including the Wye Plantation summit, Camp David summit, the Taba negotiations, and the Annapolis summit and subsequent talks - a diplomatic role that continued away from the limelight even when the sides were not engaged in formal.negotiations.
Herzog's military career has included service as head of the Strategic Planning Division (1998-2001), deputy head of the Strategic Planning Division (1995-1998), member of the Intelligence Corps (1974-1994), and infantry soldier (1973 war). He holds degrees from Haifa University (MA), the Hebrew University of Jerusalem (BA), and Israel's National Defense College.
He is the son of former Israeli president Chaim Herzog, who served from 1983 to 1993, and the brother of the current president of Israel, Isaac Herzog.
Media Contact: Anna Brown, 202-230-9550, press@washingtoninstitute.org.
About The Washington Institute: The Institute is an independent, nonpartisan research institution funded exclusively by U.S. citizens that seeks to advance a balanced and realistic understanding of American interests in the Middle East and to promote the policies that secure them. Drawing on the research of its fellows and the experience of its policy practitioners, the Institute promotes informed debate and scholarly research on U.S. policy in the region.