Former UN Peace Process Envoy Nickolay Mladenov Joins The Washington Institute
Widely Respected Diplomat to Serve as Segal Distinguished Visiting Fellow
Washington, D.C. - Nickolay Mladenov, former UN special coordinator for the Middle East peace process, has joined The Washington Institute for Near East Policy, the research organization announced today.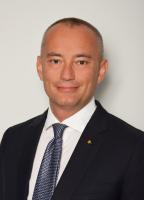 "We are thrilled that Nickolay has joined the Institute as our Segal Distinguished Visiting Fellow," said Executive Director Robert Satloff. "Thanks to his sensitivity and creativity, he is that rare international diplomat to earn high praise and expressions of confidence from both Israelis and Palestinians. At a time when Washington is wrestling with how to prevent further violence and advance peace diplomacy following the recent conflict between Hamas and Israel, his ideas and insights are sure to be highly valued."
Mladenov's career has included serving as Bulgaria's minister for foreign affairs and minister of defense as well as a member of the European Parliament. In 2013, he was appointed representative for Iraq and head of the United Nations assistance mission for Iraq by the United Nations Secretary-General Ban Ki-moon. He assumed the Middle East peace process post two years later and during his five-year tenure, he played a critical role in helping to defuse cross-border violence between Israel and Hamas and to preserve the idea of a negotiated solution to the Israeli-Palestinian conflict.
At the Institute, Mladenov will join a team of experts within the Koret Project on Arab-Israel Relations that includes former State Department official David Makovsky, program director and Ziegler Distinguished Fellow; William Davidson Distinguished Fellow Ambassador Dennis Ross, former presidential special envoy for Middle East peace; and Senior Fellow Ghaith al-Omari, former advisor to the Palestinian negotiating team. Prior to his recent appointment as Israeli ambassador to the United States, Institute International Fellow Michael Herzog was also a key member of this team.
Media Contact: Anna Brown, 202-230-9550, email.
About The Washington Institute: The Institute is an independent, nonpartisan research institution funded exclusively by U.S. citizens that seeks to advance a balanced and realistic understanding of American interests in the Middle East and to promote the policies that secure them. Drawing on the research of its fellows and the experience of its policy practitioners, the Institute promotes informed debate and scholarly research on U.S. policy in the region.