Biden Nominates Michael Singh for U.S. Institute of Peace Board
Former Fellow Kathryn Wheelbarger also Named to Prestigious Panel
Washington, D.C. - President Joe Biden has nominated two Institute-affiliated professionals for membership on the board of directors of the prestigious U.S. Institute of Peace (USIP): Lane-Swig Senior Fellow Michael Singh and former Rosenblatt Visiting Fellow Kathryn Wheelbarger.
"We could not be more delighted that the President has named these two eminent foreign policy practitioners for the USIP Board," stated Institute Executive Director Robert Satloff. "Through their service at the highest levels of government and contributions to our public debates over strategy and policy, Mike and Katie have embodied the attributes of professionalism, expertise, and commitment to advance the national interest."
Mike is the Institute's managing director and interim director of its Diane and Guilford Glazer Program on Great Power Competition and the Middle East. In the George W. Bush administration, he served as senior director for Middle East affairs at the National Security Council as well as special assistant to secretaries of state Colin Powell and Condoleezza Rice. He later served as co-chair of the Congressionally-mandated Syria Study Group and served on the Congressional Task Force on Extremism in Fragile States. In addition, he co-chaired Mitt Romney's State Department transition team in 2012 and served as Middle East advisor to the Romney campaign. Mike also serves on the "Welcome Council" of Welcome.US, a bipartisan initiative to empower Americans to welcome refugees.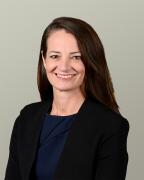 Katie, the Rosenblatt Visiting Fellow in 2021, is currently vice president for future concepts at Lockheed Martin Government Affairs, where she leads a team focused on encouraging advanced technological solutions to global security challenges. She held a number of important positions in government agencies and on Capitol Hill, including acting assistant secretary of defense for international security affairs in the Trump administration; policy director and counsel for the U.S. Senate Committee on Armed Services; deputy staff director and senior counsel on the House Permanent Select Committee on Intelligence; counsel to Vice President Richard Cheney; and counselor to Secretary of Homeland Security Michael Chertoff.
The nominations must be approved by the Senate. The United States Institute of Peace is a national, nonpartisan, independent institute, founded by Congress and dedicated to the proposition that a world without violent conflict is possible, practical and essential for U.S. and global security.
Media Contact: Anna Brown, 202-230-9550, email.
About The Washington Institute: The Institute is an independent, nonpartisan research institution funded exclusively by U.S. citizens that seeks to advance a balanced and realistic understanding of American interests in the Middle East and to promote the policies that secure them. Drawing on the research of its fellows and the experience of its policy practitioners, the Institute promotes informed debate and scholarly research on U.S. policy in the region.