Will the PKK and the Islamic State Bring Turkey and Russia Closer Together?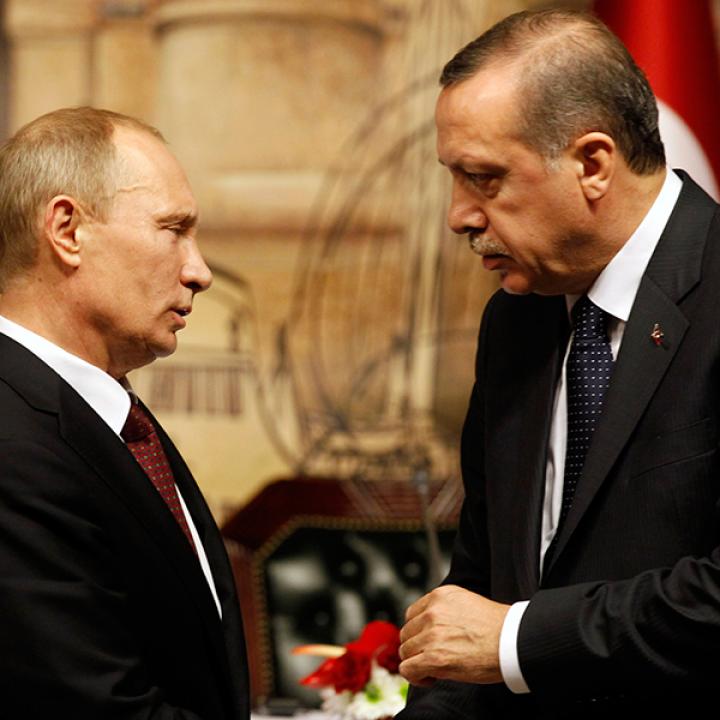 If Ankara wants to intervene against the Islamic State in Syria, block Kurdish advances, and defeat the PKK at home, it may decide to do whatever is necessary to placate Moscow, perhaps even cutting off support for certain anti-Assad rebel groups.
On June 29, Turkish president Recep Tayyip Erdogan and Russian President Vladimir Putin spoke by telephone to calm festering bilateral tensions. The call, which was prearranged and reportedly lasted about half an hour, came two days after a letter in which Erdogan expressed his regrets for the November 2015 downing of a Russian military plane that had violated Turkish airspace from Syria. The conversation also came on the heels of a June 28 attack by suspected Russian, Uzbek, and Kyrgyz suicide bombers against Istanbul Ataturk Airport, which killed 45 people and injured over 250. Given the rise in terrorist attacks on Turkish soil this year, better relations with Moscow are likely to be key as Ankara weighs its military response against the perpetrators, most notably a potential takeover of Syria's Azaz-Jarabulus corridor.
BACKGROUND
Bilateral relations have plummeted since the November shootdown incident. At the time, Moscow claimed the aircraft never violated Turkish airspace and called the decision to fire on the plane a provocation. For its part, Turkey was already angry about repeated violations of its airspace, though the more proximal trigger for the shootdown was Russia's repeated strikes against Ankara-backed Syrian Turkmen militia forces fighting Bashar al-Assad's regime.
Putin subsequently banned Turkish imports and began a series of actions intended to punish Erdogan for the decision and intimidate Ankara into cutting off its support for anti-Assad rebels. For example, Turkey has since been targeted by a number of massive cyberattacks, including one that caused rolling blackouts throughout the country in March; some Turkish officials have privately linked such cyberattacks to Russia. The Kremlin also deployed additional troops to Armenia and set up an air-defense system in Syria, effectively encircling Turkey on three sides given the ongoing Russian military presence in Crimea. In addition, Moscow began supplying weapons to the Democratic Union Party (PYD) in Syria, a group whose sister organization, the Kurdistan Workers Party (PKK), is fighting government forces inside Turkey.
What really struck a nerve with the Kremlin in recent months was the Syrian rebels' increased use of antiaircraft weapons -- most likely provided to them by Gulf Arab countries via Turkey -- to down Assad regime aircraft on March 13, April 5, and April 23. Days after the latter attack, Russian official Semyon Bagdasarov threated that Moscow could provide the PKK -- designated a terrorist organization by Washington and NATO -- with similar weapons. And on May 13, the PKK released a video of one of its fighters downing a Turkish Cobra helicopter with a 9K38 Igla man-portable air-defense system (MANPADS). Interestingly, the weapon in the video appeared to be a variant made for Russian domestic use, not a stripped-down export model sold to the Syrian regime, whose stockpiles of MANPADS have been raided repeatedly during the uprising. This raised questions about whether Moscow had followed through with Bagdasarov's threat.
TURKISH REASONS FOR DE-ESCALATION
Russia is Turkey's historic nemesis, so its return as an adversary concerns not only Erdogan, but also the broader foreign policy-making community in Ankara. This concern likely prompted the recent letter of regret.
Erdogan also has his own reasons for making up with Moscow. Whether or not the Kremlin is sending weapons to the PKK, Russian military support to the PYD threatens to block Erdogan's domestic political agenda. Under the Turkish constitution, he is formally the head of state but not head of government, and he had to leave the ruling Justice and Development Party (AKP) by law after becoming president in 2014. He now hopes to either win a popular referendum on his proposed constitutional amendments or build an AKP supermajority in parliamentary snap elections -- either development would allow him to make Turkey an executive system with a partisan president, further consolidating his power. Yet the AKP seemingly maxed out its voter share in the 2011 and 2015 elections, so either strategy would require Erdogan to build the party's base. To this end, he is eyeing voters from the right-wing Nationalist Action Party (MHP), believing that a military victory against the PKK would bring some of them to the AKP's fold and give him enough votes for a referendum win or a legislative supermajority.
In order to defeat the PKK, however, Erdogan knows he must delink Russia and the Kurds, hence his push for normalization with Putin. He will find support in this effort across Turkey's nonpartisan policymaking community, including the secular-minded and formerly adversarial Turkish military.
RACE FOR THE AZAZ-JARABULUS CORRIDOR
Delinking Russia and the Kurds would not only allow Erdogan to defeat the PKK at home, but also undermine Kurdish gains in Syria. Over the past two years, the PYD has united its Kobane and Jazira cantons in northeastern Syria into a self-declared territory called "Rojava." The group's goal is to achieve autonomy for the Kurds and make Rojava the hub of U.S.-supported operations against the Islamic State (IS).
Toward that end, the PYD seeks to link Kobane-Jazira with its northwestern canton of Afrin. Isolated between Turkish provinces to the west and north as well as Syrian areas controlled by Sunni Arab rebels and IS to the east and south, Afrin has struggled to hold its own during the war. When the Assad regime recently sought to close the Marea line north of Aleppo and east of Afrin, Russia reportedly provided weapons and air support to Afrin-based PYD fighters, which helped the group make gains in the area at the expense of Turkey-backed rebels. Moscow's move was designed not only to support Assad, but also to aggravate Erdogan. Russia even allowed the PYD to establish an office in Moscow, complete with a map showing Rojava stretching across Turkey's 450-mile border with Syria.
Following the horrific attack on Istanbul airport and prior cross-border operations by IS, Ankara is under increasing pressure to take military action against the terrorist organization. And given Erdogan's strongman political platform, he is unlikely to let IS get away with the attack. Turkey has already been active against IS forces inside Syria, particularly in the long corridor between Azaz and Jarabulus. There, Ankara-backed rebels are working with the United States to wrest control away from the group, pressing the corridor from its western end near Azaz and Marea. At the same time, the U.S.-backed People's Defense Units (YPG), a militia aligned with the PYD and the Syrian Democratic Forces (SDF), is pressing against the corridor from the east near the town of Manbij.
A direct Turkish foray into the corridor would allow Ankara to crack down on IS even more, and any such proposal will be popular among Turks following the Istanbul attack. The area has attracted considerable attention in the past as a smuggling route for foreign fighters transiting Turkey to join IS, and Ankara's crackdown on cross-border activities over the past year is what likely spurred the group's terrorist campaign against Turkish cities.
Intervening against the IS pocket near Manbij would also serve another Turkish interest: interrupting the PKK and PYD's plans. While Ankara clearly regards IS as a threat, it still sees the PKK in a similar or even more glaring light. Yet despite Turkey's longstanding warnings about allowing the PYD/YPG to cross the Euphrates River, the Syrian Kurds have received the green light from Washington to do just that, mainly in order to attack Manbij. PYD officials have often said that closing the Manbij pocket would help them unite the Kobane-Jazira and Afrin cantons. Yet by seizing control of the western part of Azaz-Jarabulus corridor, Turkey could preempt any such Kurdish plans.
WHAT RUSSIA GETS
The problem with this scenario is that Turkey cannot realistically send troops into Syria without Russia's blessing, especially given the November shootdown incident, after which Moscow declared northern Syria a de facto no-fly zone. Russia has already set up an air-defense bubble in this area, suggesting it is ready to fire on any Turkish planes or ground troops entering northwestern Syria.
Putin may have read Erdogan's recent letter of regret as a prelude to Turkish-Russian cooperation in Syria. Yet more will be required if Moscow is to let Turkey into the Azaz-Jarabulus corridor and cease its support for the PYD -- in all likelihood, Ankara would first have to agree to downgrade its own support to anti-Assad rebels fighting in Aleppo and Idlib province.
For its part, the United States would welcome better relations between Putin and Erdogan. Such a development would help the overall campaign against IS while also facilitating the political negotiations currently underway between the Assad regime and the opposition.
Following last week's phone conversation with Erdogan, Putin lifted some restrictions on travel to Turkey, indicating that Moscow might be ready to provide relief to a Turkish tourism industry beleaguered by terrorist attacks. Yet the bilateral relationship is far from being normalized -- Putin is still demanding a full apology from Erdogan before that happens. If Turkey wants to punish the Islamic State in Syria, block Kurdish advances, and defeat the PKK at home, it may decide to take whatever steps are necessary to placate Moscow.
Andrew Tabler is the Martin J. Gross Fellow in The Washington Institute's Program on Arab Politics. Soner Cagaptay is the Institute's Beyer Family Fellow and director of is Turkish Research Program.