Will Hezbollah Target American Assets Amid Israel's War on Gaza?
Also published in
Al Majalla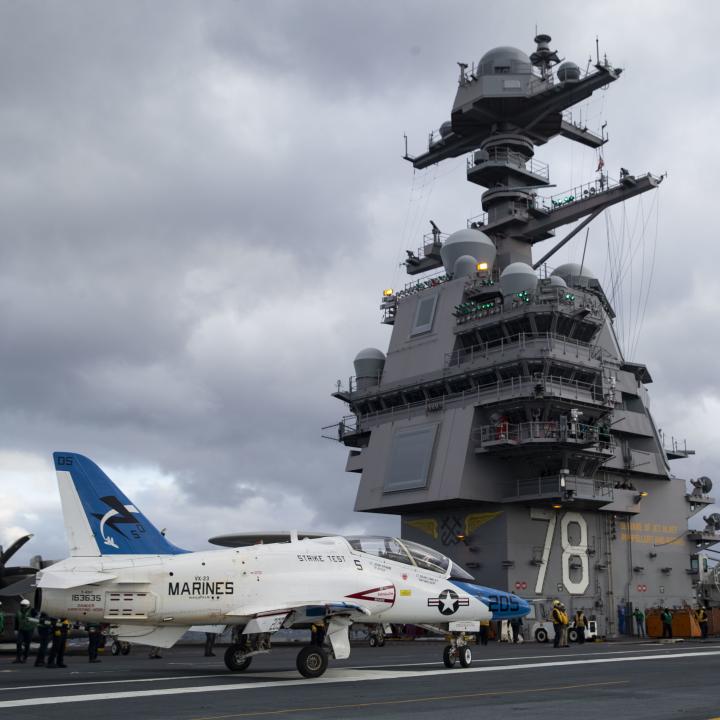 Iranian proxies are deliberately escalating against American forces in the region as a warning against continued support for Israel's war, but Hezbollah attacks would take the crisis to a different level.
October 23 marks the 40th anniversary of Lebanese Hezbollah's truck bomb attack on the marine barracks in Beirut. The assault, which killed 241 US marines, was, until 11 September 2001, the most deadly terrorist attack against Americans. Indeed, to this day, except al-Qaida, no terrorist organisation has killed more.
While this attack on US troops deployed as part of the US-French Multinational Force in Lebanon occurred four decades ago, it's an increasingly relevant reminder of the danger this Iranian-created proxy force poses. The last time Hezbollah targeted Americans was in 1996 when the group supported the bombing of Khobar Towers in Dhahran, Saudi Arabia, an explosion that killed 19 US Air Force personnel. As the Israel-Hamas war in Gaza enters its third week, however, there are indications that Hezbollah could again target Americans.
Shortly after the 7 October Hamas assault that launched the war, President Biden unambiguously articulated US support for Israel. "We stand with Israel," he said, adding, "We will make sure Israel has what it needs to take care of its citizens, defend itself, and respond to this attack." This statement was accompanied by an immediate resupply of armaments, and Washington's explicit backing for a punishing air campaign against Hamas in Gaza.
USS Ford Deployed in the Eastern Mediterranean
More significant for Hezbollah, to deter outside actors—i.e., Hezbollah and other Iranian proxy militia—from entering the conflict and opening new fronts, the US deployed the USS Ford aircraft carrier strike group to the eastern Mediterranean. The deployment—and the subsequent positioning of a Marine Amphibious Ready Group—provoked a quick response from Hezbollah.
On 11 October, Hezbollah's media department condemned US support for Israel, saying, "We consider the United States a deeply entrenched partner in the Zionist aggression and hold it wholly accountable for the bloodshed." As for the positioning of the carrier, Hezbollah added, "We stand firm in asserting that this move will not intimidate our nations. Our people and the resolute resistance factions remain poised for confrontation until ultimate victory and full liberation are realised."
As usual, Tehran and its client are on the same page. Indeed, on 16 October, Iran's foreign ministry spokesman, Nasser Kanaani, indicated that by virtue of its support to Israel, the US "is already militarily involved in the conflict between Israel and the Palestinians."
Escalation of Attacks on US Forces
Having established to its satisfaction US complicity in Israel's Gaza campaign, Iran moved onto the next logical step. On 19 October, several Iranian proxy militias other than Hezbollah ended what had been a relatively prolonged period of quiet and de-escalation and initiated attacks on US forces.
That day in Iraq, Iran-backed Hashd al-Shaabi or Popular Mobilisation Unit militias targeted American anti-IS coalition forces in drone attacks in the Ain al Assad and Al Harir bases, as well as at the Baghdad Diplomatic Support Center (BDSC) at Baghdad airport. Militias in Syria affiliated with Iran also targeted US forces with UAVs at bases in al-Tanf and the CONOCO oil facility. Some of these drones were neutralised, but a number of US and local partners were injured in the strikes; a US contractor in Syria died of a heart attack.
Meanwhile, in the Red Sea, the USS Carney destroyer downed four land air cruise missiles and 15 drones fired by the Iran-backed Houthis in Yemen. It is believed the projectiles were directed toward Israel, but there is a possibility the drones were targeting the US naval vessel.
The deliberate escalation of these Iranian proxies against US forces in the region is clearly intended as a warning against continued American involvement—if even in a support role—for Israel's campaign in Gaza. Yet with the exception of Hezbollah, which is currently escalating its limited operations along the Lebanon-Israel borders, other groups have so far not intervened in the conflict.
Will a Ground Offensive Change the Equation?
Now that the Hashd and the Houthis are upping the ante, the question is whether Hezbollah will also initiate hostilities toward US personnel. Israel's anticipated ground offensive in Gaza could change the equation for these groups. Iran's proxies could be encouraged or directed by Iran to join the war or, at a minimum, intensify attacks against American personnel and interests in and outside the region.
Iran appears for the time being to be inclined to preserve Hezbollah—its most important deterrent asset against a potential Israeli strike on the theocracy's nuclear programme—rather than degrade its capabilities in the service of Hamas. It's conceivable, however, that the group could join the effort to target Americans. Hezbollah could conduct operations against US forces in Syria, where it still has a presence. Or it could try to target American soft targets abroad, including in the United States.
Hezbollah has long maintained the capacity to operate outside of Lebanon, although many argue that the group's external action capabilities have diminished in recent years. Still, over the past decade, the FBI has interdicted several Hezbollah money laundering schemes and the smuggling of its operatives into the continental United States.
On 18 October, Hezbollah held a large rally in Beirut's southern suburb of Dahiyah. After the by now de rigueur burning of American flags and chants of "death to America," some protesters moved on to the US Embassy. Amidst Palestinian and Hezbollah flags, hundreds of demonstrators clashed with embassy guards. A day later, ostensibly because of growing tensions on the frontier, the US government advised American citizens to depart Lebanon. Could the advisory also have been issued due to concerns that Hezbollah might revert to its practice of taking Americans hostage?
In any event, it's unclear how deterred the group is by the increased US military presence in the region. On 20 October, President Biden defined Israel's war on Hamas (along with the war in Ukraine) as an "inflection point in history," suggesting that his administration was committed to staying the course and supporting Israel. Still, successive US administrations have been reticent to use force in the Middle East, eroding at least in part the credibility of the threat.
Perhaps it was only bluster, but last week, Hezbollah-affiliated academic Sadek al-Naboulsi gave an interview with al Jadeed television, where he disparaged the dangers posed to the militia from US aircraft carriers. Noting that in July 2022, Hezbollah successfully launched drones toward Israel's offshore Karish gas rig, he warned that Hezbollah drones were also capable of striking the USS Ford. Then, he nonchalantly referred to the bombing of the Marine barracks in Beirut. "Remember what was done (to the Americans in Lebanon in 1983)," he said. "You pulled out in a hurry."
David Schenker is the Taube Senior Fellow at The Washington Institute, director of its Rubin Program on Arab Politics, and former assistant secretary of state for Near Eastern affairs. This article was originally published on Al Majalla's website.