Will Arab Leaders Attend the Peres Funeral?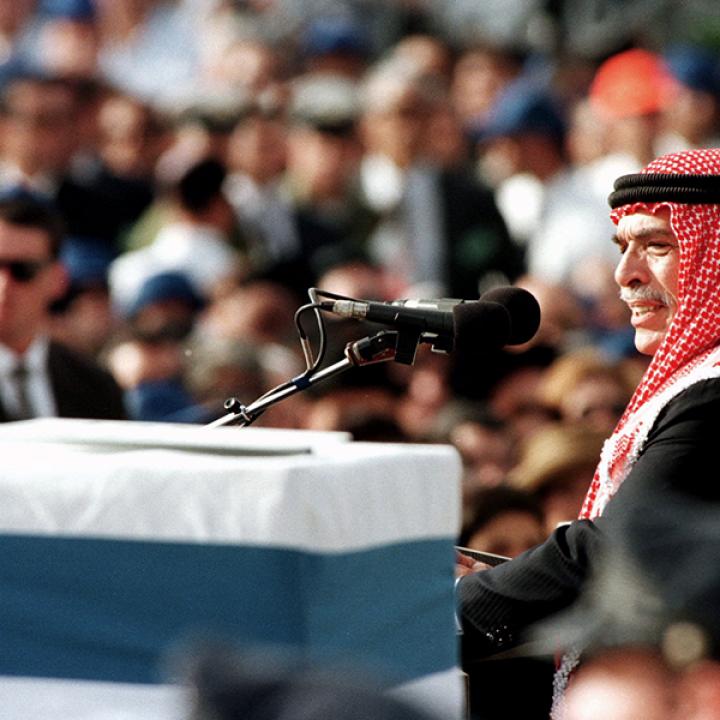 Their presence will likely be more low-profile than for Rabin's funeral twenty years ago, but this is more a sign of the post-Oslo times than a rebuttal of their increasingly close ties with Israel in various spheres.
As Israel prepares to lay former president Shimon Peres to rest on September 30, numerous world leaders are expected to attend the funeral and pay their last respects to an international figure closely associated with efforts to bring peace to the region. As with the 1995 funeral of his Nobel Prize partner Prime Minister Yitzhak Rabin, officials from the United States, Europe, and elsewhere will be present. A number of Arab leaders attended Rabin's funeral as well, but similar Arab representation on Friday is unlikely. This should not, however, be taken as an accurate reflection of the state of Arab-Israeli relations today.
THE ARAB PRESENCE AT RABIN'S FUNERAL
Two decades ago, official representatives from seven Arab-majority nations attended Rabin's funeral. The two neighbors with which Israel had forged peace treaties were represented by heads of state: King Hussein of Jordan, accompanied by a large delegation of royal family members, cabinet ministers, and senior legislators, and President Hosni Mubarak of Egypt, accompanied by a ministerial delegation. Both leaders eulogized the assassinated prime minister. For their part, Morocco, Mauritania, Oman, and Qatar were represented by cabinet ministers and Tunisia by its ambassador to Jordan.
Although these moves were groundbreaking, they reflected the spirit of the time and were made possible by the prevailing diplomatic environment. The Middle East peace process was in full swing, creating a sense of possibility and optimism. With behind-the-scenes encouragement from the United States, some Arab countries became convinced that their presence at the funeral would help demonstrate regional commitment to Palestinian-Israeli peace.
Meanwhile, Arab states were openly engaging Israel within the framework of various multilateral working groups, which were established during the Oslo process to support bilateral negotiations. For example, the working group on water issues included Algeria, Bahrain, Egypt, Jordan, Kuwait, Mauritania, Morocco, Oman, Qatar, Saudi Arabia, Tunisia, the United Arab Emirates, and Yemen in addition to the parties themselves and a number of non-regional states. When Rabin was killed, four of these states -- Jordan, Egypt, Morocco, and Mauritania -- already had some level of formal relations with Israel, and others (including Tunisia and Qatar) were poised to open or upgrade them.
FACTORS AFFECTING ATTENDANCE AT PERES'S FUNERAL
In the twenty years since Rabin's funeral, conditions surrounding Arab-Israeli relations have of course changed. On the one hand, most regional actors see the peace process as all but dead. The multilateral process initiated as part of the Oslo Accords is largely defunct, and tentative diplomatic relations have been severed by every Arab country except treaty partners Egypt and Jordan.
On the other hand, less visible links have steadily been developing, especially with Egypt and Jordan. Facing common threats, Israel has deepened its security relations with both countries to unprecedented levels, but the progress goes far beyond the security realm. Recently, for example, Egyptian foreign minister Sameh Shoukry met with Prime Minister Binyamin Netanyahu at his residence in Jerusalem, the highest-level visit by an Egyptian official in decades; he will also be representing Cairo at Friday's funeral. And earlier this week, despite domestic opposition, Jordan signed a $10 billion, fifteen-year deal with Noble Energy to import natural gas from Israel's offshore Leviathan field. Amman will reportedly be represented at the funeral by Deputy Prime Minister Jawad Anani.
At the same time, new relations with other Arab countries have recently begun to emerge. Cooperation with Israel on combating terrorism and countering Iran's aggressive regional posture is an open secret, but signs of engagement in other spheres are evident as well. Last year, for example, the United Arab Emirates allowed Israel to open an office at the International Renewable Energy Agency, an Abu Dhabi-based UN organ. While not accredited to the UAE, Israeli diplomats are currently present in the country. Saudi Arabia has also softened its stance toward Israel in some respects, allowing public meetings between former officials; in July, for instance, a former Saudi general made a widely covered visit to Israel. Qatar routinely and openly maintains official contact with Israel as well, despite its close ties with Hamas; this engagement is conducted through Ambassador Mohammed al-Emadi, head of the Qatari National Committee for the Reconstruction of Gaza.
Yet these countries would likely see no political benefit from attending the funeral; rather, doing so would leave them open to criticism from local and regional opponents. At the same time, their absence would not jeopardize their ongoing relations with Israel.
As for the Palestinian Authority, President Mahmoud Abbas will reportedly attend the funeral along with a senior PA delegation in what will be his first official visit to Israel since 2010. He also sent a letter of condolence to Peres's family describing him as "a partner in the making of the peace of the brave." Indeed, the two men were partners in helping to forge the Oslo Accords and had maintained relations ever since.
Yet going to the funeral is politically risky for him. In recent years, the anti-normalization movement has gained ground with Palestinians in the absence of a credible peace process, such that any engagement with Israelis now carries a heavy political stigma. Abbas's announcement is already drawing criticism from various quarters, including some in his own Fatah movement. Hamas has called for a "Day of Rage" and widespread demonstrations on Friday to coincide with the event, and some of these protests will inevitably turn against Abbas. It is unclear how these differing messages will play out in the PA. If Abbas withstands the pressure and does in fact attend, he will be sending a strong, positive message not only to Israelis, but also to his own public.
CONCLUSION
With the exception of Jordan, Egypt, and the PA, Arab governments are unlikely to be represented at Peres's funeral. The diplomatic cover that allowed for unprecedented Arab attendance twenty years ago no longer exists. Yet while the probable absences indicate the limits of Arab-Israeli relations today, they do not give a full or accurate picture of the state of these relations. Like his clandestine meetings with King Hussein in the 1980s, the fruits of Peres's vision and regional engagement might not be immediately visible, but their impact is real.
Ghaith al-Omari, a senior fellow at The Washington Institute, previously served in various advisory positions with the Palestinian Authority.