What Saudi Arabia Wants from President Xi's Visit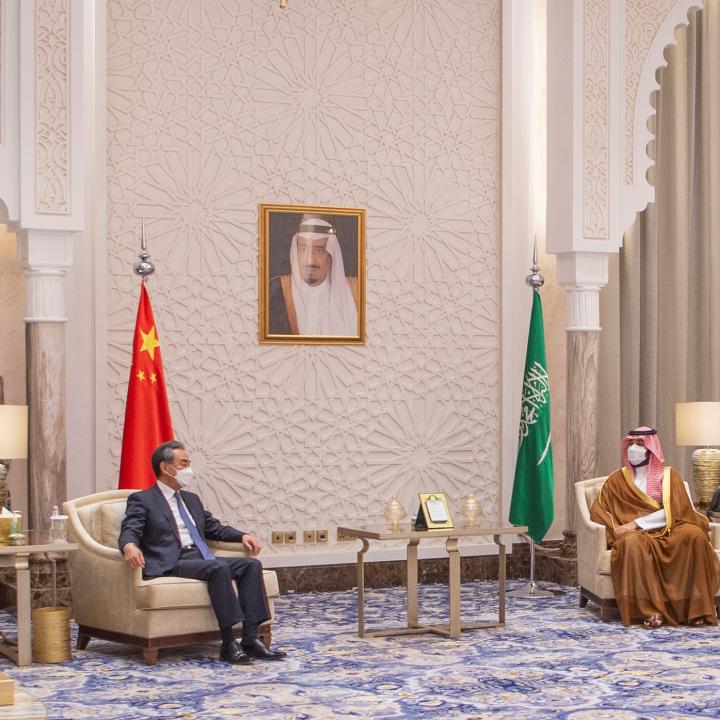 China is already one of the kingdom's major commercial partners and a significant supplier of military and nuclear technology, but Riyadh wants more of each.
On December 7, President Xi Jinping arrives in Saudi Arabia for a visit that will include a "China-Arab summit" on December 9. The last in-person bilateral meeting between the two countries' top decisionmakers took place in 2019, when Xi hosted Crown Prince Muhammad bin Salman. According to the Saudi Press Agency, the current visit will aim to strengthen the "strategic partnership" with Beijing—a formulation that has raised concerns in Washington because of its likely impact on Riyadh's strained ties with the United States. When President Biden visited the kingdom five months ago, he told assembled Arab leaders, "We will not walk away and leave a vacuum to be filled by China, Russia, or Iran...[T]he U.S. is not going anywhere." This week's events will test that pledge.
Bilateral Relationship Began with Missiles
China and Saudi Arabia did not establish official diplomatic relations until 1990, due in a large part to Riyadh's longstanding recognition of the Chinese government-in-exile in Taiwan rather than the People's Republic government in Beijing. Yet contacts with Beijing began several years earlier.
In 1988, China supplied the Saudis with fifty CSS-2 intermediate-range ballistic missiles, a deal that Washington was unaware of until an intelligence analyst noticed one of the weapons being towed from a private airfield owned by Prince Sultan bin Abdulaziz, the kingdom's defense minister at the time. The nuclear-capable missiles had been delivered there by cargo aircraft and were subsequently positioned at a pair of desert launch sites and a supply base in a remote southern area. U.S. concerns were exacerbated by the realization that the deal was arranged by Prince Sultan's son Bandar, who was serving as ambassador to Washington. Moreover, satellite reconnaissance of the static launchpads determined that Tehran and Tel Aviv were potential targets.
The CSS-2 missiles were displayed just once, in 2014, and have since been replaced by more modern Chinese variants. In addition, shorter-range munitions that appear to be Chinese M-11 missiles have been spotted at Saudi bases, and manufacturing equipment for these weapons may have been supplied via Pakistan.
Oil and Investment
China is Saudi Arabia's largest trading partner. In April, for example, it was importing over 2 million barrels per day of Saudi oil, more than a quarter of the kingdom's exports (though that volume has since dropped).
Both countries are also significant investors in each other's economies. According to the Financial Times, the kingdom leads the list of announced Chinese investment in the Persian Gulf region, to the tune of more than $100 billion over the past twenty years.
Military
China reportedly supplied the Saudis with some of the artillery and drones they have used in their ongoing war against the Houthi rebels in Yemen. In 2017, Beijing granted the kingdom a license to locally produce Chinese drones, suggesting an attempt to evade pressure from the United States, which has long sought to restrain Riyadh's tactics in the conflict. 
Washington is also concerned that the Saudis may allow China to build civil facilities that hide a military purpose—similar to the activity that spurred recent U.S. controversies with Israel (regarding Chinese management over parts of Haifa port) and the United Arab Emirates (over reports of a potential Chinese naval facility near Abu Dhabi and suspect agreements with mobile network giant Huawei). Additionally, Chinese and Saudi forces have held joint military exercises, including naval drills in 2021.
Nuclear
In 2020, the Wall Street Journal reported that China had helped the Saudis construct a facility for processing locally mined uranium ore to extract yellowcake. Although such work can have peaceful uses (e.g., fertilizer production), it can also constitute an early step toward making the uranium compound needed in an enrichment plant, which could in turn produce material for a nuclear weapon. The kingdom has denied any military intent but remains reluctant to upgrade its safeguard commitments to the International Atomic Energy Agency, which would entail more intense inspections of its nuclear activities.
Ominously, Crown Prince Muhammad warned in 2018 that "if Iran developed a nuclear bomb, we will follow suit as soon as possible." In contacts with foreign interlocutors, Riyadh has made clear that it claims the right to match Tehran's uranium enrichment capabilities if it so desires—a sobering statement now that Iran's program is approaching the weapons-grade threshold. Here, China's potential involvement is particularly worrisome because of its 1988 missile sale to Riyadh and its earlier proliferation of nuclear material and weapon designs to Pakistan.
China-Arab Summit
No advance details have been given for the summit other than that it will be chaired by King Salman and will include leaders from the Gulf Cooperation Council and other Arab countries—most likely Egypt, Iraq, and Jordan, in apparent imitation of the annual GCC+3 summit with U.S. officials. According to the Saudi daily Arab News, the agenda is "expected to focus on strengthening joint cooperation in economy and development."
Beijing's goals for the gathering will presumably include shoring up Gulf support for its policies on sensitive domestic issues such as the fate of Taiwan and human rights abuses against Uyghur Muslims in Xinjiang province. Saudi Arabia has been distinctly silent on the latter issue.
Ahead of the summit, China's Foreign Ministry released a "Report on Sino-Arab Cooperation in a New Era." Among other points, the document emphasized that Beijing will work with Arab states on mutually beneficial cooperation, but that China is not interested in filling any vacuum left by the United States.
Potential Outcomes
Assuming the summit and other meetings take place as planned, an avalanche of investment and trade agreements and communiques will likely emerge in the coming days. Yet the real barometer of the Saudi-Chinese relationship will lie in the event's unrevealed details, not to mention the visible chemistry of encounters between senior officials. Washington should watch all of these indicators closely to determine how warm their relations truly are—and what challenge they might represent to U.S. regional policy.
Simon Henderson is the Baker Fellow and director of the Bernstein Program on Gulf and Energy Policy at The Washington Institute. Carol Silber is the research manager for the Institute's Diane and Guilford Glazer Foundation Program on Great Power Competition and the Middle East.