In Wake of Coup Attempt in Turkey, Lessons for the U.S. From Egypt's Military Takeover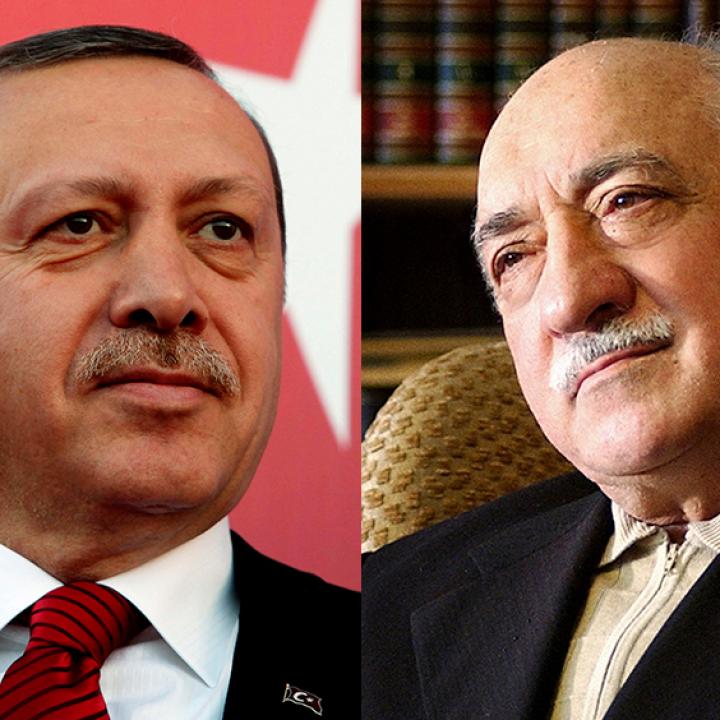 Given Erdogan's crucial role against the Islamic State, Washington should be careful not to alienate him, in particular by avoiding critical public statements that won't change his behavior anyway.
In the wake of the Turkish military's attempt to seize power, U.S. officials have urged President Recep Tayyip Erdogan not to use the incident as a pretext for a broad crackdown. "I think we're all concerned...that this not fuel a reach well beyond those who engaged in the coup," Secretary of State John Kerry said Sunday.
So far, the Erdogan government has declared a state of emergency; banned all Turkish academics from traveling; fired more than 1,500 deans at state and private universities; and suspended or detained some 50,000 soldiers, police officers, teachers, judges and other civil servants. More than 10,000 people have been arrested.
Yet U.S. officials' ability to moderate Mr. Erdogan's domestic political behavior is limited. This was true before the coup, as the Turkish president arrested journalists, inhibited Internet and social media access, reassigned more than 3,700 judges and prosecutors, and sidelined political opponents. Since the coup attempt has substantiated Mr. Erdogan's paranoia, it would be nearly impossible to influence his behavior -- and trying to do so risks undermining the broader U.S.-Turkey relationship.
There's a relevant, real-world example of the limits of U.S. power in this sort of situation and the potential results of U.S. missteps. In crafting its approach to Turkey, the administration could learn from its actions after the July 2013 ouster of Egypt's first elected president, Mohammed Morsi.
After Mr. Morsi was overthrown, President Barack Obama called on Egypt's military "to move quickly and responsibly to return full authority back to a democratically elected civilian government as soon as possible through an inclusive and transparent process." Meanwhile, however, over objections from some in Congress, the administration sought to maintain the $1.3 billion in military aid the U.S. sends to Egypt every year, as well as other aspects of the defense and intelligence relationship.
In trying to pursue U.S. values and interests simultaneously -- encouraging our ally to end its repressive behavior while also continuing bilateral strategic coordination -- the administration ultimately found that it could not walk and chew gum at the same time. The Egyptian government interpreted Washington's call for inclusiveness as a call for re-empowering the Muslim Brotherhood, which had sworn to avenge the overthrow of Mr. Morsi. Washington's attempt to forge reconciliation between the military-backed government and the Brotherhood failed for the same reason. And when the Obama administration responded to the Egyptian military's crackdown against Morsi supporters by suspending a portion of the military aid in October 2013 "pending credible progress toward an inclusive, democratically elected civilian government through free and fair elections," it weakened bilateral relations in ways that are still apparent today.
U.S. aid to Egypt was fully restored in March 2015, but Egyptian officials continue to distrust the Obama administration. They view U.S. criticism of the Cairo regime's dismal human rights record as supporting freedom for the Muslim Brotherhood, which it views as an existential enemy.
When it comes to Turkey, whose role on the global stage has grown in recent years thanks to its proximity to the conflict in neighboring Syria, Washington has even less leverage for shaping behavior: There is almost no military or economic aid to withhold. The Obama administration's experience with Egypt suggests that even toothless calls for upholding human rights can be interpreted as acts of subversion when a government views repression as necessary for its own survival. Mr. Erdogan, already conspiracy-minded before last week's takeover attempt, now sees himself in a kill-or-be-killed dynamic. He's also in charge of a country whose cooperation is vital to the effort against the Islamic State and that has taken in approximately 2.7 million Syrian refugees, which makes it all the more critical for the U.S. to not alienate Ankara, particularly not with statements that won't change its behavior anyway.
Eric Trager is the Esther K. Wagner Fellow at The Washington Institute and author of the forthcoming book Arab Fall: How the Muslim Brotherhood Won and Lost Egypt in 891 Days. This article originally appeared on the Wall Street Journal blog "Think Tank."