U.S. Wartime Support to Israel: First Steps and Future Considerations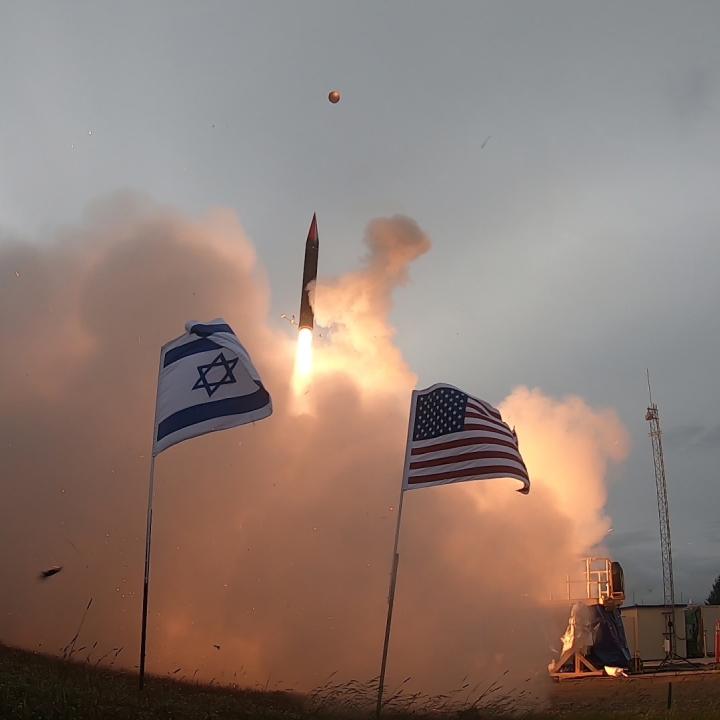 The Biden administration views its defense support to Israel as sufficient at the current level of hostilities, but that may change as the war progresses and, potentially, expands.
In the beginning stages of Israel's war against Hamas, the United States has focused its defense support on two lines of effort: security assistance and direct military support. Both are based on two assumptions. The first is that Washington will be able to support Israel with military supplies while continuing to provide support to Ukraine and sustain U.S. forces worldwide. In a background briefing on October 9, a senior U.S. defense official reiterated that the United States is able to support Ukraine and Israel while still maintaining "global readiness." The second assumption is that the United States will not become a direct combatant in this conflict. As John Kirby, the National Security Council coordinator for strategic communications, stated on October 9, the United States has "no intention to put boots on the ground." At first glance, these assumptions appear to be valid so long as the conflict remains limited to Gaza, but they are sure to be tested if others join the fight.
Israel's requests for security assistance at the moment are straightforward: it is reportedly seeking interceptors for the Iron Dome air defense system, precision-guided munitions, ammunition rounds, and intelligence-sharing on other regional threats. These requests are proactive and are likely being made in anticipation of a protracted conflict that strains Israeli stockpiles. The United States started fulfilling some of these requests right away: National Security Advisor Jake Sullivan noted on October 10 that some interceptors had already been delivered. U.S. officials have stated that they believe they have enough authorities through the current memorandum of understanding with Israel to fulfill some of these requests in the near term without seeking additional authorities from Congress. One senior defense official noted that this includes "looking at what was already on the books" in terms of Israeli arms purchases and "working to accelerate that." This week, Boeing reportedly began accelerating the delivery of a thousand small-diameter bombs to Israel, which were part of a direct commercial sale in 2021.
In the longer term, other officials have sounded a cautious tone on Washington's ability to supply both Ukraine and Israel under current authorities: the secretary of the army warned over the weekend that supplying the two countries "simultaneously" would require additional funding in order to "increase our capacity to expand production and then also pay for the munitions themselves." White House officials are reportedly planning to request additional funding authorities from Congress as early as next week, potentially by linking the request to support for Ukraine, Taiwan, and border funding.
In terms of direct military support, the administration moved quickly in repositioning the USS Ford Carrier Strike Group (CSG) from the western Mediterranean closer to Israel's waters. The Ford is the newest and most advanced U.S. aircraft carrier and the largest in the world. The CSG entered the Mediterranean in June and includes one Ticonderoga-class guided missile cruiser and four Arleigh Burke-class guided missile destroyers. It is capable of conducting a wide range of operations, from intelligence, surveillance, and reconnaissance missions to maritime dominance, long-range precision strikes, and, perhaps most important, missile defense.
The Pentagon also announced plans to augment its fighter jet presence in the region, which includes a contingent of F-35s. This would mean reintroducing the advanced fifth-generation fighter to the region after the previous deployment of F-35s—sent to deter Russian aggression in Syria and Iranian behavior in the Gulf—was rotated back home last week. In addition, the CSG will likely add a layer of air defense and radar coverage to Israel's network while providing another level of intelligence awareness to Israel's other fronts.
The Navy is also sending a second CSG to the Mediterranean that would be nearby "if needed," per Kirby. More broadly, the CSG's presence is intended to deter other Iran-aligned groups from entering the conflict. As one senior defense official noted, the increased presence should cause adversaries to "think twice" about entering the fray.
Considerations for Future U.S. Support
At the current level of hostilities, the administration appears comfortable with the level of defense support. President Biden confirmed on October 10 that American hostages are being held in Gaza, and noted the previous day that he had directed his team to "work with their Israeli counterparts on every aspect of the hostage crisis, including sharing intelligence and deploying experts from across the United States government to consult with and advise Israeli counterparts on hostage recovery efforts." In addition, Defense Secretary Lloyd Austin reportedly instructed special operations hostage rescue teams to "lean forward" in supporting Israel and its efforts to free hostages, primarily through planning and intelligence efforts. However, nested in these efforts is a desire to keep the U.S. role limited to consultation.
So long as the war is contained to Israel and Hamas in Gaza, Washington is highly likely to remain in this role. Were the conflict to expand, however, with other Iran-aligned actors like Hezbollah joining in, the Biden administration would have to examine potential military involvement through three lenses. The first is how the administration assesses Israel's ability to deal with a multifront war on its own. This would include Israel's assessments of its own capabilities as well, and whether Jerusalem would request more direct U.S. involvement. The second is whether U.S. forces or civilians currently in the region are under threat or have already been engaged in hostilities. And the third is whether Biden faces significant public pressure to intervene militarily. Short of becoming a direct participant, however, the United States can consider other ways to deter additional actors from becoming involved. This could include creative shows of force by U.S. assets in the region, such as demonstrating the CSG's capabilities through drills (either independently or with partner forces) and exercising simulated missions off the coast of Lebanon to send an additional deterrent message to Hezbollah and Iran.
The war's duration and potential horizontal expansion will also influence Washington's ability to continue supplying Israel. Currently, U.S. officials are adamant that stockpiles are adequate to support both Ukraine and Israel. This is partly because much of what the United States has supplied to Ukraine so far (artillery platforms and associated rounds) does not significantly overlap with what Israel has requested (Iron Dome interceptors and air-launched precision-guided munitions). If that changes, the strain on the U.S. global stockpile could increase. There is already speculation about the status of the stockpile of U.S. weaponry in Israel—the War Reserve Stockpile Ammunition-Israel—which the United States tapped this January to forward supplies to Ukraine (it also pulled from a similar stockpile in South Korea). Defense officials have noted that industry is ramping up production to replenish these stockpiles and other capabilities, but this is still a work in progress. In any protracted conflict, the United States would likely need additional congressional funding not only to supply Israel with existing platforms, but to ramp up domestic production lines.
Conclusion
The attack on Israel and subsequent war in Gaza is another test of the U.S. desire to shift attention to China and Russia in an era of great power competition. The Middle East has been the epicenter of the U.S. shift in focus militarily: the footprint of U.S. forces in the region has shrunk in recent years, from around 90,000 in 2020 to around 34,000 in 2023, as Washington has moved resources to focus on other theaters. Additionally, the Ukraine war has depleted U.S. stockpiles of certain capabilities and tested the ability of the U.S. defense industrial base to scale up production. The Gaza war will further require the United States to commit forces and materiel to support Israel. If Washington wants to continue supporting its global partners while preparing for long-term competition with China, it will need continued creative thinking in deployment of military forces and a concerted bipartisan effort to expand the defense industrial base to provide lasting and meaningful support to partners abroad.
Grant Rumley is the Goldberger Fellow in The Washington Institute's Diane and Guilford Glazer Foundation Program on Great Power Competition and the Middle East. From 2018 to 2021, he served as an advisor for Middle East policy in the Office of the Secretary of Defense.