The Urgent U.S. Role in Restarting Iraq-Turkey Oil Exports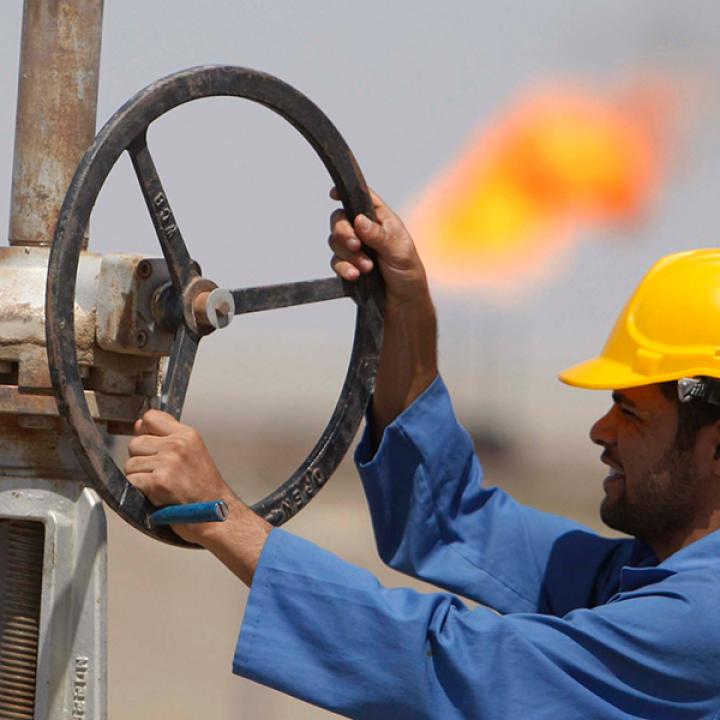 A pipeline arbitration ruling has imperiled a recent Baghdad-Kurdistan breakthrough, but this roadblock can be removed if the United States acts urgently to disrupt spoilers and help constructive players.
On March 25, the International Chamber of Commerce (ICC) in Paris issued its long-awaited ruling on an arbitration brought in 2012 by Iraq, which claimed that Turkey had violated multiple aspects of the Iraq-Turkey Pipeline (ITP) agreement of 1973 (which was updated in 1976, 1985, and 2010). Baghdad claimed that Turkey's pipeline operator BOTAS should have sought explicit permission from the Iraqi federal government before allowing the Kurdistan Region of Iraq (KRI) to transport, store, and export Iraqi oil using the ITP and related Iraqi-owned export facilities at Turkey's Ceyhan port.
The arbitral ruling is not public, but what has been leaked (and not denied by either party) is that on at least one of the five claims, the ICC found in favor of Iraq, and that it issued a binding award of $1.46 billion (plus interest) to Baghdad for part of the assessed period (2014-18, with 2018-23 and some earlier periods left for a later award decision). Most clearly, Turkey, a signatory to the New York Convention on arbitrations, informed Baghdad on the day of the ICC ruling that it would respect the decision and not operate the ITP or allow loading of KRI-produced crude oil from Ceyhan until it received Iraq's permission to do so.
As a result, nearly 500,000 barrels per day of crude oil (420,000 marketed by Kurdistan and 80,000 by Iraq) have ceased being exported to Turkey and elsewhere, almost eliminating the entire income of the KRI, with its population of around five million. If the stoppage persists for weeks or months, an economic crisis will overcome the Kurds and begin to shift oil prices upward. In parallel, the main foreign investors in Kurdistan—including a number of U.S. oil companies—will have to shutter their projects.
The Stoppage: Why, and Why Now?
The key question to ask is not just why the ruling was released, but why now, and who stood to gain? The ruling was not expected at this exact moment. This is because the ICC does not like to be seen as interfering in politics or oil flows, and the current moment is sensitive in both Turkey (where tense elections will take place on May 14) and Iraq (where a painstaking process had almost achieved a breakthrough in Baghdad-KRI energy and revenue issues; see the author's recent piece on the breakthrough). Although the ruling was issued shortly after an Iraq-Turkey summit, the proximate timing seems to have been forced by leaks, spurring the ICC to publicize its partial deliberations.  
Within Iraq's Coordination Framework—the militia-run, Iran-backed body that forms the core of political support for Prime Minister Mohammed Shia al-Sudani—the faction most skeptical of the emerging Baghdad-KRI budget and oil deal is that of former premier Nouri al-Maliki. Sudani and a range of framework actors (Hadi al-Ameri, Ammar al-Hakim, Haider al-Abadi) have been willing to forward the deal with the KRI, but Maliki and another player—U.S.-designated terrorist and human rights abuser Qais al-Khazali—have consistently sought to flex their muscles within the framework by pushing for a tougher bargain with the Kurds.
There seem to be three reasons for this: first, Maliki and Khazali want to dominate both the framework and Sudani; second, they are the framework members who have the worst relations with the Barzani clan, which leads the KRI; and third, a late-stage wrench in the works of the Baghdad-KRI agreement may benefit the Patriotic Union of Kurdistan (PUK)—the counterweight to the Barzanis—whose leader, Bafel Talabani, is already in Baghdad to mediate an outcome with the Coordination Framework.
What Are U.S. Interests?
U.S. national security interests are clear: the removal of half a million barrels from global markets is never welcome, but it is an especially dangerous development in the midst of the Ukraine conflict and at a moment when U.S. adversaries like Russia and Iran want to raise oil prices. The impact of the loss of KRI oil was ameliorated by coincident market conditions related to containment of the banking crisis, and by unrealistic market expectations that the stoppage would be short, but these counterbalancing factors may fade. Other oil flows can be lost at any moment—by crisis, weather, or accident—and the avoidable (and still reversible) loss of Ceyhan exports removes some of the buffer in already tight global markets.
Furthermore, the United States has a direct interest—in terms of income, jobs, and stock market value—in the American investors who will be hurt by the pipeline closure if it persists for even a few weeks. For Iraq, the $1.4 billion value of the arbitral award (and a subsequent tranche on a similar scale covering 2018-23) would be rapidly wiped out by the loss of 80,000 barrels per day of Iraqi-sold oil flows through Ceyhan. Turkey could find its efforts to reduce dependence on Iranian and Russian oil reversed, not to mention the potential delay of much-needed KRI gas exports to Iraq or Turkey and Europe. Further, Iraq's investment-friendliness would be damaged by the collapse of U.S. investments—which is expressly not in line with recent U.S. economic policy or the energetic efforts of the U.S.-Iraq Chamber of Commerce. The KRI, a key U.S. partner in counterterrorism and refugee assistance, would be economically destabilized, and some of its oil would find its way out via Iran, benefiting the U.S.-sanctioned regime in Tehran.
The current situation is thus a lose-lose-lose-lose for the United States, Iraq, Turkey, and the KRI. In a confusing situation, it is important to focus on what needs to happen to keep oil flowing through the ITP: the Iraqi government must instruct the State Oil Marketing Organization (SOMO) to send a letter to Turkey that
requests the reopening of the pipeline and all storage operations, and

provides a set of tanker loading instructions to allow April shipments to proceed.
Both parties would recognize the arrangement as a time-limited emergency step to prevent economic damage to Iraq (including the KRI), to Turkey (as counterparty in the fee-earning ITP, which has minimum throughput commitments by which both sides must abide), and to global markets in Europe and Asia. It would also give Iraq and Turkey time to settle the arbitration issues. Baghdad and the KRI could similarly take a breath and return to the negotiating table, where the fundamentals of the recently approached deal are still valid.
U.S. Policy Options
As the United States focuses on affirmative steps in its Middle East policy—making progress, not just fighting wars—the most consequential and beneficial thing it can do in Iraq is to help the country find peace with its largest ethnic minority, the Kurds. A historic budget deal and oil law between Baghdad and the KRI are closer than ever, so Washington should push hard to get it completed. It is possible that the pipeline will reopen quickly—even in the coming days—but if it does not, the United States must act decisively. This means extending its good offices to all non-spoiler parties to help get Iraq-Turkey and Baghdad-KRI talks back on track. The following steps would be most helpful in that regard:
Get more involved in Baghdad-Ankara negotiations. As this author has noted for years, the ITP arbitration has always offered a platform to drive U.S. policy objectives regarding Iraq-Turkey relations, and it still does. The partial award of $1.46 billion to Baghdad helps set expectations for the second tranche, and this in turn can help Washington mediate between Baghdad and Ankara over water, electricity, trade, and infrastructure.
Provide financing for assumption of trader debts. On the specific issue of oil marketing at Ceyhan, the United States can help Iraq obtain financing to "buy" the KRI's debt to oil traders (which is likely $2-4 billion). This would allow several things: for trading to be passed to SOMO; for Iraq to achieve better per barrel prices on KRI-operated crude; and for oil to pass only to end-users that SOMO permits. One option might be for the U.S. government to buy Iraqi oil to restock the Strategic Petroleum Reserve.
Support constructive players. Bafel Talabani of the PUK has the requisite relationships in Baghdad to un-block the exports and pick up at the promising point where the budget and oil law negotiations left off. The United States provides the PUK with close military and intelligence support and should leverage this relationship to motivate Bafel to counter spoilers such as Maliki.
Warn spoilers to back off. The U.S. government knows exactly who is trying to torpedo or leverage the deal. One such spoiler is Maliki, whom Washington came within a whisker of sanctioning for corruption in late 2020. Any parties actively trying to undermine the Baghdad-KRI deal—at a cost to Iraq, Kurdistan, and regional stability—must receive a firm and explicit warning that they will be sanctioned if they are proven to have threatened Iraq's stabilization.
Michael Knights is the Bernstein Fellow at The Washington Institute and author of its 2022 paper "The Necessary U.S. Role in Fixing the Baghdad-Kurdistan Energy Dispute," which provides detailed advice on specific areas of technical assistance Washington can provide to smooth the path toward energy sector reconciliation.