Understanding Russia's War on Ukraine Starts with Understanding Russia's Black Sea Politics
Also published in
Al Majalla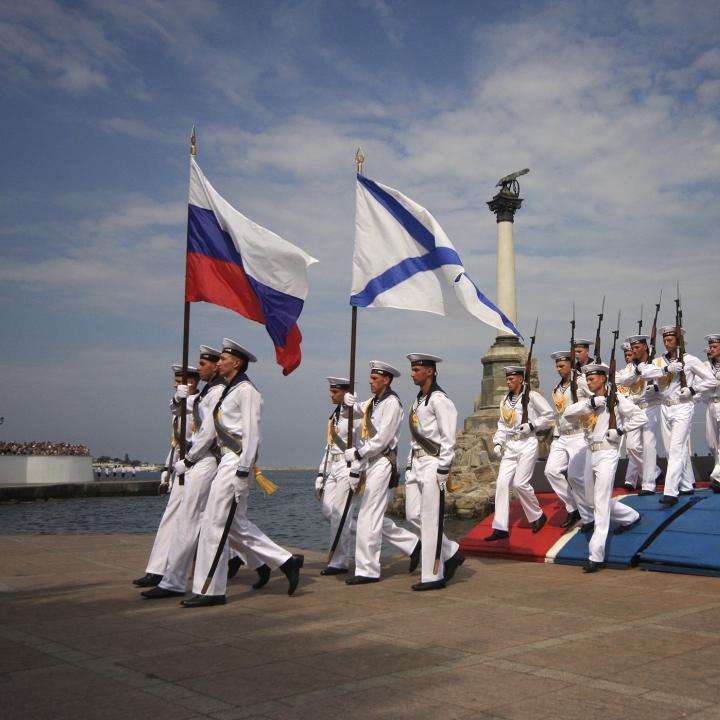 Putin views the Black Sea as an important springboard for projecting power into the Middle East, Europe, and the Mediterranean, and the West should push back accordingly.
More than a year and a half after Russia's full-scale invasion of Ukraine, the fighting grinds on with no end in sight. The months-long Ukrainian counteroffensive continues, while Russian President Vladimir Putin braces for a long war. Putin casts the war as an existential battle with the West for Russia's survival. As Boris Bondarev, Russia's diplomat who resigned in protest of the Ukraine invasion explained, from Putin's perspective, it is "the culmination of an epic and eternal confrontation between an independent Russia and its eternal enemy, the West led by the United States."
Despite what some may think, Russia's war on Ukraine is not an isolated conflict confined to Europe. It is the latest step in the Kremlin's anti-Western strategy that spans over two decades and straddles several regions, including the Middle East and the Caucasus, the Black Sea and the Mediterranean.
With tensions running high between Armenia and Azerbaijan and the Georgian government's growing engagement with the Kremlin, the South Caucasus—especially Georgia—is an important missing piece of the discussion in understanding how Russia got here. It can be argued that Russia's invasion of Ukraine began in Georgia, in August 2008.
Multipolar World and the Black Sea
A chief cause of Moscow's current hostility towards the US originates in the Soviet Union's collapse after the Cold War. Russia's ruling elites could not accept their country's loss in the greatest geostrategic rivalry of the century as the story's final chapter.
They sought another chance at this competition. In the mid-1990s, Russian foreign minister Yevgeniy Primakov formally articulated a vision of a multipolar world as the trajectory of Russia's foreign policy and an alternative to the US-led global order. Since then, the Kremlin sought to re-establish Russia's international position it lost after the Cold War with an ultimate eye towards challenging American primacy in world affairs and renegotiating the European security order in particular.
An important piece of Moscow's strategy in challenging the West included reestablishing Russia's position on the Black Sea, which the Russian state historically saw as vital to extending and controlling its borders and as a springboard for projecting power into Europe, the Middle East, and the Mediterranean. Accordingly, Russia prioritised the Black Sea and its surrounding region, where it maintained military forces, chiefly in Moldova, across the South Caucasus (predominantly in Armenia, with the 102nd military base in Gyumri) and with the Black Sea fleet in Sevastopol.
Georgia and Ukraine are Black Sea littoral states, and both fought hardest out of all former Soviet republics to leave Moscow's grip in favour of Euro-Atlantic integration. This is why Putin particularly focused on these countries, beginning with Georgia.
Colour Revolutions and Perceived American Hostility
Starting in the early 2000s, a spate of anti-government protests swept the post-Soviet space, demanding democratic and pro-Western governance. In Georgia, it was the so-called Rose Revolution in 2003; in Ukraine, it was the Orange Revolution in 2004.
Putin believed Western forces were behind these protests, challenging his aim to establish a privileged sphere of influence to which he believed Russia, as a great power, was entitled. More specifically, Putin believed America was behind the Rose and Orange revolutions, Gleb Pavlovksy, former Putin advisor, was quoted as saying.
Moreover, in September 2004 Putin indirectly blamed the US for a domestic terrorist incident where Chechen rebels took over 1,000 people hostage, mostly children in a school in Beslan, in North Ossetia. "Some would like to tear from us a 'juicy piece of pie.' Others help them," Putin said after the incident. "(They) help, reasoning that Russia remains one of the world's major nuclear powers, and, as such, still represents a threat to them. And so they reason that this threat should be removed. Terrorism, of course, is just an instrument to achieve these aims."
Putin did not name the US directly, but it was understood he was referring to the US. Taken together, in Putin's view, the US had aimed to weaken Russia internally and externally.
For its part, Georgia continued on its pro-Western path and even contributed troops to US-led efforts in Iraq beginning in 2003. It also emerged as one of the largest non-NATO troop contributors to the International Security Assistance Force in Afghanistan.
In February 2007, Putin gave a speech at the Munich Security Conference, in which he described as "pernicious" the US-led global order, a world where in his view, "there is one master, one sovereign." This speech signaled the first clear anti-Western shift in Russian foreign policy trajectory foreshadowing Russia's 2022 invasion of Ukraine. In this speech, he told the West precisely who he was.
Invasion of Georgia
Then, August 2008 saw a shift in Moscow's policy toward the Black Sea when Russia invaded Georgia, following longstanding simmering tensions, including over the Russia-controlled breakaway region of South Ossetia. At the time, a naval task group conducted an amphibious landing in Abkhazia, which served as a signal to Ukraine and other Black Sea states that Russia could conduct such operations in the future.
Russia won the war and Georgia lost 20% of its territory. As a result, Russia came closer to re-establishing itself as a Black Sea power. Following the Black Sea fleet amphibious landing in the breakaway and de-facto Russia-controlled region of Abkhazia during the war, Moscow then consolidated its existing military presence there, recognised Abkhazia's and South Ossetia's independence, and strengthened its military alliance with Armenia, Russia's treaty ally.
Georgia, however, remained focused on its pro-Western and pro-NATO aspirations which became enshrined into the country's constitution. Moreover, Georgians see themselves as part of Europe and the Black Sea region rather than part of the South Caucasus. Georgia emerged over the years as a vital strategic trade and transit hub between Turkey, Armenia, Azerbaijan and Central Asia.
From Crimea to Syria
Over the coming years, waves of anti-authoritarian protests continued in the Middle East with the Arab Spring and within Russia itself in 2011-2012, followed by another wave of anti-government protests in Ukraine in 2013. Putin and senior Russian officials saw the hand of the US behind these protests. Putin famously said that then US secretary of state Hillary Clinton gave a "signal" for protestors to come out.
Furthermore, NATO's 2011 military intervention in Libya added to Putin's misperceived notion that the US was on a global mission to oust regimes it did not like. And when anti-government protests broke out in Syria, Putin was determined to prevent the US from allowing another dictator to fall.
Russia reestablished a permanent naval presence in the Mediterranean with the permanent Mediterranean Squadron, while the Black Sea fleet provided it with logistical support. Then, after annexing Crimea from Ukraine in March 2014, Moscow signed an agreement with Abkhazia to take control of its frontiers in November of that year. 
In this manner, Russia was able to further strengthen its position as a naval power in the Black Sea, which in turn provided support for Moscow's interests in developing a permanent naval presence on the Mediterranean, a goal the Russian state had pursued at least since Catherine the Great. Most notably the Soviets failed to achieve this in Albania, Egypt and Libya. Thus, Putin succeeded where Russian czars and Soviet leaders had failed. The 49-year lease of Tartus, which Moscow first struck in 2017, accomplishes a long-standing objective for Russia. Soon after, in May 2018, Putin announced that Russian naval forces would maintain a permanent presence in the Mediterranean, including modern ships and submarines equipped with Kalibr land attack cruise missiles (SS-N-30).
Indeed, the Black Sea fleet began playing a more important role in Russia's military strategy after the annexation of Crimea. In contrast, in late 2015, following Moscow's military intervention in Syria, the fleet played a vital logistics role by servicing a supply route from the Black Sea to Tartus, which became known as the "Syrian Express."
Putin never paid a price for his interventions, from Georgia in 2008 to Crimea in 2014 to Syria in 2015. This fuelled his confidence and likely contributed to the belief that the West would not deter him if he went into Ukraine in February 2022. 
Current State of Play
Russia finds itself overstretched in Ukraine but retains military and political influence across the South Caucasus, even as relations have grown increasingly strained with Armenia. Russia continues to assert dominance in the Black Sea through trade and military operations, which remain central to sustaining its war effort against Ukraine.
Russian efforts to deny Ukraine access to world markets, most recently by bombing the country's Danube port, which has driven up global grain prices, impart to the West just how dominant Russia is in the Black Sea and the lengths it will go to exert its influence. What is also lost due to Western policy-makers' singular focus on Ukraine is that Russia has also engaged over the previous months in horizontal escalation by continuously challenging the US in Syria, and France within its former colonial possessions in Africa. These actions suggest that Russia is not constrained by its war in Ukraine and that Moscow sees Ukraine and Syria as part of one larger military theatre.
For its part, the current Georgian government has fallen far behind its pro-Western aspirations, to Moscow's strategic benefit. The Georgian people remain overwhelmingly pro-Western, but the current government has edged closer to Moscow.
Since Russia's invasion of Ukraine, trade with Russia has grown threefold, and direct flights resumed, while ties with Brussels have grown strained. The ruling Georgian Dream government and its main opposition party, the United National Movement (UNM) have engaged in hyperbolic antagonism with each other rather than focus on strategic foreign policy priorities for their country.
Meanwhile, Russia's presence in the Black Sea and control of Sevastopol help bolster Russia's destabilising presence in Tartus. In sum, Russia retains influence, or denies it to others, in several strategically vital regions that augment its ability to conduct war in Ukraine.
As policymakers think about how to help Ukraine win, they should think strategically beyond Ukraine as Moscow has done, and look for ways to raise the costs of Russia's continued influence in these regions. Recent US engagement in peace talks between Armenia and Azerbaijan is a good start, if they bear fruit. Still, the prospect of a Russian veto remains in the background.
The West should continue looking for ways to integrate Georgia into the West, as tricky as that task may be given its current government, especially because the Georgian people prefer that course. It should also look at the long-term with an eye towards expelling Russia from the Black Sea. This is the region where the current war in Ukraine began, and it holds the potential solution on how to best end it.
Anna Borshchevskaya is a senior fellow in The Washington Institute's Diane and Guilford Glazer Foundation Program on Great Power Competition and the Middle East. This article was originally published on Al Majalla's website.