Turkey's Elections: Vote of Confidence or Game-Changer?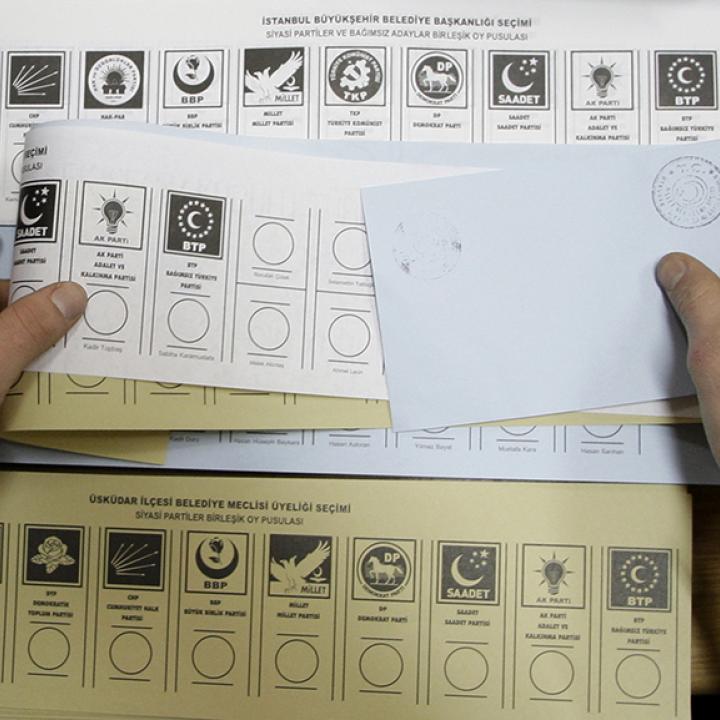 Analysis of the March 30 local elections from Turkey scholar Soner Cagaptay and former U.S. ambassador to Ankara James Jeffrey.
On March 31, 2014, Soner Cagaptay and James Jeffrey addressed a Policy Forum at The Washington Institute. Cagaptay, the Institute's Beyer Family Fellow and Turkish Research Program director, is author of The Rise of Turkey: The Twenty-First Century's First Muslim Power (Potomac Books). Jeffrey is the Institute's Philip Solondz Distinguished Visiting Fellow and former U.S. ambassador to Turkey (2008-2010). The following is a rapporteur's summary of their remarks.
On March 30, Turks elected new mayors and city and provincial council members in countrywide local elections. Overall, the incumbent Justice and Development Party (AKP) emerged strong, winning its sixth consecutive electoral victory since 2002.
A conventional analysis of the outcome would compare it with the 2009 local election results. All four of Turkey's major parties -- the AKP, the Republican People's Party (CHP), the Nationalist Action Party (MHP), and the Peace and Democracy Party (BDP) -- increased their support this year, continuing the country's decade-long consolidation into a de facto four-party system. According to the Turkish daily Hurriyet, the AKP boosted its tally from 38 to 43%, the CHP from 23 to 26%, the MHP from 16 to 18%, and the BDP from 6 to 7%. The AKP remains the dominant party, but the two main opposition factions, CHP and MHP, collectively won just as many as votes, while the BDP solidified its base in half a dozen southeastern provinces, winning 60% or more of the vote there.
Although Turks voted for local candidates on Sunday, party leaders ran nationwide campaigns. Hence, the results can also be seen as a vote of confidence ahead of upcoming presidential and parliamentary elections. Indeed, a different picture emerges when one compares the new results with the 2011 parliamentary vote: while the CHP and BDP's tallies have remained the same since that election, support for the AKP dropped from 50 to 43%, while the MHP increased it tally from 13 to 18%. Apparently, some voters disappointed by the AKP's policies have switched to the MHP, another right-wing party. This suggests that the left-right split in Turkish politics is very much alive, and that the CHP, a left-leaning party, cannot make significant gains from disenchanted AKP voters.
ERDOGAN'S WINNING STRATEGY
Much of the AKP's popularity can be attributed to Prime Minister Recep Tayyip Erdogan's ability to deliver phenomenal economic growth since 2002. Turkey's attractiveness to foreign investors has helped fuel that engine, resulting in a 4.4% growth rate last year -- exceeding rates in Europe and bucking expectations that last summer's Gezi protests might dent the country's investment worthiness. In exchange for this continued growth, Erdogan will no doubt be rewarded at the ballot box if he runs for president in August.
Ironically, Erdogan's image as an "authoritarian underdog" has further boosted his popularity among many Turks. Thus far, he has managed to portray himself as a political victim who will crack down harshly on those who undermine his authority through "conspiracies." Combined with an undeniable economic success story, this simultaneous narrative of "Erdogan the victim" and a demonized opposition has created a powerful cult of personality that would secure him a sizable share of the presidential vote.
ERDOGAN'S PATH FORWARD
If he runs this summer, Erdogan could become Turkey's first directly elected president; previously, all presidents were chosen by the legislature. As discussed in the recent Washington Institute study Turkey's 2014 Political Transition: From Erdogan to Erdogan?, he now has three paths forward. The first is to become president while transforming Turkey's government into a presidential system. The current parliamentary system grants only limited powers to the president. For now, this path seems like a tall order -- or perhaps a long-term project -- since Erdogan does not have the votes in the legislature to usher in a presidential system.
The second option is to retain the status quo, remain the prime minister, and have another AKP member run for president. This would require revising the AKP's internal charter, which says that elected party officials are barred from holding the same office for more than three terms -- Erdogan is already on his third term as prime minister heading into next year's parliamentary elections. If current president Abdullah Gul runs again, this summer's race could be less polarizing, since he has an appeal that reaches beyond party lines. Still, this is the least attractive option for Erdogan, who seems eager to take the seat once filled by founding father Mustafa Kemal Ataturk and to do so through a popular vote.
The third and most likely scenario is that Erdogan will run for president under the existing system. In that case, his current post would be taken by a caretaker prime minister, similar to the Russian model between Vladimir Putin and Dmitry Medvedev.
To become president, Erdogan would need to win at least 50% of the vote, and reaching that high water mark would require major Kurdish support. Erdogan has been an outlier in the region for his record of good relations with the Kurds. Although this past record may not be enough to win over the entire Kurdish voting bloc, Erdogan has a trump card: as part of Turkey's ongoing reform effort to devolve more administrative powers to the provinces, he can offer limited autonomy to Kurdish areas in exchange for their votes in August.
TURKISH FOREIGN POLICY UNTIL THE AUGUST ELECTION
Erdogan seems intent on not letting anything impede his presidential aspirations, so Ankara's foreign policy will likely be subservient to his political agenda in the coming months.
Regarding bilateral ties with Israel, Turkey remains interested in normalizing the relationship, especially on energy issues. Turkey's energy import needs and Israel's energy export needs should bring the two together. Turkey must diversify its energy sources if it wants to become less beholden to Russia and Iran, and Israeli natural gas can help. In return, Turkey can provide Israel with the closest viable market that has a substantive energy demand. Normalization will thus move forward as long as the issue does not become politicized within Turkey.
Regarding Cyprus unification, Turkey's thirst for natural gas will also soften its policy toward Greek Cypriots, who have discovered offshore gas fields of their own but need to work with Israel to export it. This makes unification of the island a less remote possibility, though it remains farfetched for the near future.
FUTURE PROSPECTS
The fact that Erdogan is not a dictator but a democratically elected leader shows that democratic values are rooted in Turkey's political culture. Yet his political success indicates that the country's authoritarian tilt will persist, further polarizing Turks. The liberal movement that has been building up since the Gezi rallies will continue to challenge Erdogan, with his authoritarianism generating further backlash from opponents. Their frustration at continued electoral defeats could also lead to more civil unrest. This would in turn feed into Erdogan's underdog rhetoric, boosting or at the least maintaining his popularity.
Even so, Erdogan will require continued economic growth to secure enough votes for the presidency. To maintain such growth, Turkey needs to remain open for business, which means being a country of law, where social media is not banned, courts are independent, and the media is free. Such openness would help secure more capital from investors and added value and knowhow from the creative classes, which in turn could transform Turkey from a middle-income society into an advanced economy. This would not only help Erdogan, but also make Turkey a great power in the region. In contrast, if civil liberties are not guaranteed, the courts and media lose their independence, and rule of law is violated, Erdogan's own political strategy will jeopardize his vision for Turkey's future.
This rapporteur's summary was prepared by Bilge Menekse.
You'll need Skype Credit
Free via Skype