Three New Facade Groups Launched in Iraq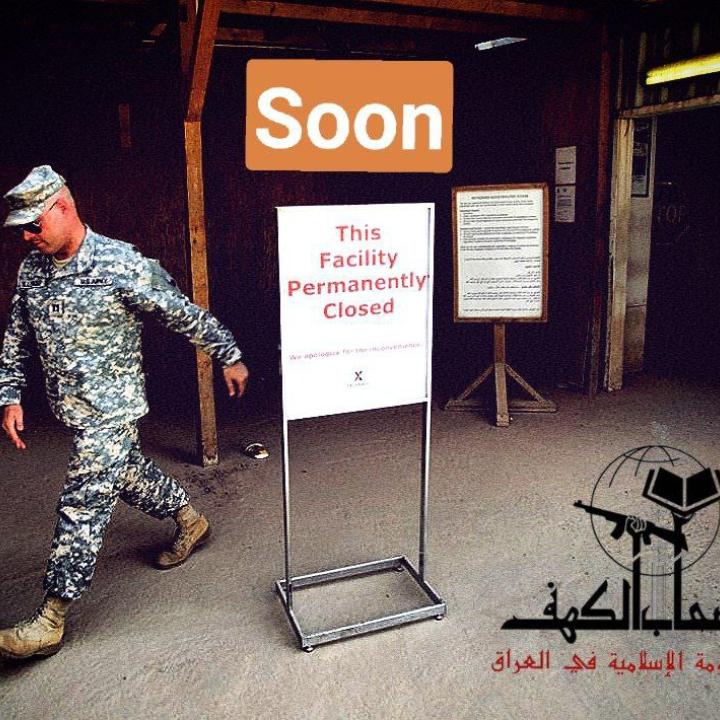 Efforts are being made to create new brands for anti-American "resistance" on Iraqi soil, even as politically connected militias try to distance themselves from kinetic attacks on U.S. targets.
In recent weeks, the facade group Ashab al-Kahf (AK) and its affiliated Telegram channels have made numerous threats against the U.S. presence in Iraq, including helicopter warnings and references to roadside bombings. Members have declared the beginning of a new era of "resistance" in which they will "expel the occupiers" from Iraq.
Interestingly, AK also seems to have softly promoted three new facade groups in recent weeks: Kataib al-Sabereen, Kataib Karbala, and Kataib Saifollah. None of the facades introduced in this significant burst of online activity has claimed an attack, nor do they have any obvious specialization such as a geographic focus or singular method of attack. Yet they share at least one feature in common: a focus on critiquing Prime Minister Mohammed Shia al-Sudani for not securing a timeline for U.S. military withdrawal.
Kataib al-Sabereen
On June 2, Kataib al-Sabereen announced its presence by publishing a threatening statement that read: "We...announce the start of our military operations against any presence of the U.S. occupation forces in our beloved Iraq and the entire region, after the current Iraqi government failed to schedule the withdrawal of the U.S. occupation army from the land of our proud Iraq and was very negligent with the occupation, and in some agreements [with the United States] became its agent... From now on, we in the Islamic Resistance will never stop our operations, and neither their bases nor their fortresses nor their politicians will protect them from our charges and operations" (Figure 1).
Kataib Karbala
The next day, Kataib Karbala announced its formation with a similar statement: "Within the framework of defending the sovereignty of our beloved country, Kataib Karbala announces its full readiness to confront the American presence...especially after the current government failed [on the issue of U.S. troops], as some comments were made that are considered a betrayal of our people and a harm to our cause" (Figure 2).
The last part of the statement was apparently a reference to January interviews in which Sudani seemed to support an "indefinite U.S. troop presence." Such statements are all the more notable now because muqawama (resistance) leaders have been talking about a truce allowing Sudani to negotiate with the United States on a schedule to withdraw U.S. troops.
Kataib Saifollah
Yet another statement criticizing Sudani was issued on June 5 by the new group Kataib Saifollah: "At a time when the current government has been complacent and neglected to implement the parliament's decision to schedule the withdrawal of the occupying U.S. forces from the pure land of Iraq,...we declare our full readiness to resist the main enemy of the religion of the Commander of the Faithful (peace be upon him) [referring to Imam Ali] with all our capabilities and strength...We affirm the start of our military operations against the American presence in every inch of Iraq...Everyone who cooperates with them will be within range of our fire" (Figure 3).
Interpreting AK Messaging
AK also teased a fourth new (and as-yet unnamed) online facade group on June 7, hinting it might reveal a surprise that would "expel the occupiers" (Figure 4). What is behind AK's escalating rhetoric against both the U.S. presence and Washington's active diplomacy in Baghdad? The surge in threats seemingly dates back to a speech by Akram Kaabi, leader of Harakat Hezbollah al-Nujaba, on Quds Day (April 14). 
Since then, AK has differentiated the position of armed groups (fasail) from that of the Coordination Framework (CF), the main political coalition for Iran-backed militias. Leading CF figures such as Hadi al-Ameri, U.S.-designated terrorist Qais al-Khazali, and even Kataib Hezbollah's Hossein Moanes seemingly want to give Sudani more time to reduce the U.S. presence down the road. Moreover, the largest muqawama media outlets—such as Sabereen News, which used to strongly support new facade groups—have offered almost no support to the three new brands announced this month. This could indicate genuine segmentation of the muqawama—or it could be a disingenuous effort to portray groups such as Asaib Ahl al-Haq and Hoquq as nonviolent actors, which they are not.