Terrorist Spillover in Jordan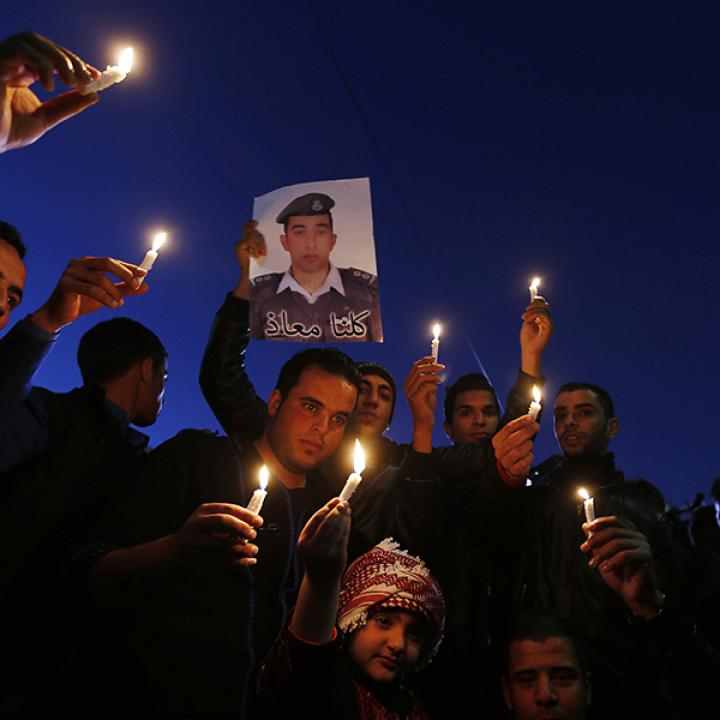 While the general uptick in terrorist attacks on Jordan is troubling, perhaps the most disturbing aspect is the manner in which violent extremism is crossing socioeconomic lines.
On June 6, five Jordanians were killed during an assault on a General Intelligence complex twelve miles north of Amman. The incident was Jordan's largest terrorist attack in more than a decade. With its unabashedly pro-west, pro-peace orientation, King Abdullah's Jordan has long been a target of Islamist militants, but the Islamic State (ISIS) constitutes an especially determined threat. Five years into the war in Syria, it increasingly appears that ISIS has established a base of support in the kingdom.
This isn't the first time Jordan has faced a persistent terrorist threat. Between 2002 and 2005, several al Qaeda attacks were perpetrated and interdicted in the kingdom, including the assassination of an American diplomat, the firing of missiles at U.S. warships docked in Aqaba port, and the simultaneous bombing of three Amman hotels. Since 2005, however, Jordan's efficient security apparatus and a popular backlash against al Qaeda contributed to a decrease in local terrorist acts.
As the war in Syria has dragged on, however, the threat has reemerged. In November 2015, a Jordanian police officer killed two American and two South African trainers, as well as two of his fellow countrymen, at an international police training facility in Moaqar. More recently, this March, Jordanian counterterrorism forces raided an ISIS cell at a Palestinian camp in the northern town of Irbid, killing eight militants allegedly planning attacks against civilian and military targets.
Less widely publicized were several other terrorist plots interdicted by Jordanian security forces. In July 2015, for example, seven Jordanians were given lengthy jail sentences and a Syrian was sentenced in absentia for planning attacks on the Israeli embassy in Amman and on U.S. troops in Moaqar -- the facility that was subsequently targeted. In 2016, three Syrians were arrested and charged with plotting to strike five separate Jordanian military and security outposts.
While the general uptick in terrorist activity is troubling, perhaps the most disturbing aspect of the Baqaa attack is the alleged perpetrator. According to Jordanian sources, the lead suspect is the nephew of a former parliamentarian. The involvement of one of the kingdom's elites in this particular attack is consistent with an alarming trend. To date, three sons of sitting members of parliament -- a stunning 1.5 percent of MPs -- have been killed fighting the jihad, either with ISIS or the al Qaeda affiliate Jebhat al Nusra, in Syria.
An estimated 2,500 Jordanians have already joined the ranks of the foreign fighters in Syria. The susceptibility of this most privileged segment of Jordan's population to Islamic militancy does not bode well for the long term stability of the kingdom. How many more among Jordan's less fortunate have adopted this malignant ideology?
Unlike Iraq, the Jordanian military is well trained and loyal, and will not collapse under assault from the Islamic State. But ideology traverses borders. Today, as Jordan's leading expert in Islamist groups, Mohammed Abu Rumman, recently wrote in the local daily Al Ghad, "the real danger of [ISIS] is not external, it is internal."
According to Abu Rumman, radical Islamist ideology is reaching Jordan's middle class, students, and educated in an unprecedented way, "finding a foothold in new areas like Irbid, East Amman, and the [Palestinian] camps." In large part, he says, that is because the government's strategy to counter violent extremism has been "neither serious nor convincing"; indeed, he wrote, it has been a "spectacular failure."
To be sure, Jordan is not alone in having difficulties finding an effective approach to countering the Islamic State's extremist ideology. The horrific attack in Orlando suggests ISIS is also making ideological inroads into the U.S. But the kingdom has it worse than most. Youth unemployment in the state is a staggering 30 percent. The proximity to Syria, where the nominally Shiite Assad regime has been slaughtering Sunnis for five years, is also big factor.
In polling taken in 2014, a year before a captured Jordanian air force pilot was burned alive by ISIS, only 62 percent of Jordanians said they considered ISIS -- and only 31 percent Jebhat al Nusra -- "terrorist" organizations. While more recent polling conducted by the International Republican Institute suggests that nearly 90 percent of Jordanians now consider ISIS a terrorist organization, the remaining ten percent who don't is a concern.
In the wake of the June 6 terrorist attack -- and the June 21 car bomb attack on a military post along the Syrian border that killed six Jordanian security officers -- Jordan is brimming with anti-terrorist and patriotic sentiment. Yet it is all but certain the kingdom will have to contend with the problem of radicalization -- and perhaps Syrian ISIS sleeper cells -- for years to come.
Jordan is Washington's best Arab ally and is a key partner in the campaign against ISIS in Syria, providing the U.S. and other western states with airbases and other critical operational support. More importantly, King Abdullah of Jordan has been a leading voice of regional moderation, a key voice in countering the ISIS/al Qaeda narrative. Recognizing the import of the kingdom, the U.S. provides the state with over $1 billion in annual economic and military assistance, and refugee funding.
At this point, however, money alone is not the answer to Jordan's terrorist problem. Five years into the revolt, the Obama Administration's continued indifference to Syria is having a pernicious impact on security in the kingdom. The longer the war in Syria persists, the more danger militant Islamist ideological spillover poses to Jordan.
David Schenker is the Aufzien Fellow and director of the Program on Arab Politics at The Washington Institute.