Tehran's Financial Woes Will Test U.S. Policy Resolve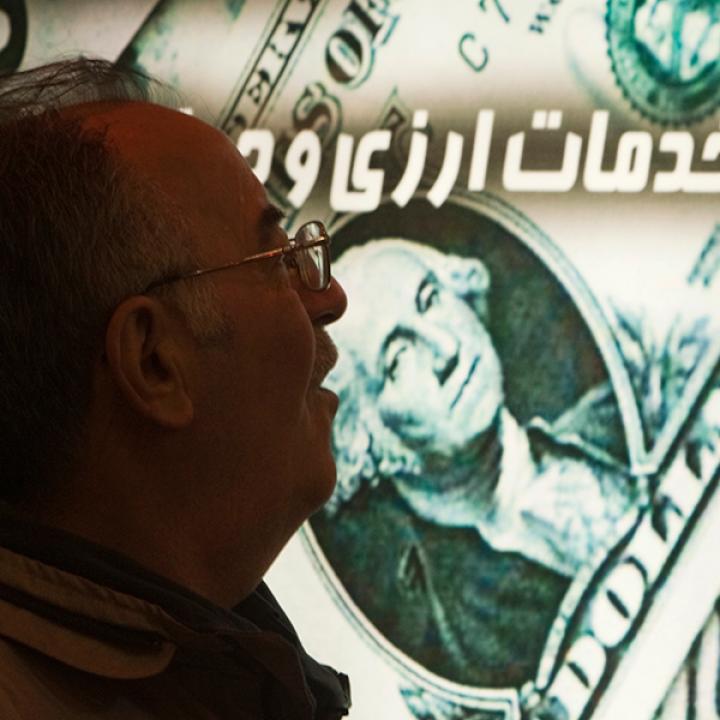 Mike Pompeo and John Bolton will have ample opportunity to punish Iran through sanctions and other moves, but simply articulating clear, achievable U.S. goals could prove a formidable challenge.
As the Trump administration welcomes a new secretary of state and national security advisor this spring, the fate of Iran's currency, the rial, will loom large in White House strategy on how to confront Tehran. President Trump has threatened to reimpose punishing oil and financial sanctions on Tehran if U.S. and European diplomats don't strengthen the terms of the landmark 2015 Iran nuclear deal by a May 12 deadline.
      
The sharp drop in the value of the rial in recent months provides the United States and its allies with significant leverage over Iran if President Trump decides to pull his support for the nuclear agreement, according to current and former U.S. officials. The currency fell to an all-time low against the U.S. dollar in March and has lost more than a third of its value since Trump took office last year. New international sanctions and other steps to target Iran's economy could cause the currency to fall even further.
       
But the Trump administration needs to clearly identify its objectives for any new financial war on Iran, say these officials, even as some of the president's aides lobby him to remain in the nuclear pact. Trump has suggested the United States could seek to use heightened financial pressure on Tehran to coax it back to the negotiating table in search of an agreement more attractive to Washington, something Iran has already ruled out. Other U.S. officials see the targeting of Iran's finances as a tool to drain the country of its ability to pay for its overseas military operations, particularly in Syria, Lebanon, and Yemen.
The promotion last month of two uber-hawks on Iran—soon-to-be national security advisor John Bolton and secretary of state designee Mike Pompeo—however, raises the prospects of an even more ambitious strategy: one aimed at regime change. Both men have spoken in the past of the importance of depleting the regime's coffers to promote political change. "The declared policy of the United States should be the overthrow of the mullahs' regime in Tehran," Bolton told a gathering of an Iranian opposition group last summer. "The behavior and the objectives of the regime are not going to change and, therefore, the only solution is to change the regime itself."    
Targeting Iran's Economy, But to What End?      
Successive U.S. administrations, and Treasury Department officials, have vacillated on the ultimate aim of their decades-long efforts to squeeze the Iranian economy. Members of the George W. Bush administration talked of choking off Tehran's finances to the point that there would be runs on Iranian banks and the rial, thereby destabilizing the regime. They described Iran's illicit businesses and support for international terrorism as a threat to the global financial system. As a result, Treasury officials toured the world and warned foreign banks and governments against doing virtually any business with Iran, or else they would risk being complicit in international criminal activities.
This U.S. strategy had a devastating impact on the Iranian economy. During President Barack Obama's second term, the rial lost about two-thirds of its value, Tehran's oil sales were cut by more than half, and the country's economy contracted. But the nuclear deal forged in 2015 caused Washington to dramatically reverse course. Senior Obama administration officials stressed that the end goal of the U.S. financial war was to force Iranian concessions on its nuclear program, not regime change. Efforts to deter investment in Iran subsided, despite Iran's continued role in financing terrorism and engagement in other illicit activities. "The sanctions brought them to the table to negotiate," former secretary of state John Kerry told CNN in July 2015. "They did the very thing everybody put the sanctions in place to get them to do."
       
The Trump administration has so far been unclear about the eventual aim of its sanctions policy regarding Iran, particularly if the president pulls out of the nuclear deal in May. In theory, he could seek to reimpose all the crippling economic sanctions that were formally repealed in 2016. These included sanctions on Iran's central bank and an embargo on its oil exports. The Treasury Department could also resume the naming-and-shaming campaign it used so effectively to deter investments in Iran. Senior Trump administration officials have suggested they could head in that direction. "In our engagements both here in the United States and abroad, we have made clear that companies doing business in Iran face substantial risks," the Trump administration's point person on Iran sanctions, Treasury undersecretary Sigal Mandelker, told Congress in January.
Iranian Currency in Free Fall      
The economy in Iran remains extremely vulnerable, despite the nuclear accord and the lifting of international sanctions, in the view of U.S. officials and Iran analysts. On March 28, the Iranian rial fell to an all-time low of 52,000 against the U.S. dollar and has dropped 37 percent over the past year. Trump's tough talk on Iran is part of the reason, according to these officials and analysts. But probably more important is the state of the country's banking system. As many as twenty major financial institutions have gone bankrupt in Iran in recent months, say analysts. And the closures of private investment firms, which lacked depositors insurance, helped spark the national protests that first gripped the country this past December.
For all the downward trends, the International Monetary Fund projected in a March report that Iran's economy could grow 4 percent in the fiscal year ending March 20, 2019. And the drop in the rial could help make Iranian exports more competitive. Still, the IMF concluded that the Iranian government's debts have ballooned to around 50 percent of the country's economic output. And the country's three largest pension funds are insolvent. "Directors noted that a weak banking sector, structural bottlenecks, and heightened uncertainty [pose] risks," the report stated.  
Conclusion
Iran is facing in 2018 a constellation of political, economic, and environmental threats perhaps unseen since the Islamic Republic was formed almost forty years ago. The unrest that began last year has continued, at varying levels, and included protests by women seeking greater gender equality and labor unions upset by wage stagnation and inflation. Water shortages and earthquakes have taxed the capabilities of President Hassan Rouhani's government. And Tehran is spending billions in its overseas military operations, particularly in Syria, where it has been fighting for seven years to prop up President Bashar al-Assad's regime.
         
Also hanging over Tehran is a looming political succession. Supreme Leader Ayatollah Ali Khamenei is seventy-eight years old and has endured cancer treatment in recent years. And there are growing signs that military and political leaders have begun jockeying for power in anticipation of the cleric's exit. Among the scenarios: Iran's elite military unit, the Islamic Revolutionary Guard Corps, could seek to establish military rule. "The 2017 uprising, internal elite divisions, and Khamenei's inability to maintain a stable political system suggest that the regime's demise, if it comes, should come as no surprise," wrote Iran expert Alireza Nader in February.
Still, it's unclear if John Bolton and Mike Pompeo will adhere to their hawkish stances and seek to exploit these divisions in Iran once in office. They could do this either by escalating a financial war on Iran or seeking to challenge Tehran on other fronts. President Trump, for his part, has yet to articulate a coherent vision on Iran policy. In Syria, U.S. troops have served as a bulwark against Iranian and Shia fighters consolidating the Assad regime's hold on power. But last month, Trump said he is preparing to call the U.S. forces home. "We'll be coming out of Syria very soon," Trump told a political rally on March 30. "Let the other people take care of it now."
Jay Solomon is the Segal Distinguished Visiting Fellow at The Washington Institute and author of The Iran Wars: Spy Games, Bank Battles, and the Secret Deals That Reshaped the Middle East.