Syria's Humanitarian Crisis: A Moral and Strategic Issue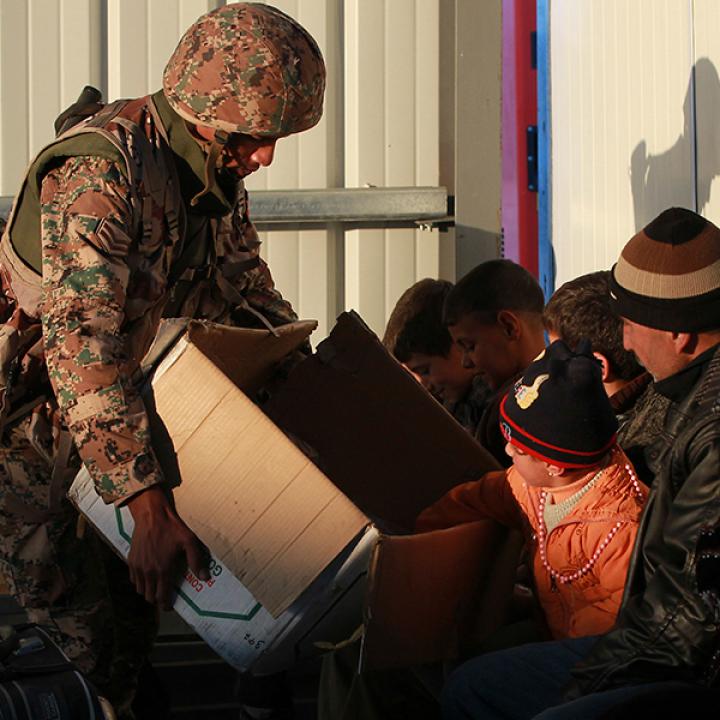 To undermine the Assad regime's exploitation of humanitarian assistance, the United States and its allies should provide aid directly inside Syria through credible international NGOs.
While much of the focus regarding the Syrian conflict is on questions of military tactics and political power, the vast humanitarian crisis is not being properly addressed. Millions of innocent civilians, in refugee camps on every Syrian border and especially inside the country, remain unprotected against freezing temperatures, food shortages, health emergencies, sexual violence, and other potentially deadly hazards. Upcoming international conferences in Paris (January 28) and Kuwait (January 30) are intended to help correct this glaring deficiency.
Doing so requires an honest accounting of where exactly the needs are greatest -- and who exactly should be in charge of meeting them. This task is all the more urgent because the scope of Syria's humanitarian crisis makes it as much a strategic as a moral issue. Bashar al-Assad's regime is using deliberate scorched-earth tactics to devastate population centers sympathetic to the rebels, hoping to erode the opposition's popular support, increase the people's dependence for sheer survival on government largesse, and compel more Syrians to acquiesce to continued oppression.
THE HUMANITARIAN CRISIS
Currently, the lion's share of international humanitarian assistance to Syrian refugees and displaced persons is going to the 650,000-plus who have fled the country, mostly to the neighboring states of Turkey, Jordan, Lebanon, and Iraq. They sorely need this aid as they struggle to survive under difficult or even desperate winter conditions. Host countries, relevant NGOs, and foreign donors are all making a valiant -- if not always adequate -- effort to sustain this growing tide of refugees.
Yet the number of people who urgently need humanitarian aid inside Syria is even greater. The UN estimates there are some two million internally displaced people; other credible estimates are even higher. In other words, more than three times as many people have been forced out of their homes inside Syria as have been compelled to cross the borders in search of safety or sustenance. An additional two million Syrians still in their homes are believed to require emergency food, fuel, medical, and other essential humanitarian support.
AID CHANNELED THROUGH REGIME-APPROVED ENTITIES
Hiding behind the cover of sovereignty, the Assad regime insists on its right to control the distribution of all humanitarian assistance inside the country, giving itself every opportunity to deny or divert aid at will. In the words of Syria's official UN Humanitarian Response Plan, "All humanitarian assistance is, and will continue to be, delivered with full respect to the sovereignty of the Syrian Arab Republic...[D]ecisions on strategic or logistical issues, including field office locations, should be done after formal consultations with the government in order to receive clearance and accreditation."
The UN describes its current humanitarian appeal for Syria, which covers the next six months, as the largest and most urgent such appeal ever issued for any crisis. Yet two-thirds of this projected $1.5 billion in aid will be devoted to needy Syrians outside the country, leaving only one-third for the much larger number still inside it. Worse, all of the internal aid is slated to be channeled through Syrian government ministries and agencies, and delivered by organizations selected and approved by the regime.
For example, the World Food Programme recently announced that it had received permission, for the first time, to work with local partners inside Syria in addition to national organizations, and that it had selected 44 new partners to handle emergency food distribution in previously inaccessible locations. But every one of these new partners came from a list of 110 organizations authorized and supervised by the government. Remarkably, the regime's published list of the "main government bodies responsible" for the overall humanitarian assistance program includes the Interior and Foreign Ministries. And while the full list of private-sector organizations involved has not been publicly announced, they are predictable: Baathist unions and charities will likely lead the way.
Moreover, regime manipulation of private-sector aid is already institutionalized through legal ambiguity. Officially, Syria has no NGOs -- the only institutions that function in that manner are registered as charities under the patronage of First Lady Asma al-Assad. Islamic and community charities outside her net with a history of addressing specific social ills are closely monitored and controlled by the Ministry of Social Affairs and Labor. Much of the aid now distributed is via the Syrian Arab Red Crescent, a regime parastatal organization; although its members have reportedly shown bravery in getting aid to some parts of the country, they are being kept out of "liberated" areas under opposition control.
It defies credulity to imagine that such bodies -- acting on behalf of a regime that has already massacred tens of thousands of its own innocent civilians -- could possibly manage humanitarian aid in an equitable, neutral, or even minimally effective fashion. In fact, the regime's recent strategy seems to be the deliberate destruction and depopulation of selected major urban and suburban areas precisely in order to starve and terrorize their populations into submission. As the UN Emergency Relief Coordinator's January 17 "Key Messages on Syria" document put it (without explicitly naming the main perpetrator), "Despite constant calls for all parties to abide by international humanitarian law, and to not target civilians, we continue to see the terrible damage caused by heavy weapons in urban centres. People live in constant fear of bombing. We have reports that whole towns and neighbourhoods have been emptied or destroyed."
In short, because UN aid must go through regime-controlled entities, the new proposal -- to spend half a billion dollars on humanitarian assistance inside Syria over the next six months -- threatens to become another economic and strategic prop for the beleaguered regime rather than a source of real succor for the Syrian people.
DIVERSIFYING AVENUES FOR AID
Compared to the UN-led relief effort as a whole, U.S. humanitarian aid to Syria appears more sharply focused on the country's increasing internal emergency requirements. The State Department reports that the United States has contributed approximately $210 million in humanitarian aid, channeled through UN-based and other international organizations or NGOs. Nearly half of this total has been allocated in fiscal year 2013 alone (i.e., since October 1), and well over half was designated for relief activities in Syria rather than in external refugee camps. In an oblique reference to regime favoritism and obstruction, the State Department recently noted, "We continue to develop ways for humanitarian assistance -- provided on the basis of need and not political affiliation -- to reach previously inaccessible areas inside Syria."
What might those ways be? One would be to work on a much larger scale with reputable and competent NGOs that are not subject to the regime. For example, Doctors Without Borders is still able to operate a few clandestine clinics in the north despite regime bombardment. And the director of the Syrian American Medical Society (SAMS) recently told one of the authors that twenty-three doctors and medical technicians affiliated with his organization are currently active inside Syria. SAMS has received around $2.5 million in grants and donations in the past year; he estimates that it and similar independent efforts could easily make good use of hundreds of times that amount.
Other potential avenues include Red Crescent and Red Cross societies from various countries, so long as they agreed to circumvent regime restrictions as much as possible. To be sure, coordinating aid through numerous local channels would be more difficult and complicated, but it is the only way to ensure that the bulk of the assistance is not diverted to support the regime responsible for creating the humanitarian emergency in the first place.
Another avenue -- more controversial, but probably necessary -- is to offer physical protection for truly independent NGOs working inside the country. This would mean establishing safe areas, humanitarian corridors, or even no-fly/no-drive zones where bread could be baked without bombing, other basic necessities (like heating fuel) could be delivered impartially, and medical procedures could be performed in secure and sanitary conditions.
But talk of such options quickly runs into political objections, even among well-intentioned outside actors. Last spring, for example, the French government proposed to begin donating humanitarian aid to recipients in Syria rather than stopping at the Turkish or Jordanian border, whether directly or through the government in Damascus. It did not turn out that way. In a conversation with one of the authors this week, an advisor to President Francois Hollande confirmed that French aid was not being provided directly inside the country. Asked whether that could be accomplished if aid deliveries were protected, the rueful response was, "But would that be legal?"
CONCLUSION
Syria has already fractured into parts with various types of political and military control -- a situation that will probably persist for years to come. Aid provision will therefore remain a major problem going forward, in both logistical and legal terms. Failure to address this moral imperative will not only lead to more human suffering, but also allow the regime to use aid as a soft-power weapon against the opposition. Only by finding creative legal solutions -- that is, opening credible and accountable avenues outside regime-dominated aid channels -- will the United States achieve its objectives of easing human suffering, getting Assad to "step aside," and creating a more peaceful and democratic post-Assad Syria.
David Pollock is the Kaufman fellow at The Washington Institute. Andrew J. Tabler is a senior fellow at the Institute and author of In the Lion's Den: An Eyewitness Account of Washington's Battle with Syria.