The Syrian Regime on the Offensive Again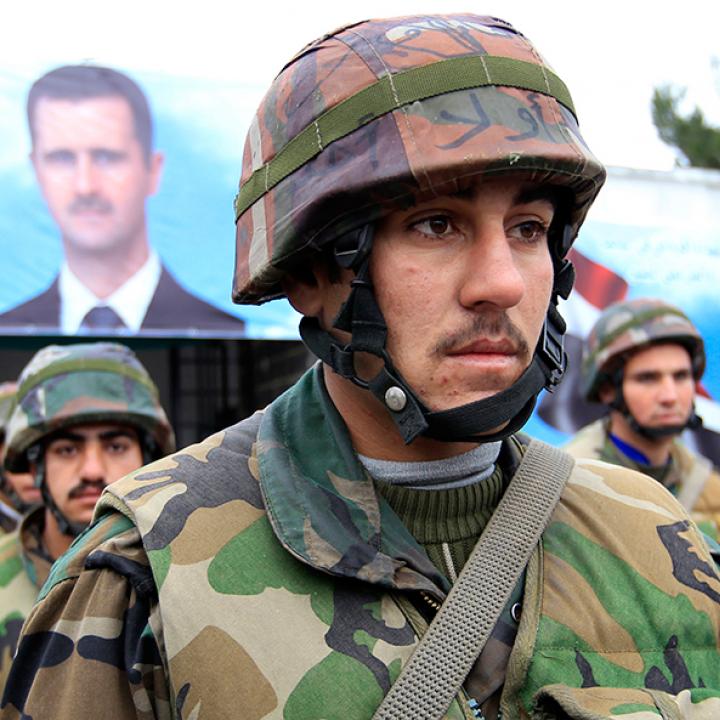 The regime's patient, attrition-based approach to ongoing operations near Damascus and Aleppo shows how it could still win the war even without spectacular battlefield victories.
In early February, the Assad regime and its allies launched two major offensives against opposition forces in Syria. The first was directed at rebel groups operating south and southwest of Damascus, and the second at rebels near Aleppo holding open their last line of communication to the city. Although government and allied forces are active throughout the country, these two operations are the most important for the regime at this time, and neither is directed against "Islamic State"/ISIS forces. Thus far, both assaults have made slow progress against stiff rebel opposition, and it is not clear that the regime will meet its overall goals. Nevertheless, the operations fit well with the patient and reasonably effective military strategy the regime has come to apply after four years of fighting.
REGIME MILITARY STRATEGY
Two major elements of the regime's approach are attrition and position. It seeks to wear down the opposition's forces and will by inflicting material and morale losses in sustained fighting, even if these engagements are not necessarily intense or decisive. It also aims to control key positions -- provincial capitals, airfields, strongpoints, lines of communication, dominant terrain -- at the strategic, operational, and tactical levels.
These two elements are mutually supportive. Attrition facilitates the taking and holding of key positions, which in turn imposes further attrition on rebel forces. These are necessarily slow processes and do not always work in the regime's favor, but by and large they have led to important offensive and defensive successes amid occasional failures.
CONTEXT OF THE LATEST CAMPAIGNS
The Damascus and Aleppo offensives present both opportunity and risk for the regime. The long war it is fighting allows it to work methodically to reduce its opponents -- the regime can prioritize its objectives and pursue them without rushing, a kind of strategic patience. Nevertheless, whenever it commits serious resources to an operation with important goals, it must score enough visible success to claim "victory" and make the inevitable losses incurred worthwhile. Clear failure, as in Raqqa province last summer, results in both military and political setbacks for the regime.
The southern offensive -- which has centered on western Rif Damascus, Quneitra province, and northern Deraa province -- was launched because moderate and extremist rebel groups were pressing on the southern Damascus suburbs and threatening the regime's line of communication to Deraa city. The regime had been unable to manage the threat with its standard forces and airpower; this fact, coupled with Hezbollah's interest in establishing a new front with Israel, led to the current combined offensive involving regime, Hezbollah, and Iranian-allied Shiite militia forces.
In Aleppo, the regime's aim has been to complete the city's encirclement and relieve pressure on two Shiite towns that had been under rebel siege. Success here would deal the rebels a severe blow in military and political terms.
OPERATIONS SOUTHWEST OF DAMASCUS
Launched on February 7, "Operation Martyrs of Quneitra" aims to clear the northern Horan plain of rebel forces and restore regime control of Quneitra province, including its capital. The key tactical objective appears to be Tal Harra, a dominant terrain feature controlled by the rebels. If successful, the campaign would bolster the southern defenses of Damascus and permit Hezbollah to establish a military presence on Israel's Golan border (for more on the latter point, see PolicyWatch 2380, "Southern Syria: A New Front for Israel?").
The regime has reportedly employed some 4,000-5,000 troops in the operation, supported by heavy air and ground firepower. Regime-associated and opposition sources have claimed that elements of the 9th, 7th, and 5th regular army divisions are involved in the fight, along with irregulars from the National Defense Forces (NDF), Hezbollah, Iran's Islamic Revolutionary Guard Corps, and Iraqi and Afghani Shiites. Opposition sources have emphasized Hezbollah's role, while regime-associated sources have emphasized the role of regular army units. In any case, similar force combinations have become the standard formula for important regime operations since the successful al-Qusayr campaign of spring 2013.
The regime is facing tens of rebel units in this operation, including from the Southern Front, the Syrian Revolutionaries Front (SRF), and Jabhat al-Nusra. Rebel defensive actions are coordinated by several "operations rooms," and they have been relatively effective in blunting the regime assault. The rebels have been able to take advantage of the numerous volcanic mounds, small hills, and villages in the area to resist attacks; much of the fighting has focused on these landscape features. The opposition was also assisted by a period of bad weather in mid-February, which reduced the regime's ability to provide air support to ground forces.
Tactically, the regime has relied on the heavy firepower provided by regular army units and skilled Hezbollah infantry. Videos have shown regime "battle groups" composed of armor, artillery, and regular and irregular forces engaged in the offensive. Regime and allied units are using bombardment to weaken rebel forces, night infiltration to overcome rebel strongpoints, and, when necessary, direct assault to take positions.
After some initial success achieved through surprise, advances have slowed, but the regime continues to press the defenders and make deliberate progress. It has inflicted some -- perhaps substantial -- attrition on rebel forces and gained some hilltop and village positions. The regime is not yet close to achieving its major objectives, but it seems prepared to continue the offensive for some time, slowly reducing the defenders and taking more positions.
OPERATIONS NORTH OF ALEPPO CITY
The Aleppo operation began on February 17 when regime forces left their established positions north of the city and attempted to advance to the west. Their aim was to cut the rebels' last line of communication and reach the besieged Shiite towns of Nubl and Zahra. The forces involved reportedly included elements of the regular army, NDF, Baath Party militia, and Hezbollah, as well as Iranian, Palestinian, and Afghani fighters. Prior to the operation, armored reinforcements were reportedly sent from Hama province to bolster the regime's offensive capabilities, and two additional groups of reinforcements have reportedly been provided since the campaign began. Sources also indicate that one of the regime's most effective commanders, Col. Suhail Hussain, has been sent there.
The fighting has focused on key towns (Hardatnin, Rityan, Bashkuy, and Mallah) and the more open areas around them (Mallah farms). Regime forces have employed the same tactics used in the southern offensive: bombardment, infiltration, and assault. They have also conducted several surface-to-surface missile strikes against rebel-held towns. Weather has been a factor here as well, with poor flying conditions sometimes limiting air support.
Regime forces have reportedly imposed heavy attrition on the rebels but have taken substantial losses of their own, especially among NDF and allied elements used in an assault role. While casualty numbers in this war are always dubious, both sides have clearly suffered in this battle. The reinforcements sent to Aleppo certainly suggest the regime has taken losses, though they also show Assad's determination to succeed there.
In terms of position, the regime's significant initial gains have been substantially rolled back by rebel counterattacks, with Assad's forces losing three of the four villages they had taken. Nevertheless, the regime retains some of the territory it seized and seems set to continue its offensive, as in the south.
IMPLICATIONS
Both offensives are still under way, so assessing progress is difficult. At this point the regime appears to have scored some tactical successes, though it remains to be seen if it can convert them to larger operational successes. But as in the past, the regime seems committed and could prevail in the end despite the slowdown. For example, the al-Qusayr campaign lasted around nine weeks (April-June 2013) with some setbacks before Assad's forces achieved their major objectives. Whatever the outcome, the regime will attempt to consolidate its gains, even if small, and prepare for future efforts. There is a relentless, patient rhythm to regime operations, as it was in al-Qusayr.
Indeed, small successes are important for the regime and its allies at this point. After four years of war, Damascus recognizes that it cannot win in a hurry, but it may be able to win through attrition and sustained efforts to take and hold important positions throughout the country. This imposes a grinding war on the rebels, who remain factionalized, bereft of coherent leadership, without strong external allies, and therefore not well suited to resist the regime's patient approach. The danger is that even without spectacular battlefield victories, the regime can still win the war.
In large part the outcome will be determined by the regime and opposition's respective ability to mobilize internal and external resources for this long war. The rebels may have the advantage in internal manpower potential, but the regime has the advantages in allied support and its own ability to organize, train, and equip manpower.
The war's slow nature still provides opportunities for those who wish to prevent a regime victory, and it is not too late to develop effective rebel forces. Yet the task of defeating Assad and his allies is becoming more difficult by the day.
Jeffrey White is a defense fellow at The Washington Institute and a former senior defense intelligence officer.