Syrian Regime Military Operations Against ISIS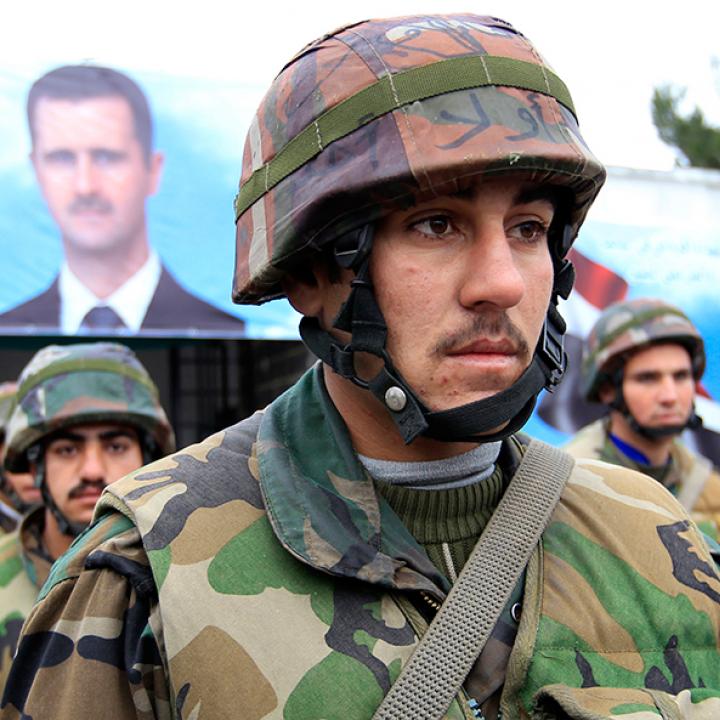 The regime is entirely pragmatic when choosing what groups to fight with or against, making it an unreliable prospective coalition ally, at best, against the self-styled Islamic State.
The Syrian regime's battle with the Islamic State of Iraq and al-Sham (ISIS) is not its top priority, but day in, day out, Damascus devotes military resources against the group, generally when it threatens key regime interests. This fight is best characterized as a holding action or an economy-of-force operation, given that ISIS is most active in areas of secondary importance to the regime. Instead, the regime has concentrated its efforts on higher-priority threats such as Jabhat al-Nusra, assorted Islamist opposition forces, and nationalist rebel elements in western Syria. If the regime can prevail against these opponents, it will likely turn its full attention to ISIS.
In some cases, the regime's pragmatism -- and general lack of ideological constraints or objectives -- allows it to either ignore or even cooperate with ISIS. This is the case, for example, when it comes to economic issues such as oil sales. Pragmatism has likewise seemed to dictate regime actions around the city of Aleppo, where its units benefit by refraining from hostile engagement with ISIS, instead focusing on other rebel and Islamist forces.
Strategy
Regime operations against ISIS, also known as the Islamic State, are part of its long-war strategy for the conflict. In this war, the regime can be patient, prioritize its objectives, and use its resources efficiently and effectively. This strategy is based on three mutually reinforcing elements: attrition, position, and mobilization.
Attrition facilitates the taking and holding of key positions, which in turn imposes further attrition on rebel forces. Mobilization provides the military resources to conduct operations, and the control of positions supports the mobilization of resources. All three elements of regime strategy are at work in its operations against ISIS.
Operations
The regime conducts military operations against ISIS in pursuit of its strategic objectives, according to its priorities, and with its available resources. In the broad context of regime strategy, these operations are focused on the war's currently secondary fronts: the east (Deir al-Zour and Hasaka provinces) and the center-west (Hama, Homs). The regime has conducted significant operations against ISIS in six of Syria's fourteen provinces.
The regime has four objectives relative to ISIS: preventing the group's seizure of positions important to the regime; preventing it from consolidating control in areas it has previously taken; when possible, retaking territory held by ISIS; and generally inflicting casualties and damage on ISIS forces and supporters. Regime operations are directed at ISIS centers of gravity, including its combat forces and popular support.
The regime uses all components of its regular and irregular forces in its conflict with ISIS. It employs "packages" of various types of ground forces and supports them with fixed- and rotary-wing aviation and occasional surface-to-surface missile strikes. Unlike in western Syria, regime-allied forces such as Iraqi Shiites, Hezbollah, and Iran play little role in operations in the country's east. 
Regime operations against ISIS around Deir al-Zour are aimed at retaining at least some control of the city itself, maintaining control of the military airfield, and preventing ISIS from consolidating control of the province. Regime regular ground forces involved reportedly include the 104th Republican Guard Brigade and the 137th Brigade of the 17th Division. The regime has sent reinforcements to the Deir al-Zour city area several times over the course of the fighting. Irregular forces reportedly involved include the National Defense Forces (NDF), tribal elements, and "local" forces. Ground operations are characterized by persistent clashes around the city and airfield and occasional ISIS attempts to seize the airfield. In December 2014, ISIS tried and failed to take the airfield with a major assault, incurring substantial casualties in the process. Air operations in Deir al-Zour, including in the countryside, have included area bombing of ISIS-controlled towns, strikes in support of offensive and defensive ground operations, and strikes against ISIS forces and facilities.
Since the beginning of the Syrian conflict, the regime has fought to maintain a foothold in Hasaka province, in the northeast. In particular, the regime has tried to retain control of part of Qamishli city and its airport, part of Hasaka city, and key lines of communication (LOCs) in the province. This has led to a complex and sometimes hostile relationship with Kurdish forces, and to direct combat with ISIS since it emerged as a threat to the regime position in Hasaka and Qamishli cities.
Regime regular forces in the province have been reported by Syrian sources as the 121st Brigade in Hasaka, the 154th (or 554th) Regiment in Qamishli, and the 47th Special Forces Regiment. Irregular forces include the NDF, tribal forces, and Baath Battalion elements. The Syrian air force conducts airstrikes against ISIS forces and ISIS-held areas and supports regime ground operations.
At least some degree of tacit cooperation occurs between the regime and Kurdish People's Defense Units (YPG) in the province, although these sides also occasionally clash, probably owing to local tensions. In effect, whatever territory is controlled by the YPG is territory not controlled by ISIS, and YPG operations against ISIS support, at least for now, regime objectives in the province.
In Homs province, the conflict between regime and ISIS forces centers on the Shaer gas field, northwest of Tadmur, also known as Palmyra. Beginning in July 2014, ISIS has raided the field repeatedly, at times taking control of all or parts of it and inflicting causalities on regular and irregular regime forces. It has also threatened at times the key regime Tiyas airfield (T-4) and the Homs-Tadmur highway. The regime has responded, most recently last week, with air and special forces operations to drive ISIS from the gas field, to protect the airfield, and to secure the highway from Homs to the east and regime forces at Deir al-Zour. Regime ground operations are routinely supported by Syrian air force strikes.
Regular regime units reportedly involved have included elements of the 3rd Division, 18th (probably 81st) Brigade, the Suqur al-Sahara (Desert Hawks) special forces battalion, and the al-Qawat al-Nimr (Tiger Forces) special operations unit. Irregular forces fighting in support of the regime have reportedly included the NDF and Muqawama Suriya (Syrian Resistance) forces.
In eastern Hama province, regime operations are intended to limit the ISIS threat to the more populated areas of western Hama and Homs provinces, assist in defending the Shaer gas field, and perhaps to protect the regime's desert LOC to Aleppo city. Last week, the regime conducted an airstrike on ISIS leadership in the province, reportedly killing two commanders along with a number of fighters. Regime forces were also active against ISIS on the ground in eastern Hama, engaging its forces in various towns, assisted by aerial bombardment. Regime airstrikes appear to be the primary response to ISIS in Hama.
In Aleppo province, the regime chooses not to seriously engage ISIS. Regime operations in this province focus on Islamic and rebel forces and completing the encirclement of Aleppo city. ISIS operations against rebel forces also directly or indirectly assist the regime by inflicting casualties on the rebels and drawing effort away from regime forces. On occasion, as implied earlier, both the regime and ISIS have taken advantage of the other's operations to press their own actions against rebel forces.
The regime does, however, engage in area bombing actions against ISIS-controlled territory as part of its effort to weaken the ISIS support base and prevent its consolidation of control. The city of al-Bab, in northern Aleppo province, has been a favorite target.
Failures and Successes
Outcomes of the regime approach to ISIS have been mixed. The most serious failure occurred in Raqqa province in summer 2014, when regime forces were defeated in three successive battles. The results included loss of the province to ISIS, major casualties among regime forces, and the humiliating spectacle of ISIS executing regime personnel, including Alawites, captured in the fighting. The regime's response to the unfolding crisis in Raqqa was slow and ineffective. The isolated posts of the 17th Division at Ayn Essa and Raqqa city were essentially abandoned to their fate, and regime efforts to save the important al-Tabqa airfield through reinforcement and airstrikes proved too little, too late.
This failure apparently invigorated the regime in its subsequent military operations against ISIS, probably accounting for its stiffer defense of other key positions. Thus, the regime has held Deir al-Zour airfield against all ISIS incursions, including defeating a major ISIS effort to take the airfield in December 2014. It has protected Qamishli and Hasaka cities in Hasaka province, especially recently, where it has claimed some offensive successes against ISIS. In Homs province, it has fended off ISIS operations against the Shaer gas field. In these actions, regime forces have inflicted substantial casualties on ISIS while taking significant losses of their own. These regime successes may be attributable in part to ISIS commitment of forces elsewhere in Syria -- such as the Kobani region -- and to operations in Iraq.
Conclusions and Implications
The regime approach to ISIS is part of its long-war strategy for the conflict, which now prioritizes targeting both Islamist and non-Islamist armed groups in important areas of western Syria, especially urban areas and the highways connecting them. It fights ISIS where and when important regime interests are at stake. When such interests are not at stake, the regime is content for ISIS to fight the rebels without interference and even to tacitly assist the group.
Fighting between regime and ISIS forces is nontrivial, with each side probably suffering thousands of casualties -- with hundreds killed -- in sometimes vicious combat. Both sides have committed atrocities against the other, including executing and beheading prisoners.
In the Syrian war, the regime is completely pragmatic regarding whom to fight with or against, as well as where and when to fight. This suggests that any U.S./coalition notion of the regime as an ally in the war against ISIS needs to be approached carefully. At best, the regime would be an unreliable ally, putting only limited effort into the fight while putting its own interests first, including cooperating with ISIS when deemed expedient. At worst, it would exploit any perceived or real cooperation with U.S. or coalition forces to further its political aims and reinforce its own military operations against the Syrian opposition.
Jeffrey White is a defense fellow at The Washington Institute and a former senior defense intelligence officer.