Supporting the New Gulf Effort to Ease Yemen's Humanitarian Crisis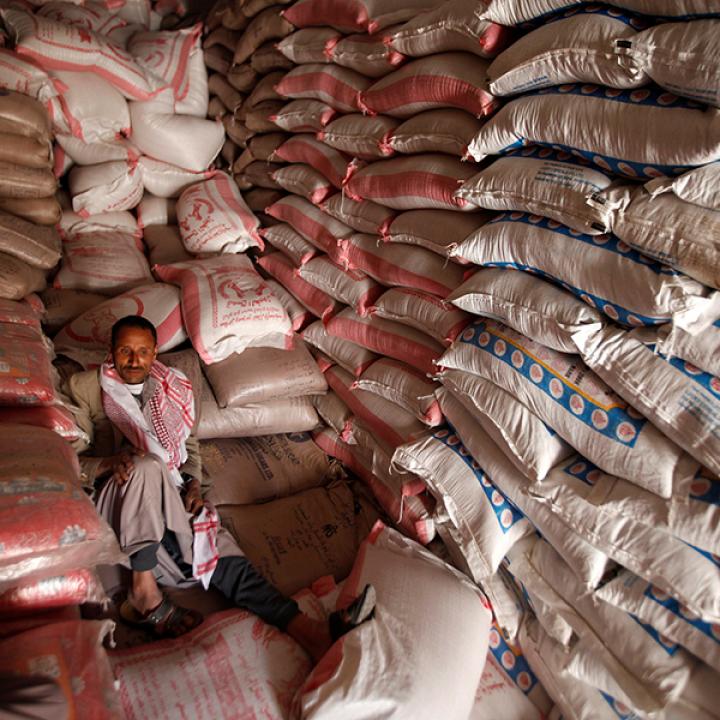 Riyadh and its allies are finally moving to reduce the humanitarian impact of their blockade, so U.S. officials and other actors should take corresponding steps to assist aid flows, secure ceasefires, and promote a diplomatic solution to the crisis.
On January 22, the Saudi-led Gulf coalition announced the launch of the Yemen Comprehensive Humanitarian Operation (YCHO), aimed at decisively addressing the country's humanitarian crisis. If successful, the initiative would satisfy international calls for loosening the coalition blockade, placing the onus on the Houthi rebels to cease impeding aid deliveries in areas under their control.
CAUSES OF THE CRISIS
Yemen was on the brink of a humanitarian meltdown even before the war and subsequent blockade. In 2010, the World Food Programme found that 7.2 million Yemenis (31.5% of the population) were food insecure, including 2.65 million (11.8%) severely food insecure. Yemen suffered from poverty, malnutrition, unsafe water, and poor sanitation before the war, but the fighting since 2015 has sharply exacerbated the health crisis. By the end of 2017, the UN Food and Agriculture Organization estimated that 17.8 million Yemenis (64%) were food insecure, 7 million (25.1%) severely so, more than doubling the 2010 rates. Meanwhile, the country now has an estimated one million cases of cholera.
The war has also reduced household incomes due to the collapse of government revenues and disruption of public salary payments in rebel-controlled areas. Yemen is 90% dependent on imported food and fuels, and the prices of both have skyrocketed due to coalition restrictions on commercial shipping and heavy Houthi taxation of imported goods. The IMF estimates that inflation rose to 24% in 2017, with gasoline prices tripling during the war and the cost of cooking fuel increasing fivefold. Unaffordable food and fuel prices—as opposed to unavailability—are the key threat facing Yemen today. 
That said, restricted supply is a supporting factor driving up prices. Last year's annual report by the UN Panel of Experts for Yemen found that "all parties to the conflict obstructed the distribution of humanitarian assistance." On the Houthi side, rebels have worsened unaffordability by imposing extra customs duties on commercial trucks and fuel tankers entering their areas, doubling the duties already paid at ports. In August, UN Humanitarian Coordinator in Yemen Jamie McGoldrick reported delays by rebel authorities in Sana to facilitate the entry of aid workers, as well as "interference in the delivery of humanitarian assistance and the choice of implementing partners...obstructions in the conduct of assessments, [and] increased incidents of aid diversion away from intended beneficiaries." A month later, Human Rights Watch confirmed that Houthi units were "blocking and confiscating aid," noting they had "denied access to populations in need, and restricted the movement of ill civilians and aid workers."
Observers have been even more critical of the Saudi coalition and the internationally recognized government of President Abdu Rabu Mansour Hadi. In August 2015, the coalition deliberately bombed unloading cranes at the main Houthi-held port of Hodeida, then refused to allow the delivery of four replacement cranes provided by the World Food Programme. The UN Panel of Experts found in January 2017 that "insecurity arising from recent attacks on commercial vessels, higher war risk insurance costs...and the seizure, detention and diversion of some commercial vessels have an adverse impact on the distribution of commercial food supplies." On April 12, 2017, Idriss Jazairy, the UN special rapporteur on human rights and international sanctions, called the blockade "one of the main causes of the humanitarian catastrophe," stating that it "involves grave breaches of the most basic norms of human rights law [and] the law of armed conflict." International disapproval reached a crescendo when the coalition briefly closed all Yemeni ports on November 6, 2017, two days after the Houthis fired an Iranian-supplied Qiam missile at Riyadh.
COALITION HUMANITARIAN OPERATIONS
The Gulf coalition has always undertaken major relief operations inside liberated areas of Yemen. The United Arab Emirates generally takes the lead on "civil-military operations," providing $2.56 billion worth of support between March 2015 and November 2017. This includes more than $715 million worth of salary payments to Yemeni government employees, $436 million in bulk food imports, and $286 million worth of generators, fuel, and technical support to the electricity sector. The UAE has also delivered $166 million in health sector assistance, including an infant immunization program spanning eleven governorates and anti-cholera measures in most of the country. Separately, Saudi Arabia delivered $869 million in humanitarian assistance to Yemen during the same 2015-17 period, and also provided $3 billion in deposits to the Yemen Central Bank, $1.1 billion in aid for Yemenis inside Saudi Arabia, and $2.3 billion in bilateral governmental assistance programs to the Hadi government.
What has been missing, however, is a focus on remedying the damage done by coalition military operations in rebel-held areas, and particularly lowering food and fuel prices. On October 10, 2017, UN special envoy Ismail Ould Cheikh Ahmed laid out three demands in this regard: reopening Sana airport, "ensuring more consistent civil-service salary payments," and providing "secure access for humanitarian and commercial goods" to reach Hodeida so that they can be distributed to the rest of the country.
The new YCHO initiative includes a pledge of $1.5 billion in aid ($500 million each from Saudi Arabia and the UAE, and another $500 million from other coalition members). This meets half the $2.96 billion UN Humanitarian Response Plan for 2018, and all coalition assistance will be funneled through the UN for the first time. The YCHO appears to have been carefully designed in consultation with aid agencies to meet the UN's requirements, addressing three main areas:
Increased import capacity. The YCHO seeks to increase the import capacity of Yemeni ports from 1.1 million metric tons per month to 1.36 million; this includes boosting monthly fuel import capacity from 250,000 metric tons to 500,000. Toward that end, the four embargoed World Food Programme cranes were finally delivered to Houthi-held Hodeida on January 15, and the coalition will contribute four additional cranes at liberated ports (two at Mokha port, one at Aden, and one at al-Mukalla). The YCHO also opened two new border crossings at the Saudi towns of al-Khadra and al-Tuwal, linking the kingdom to rebel-held northern Yemen (a third crossing was already open in al-Wadiah, leading to the liberated Yemeni governorate of Marib). These points of entry notionally cross battle lines to connect to seventeen rebel-controlled cities via safe-passage corridors that the coalition has added to its no-strike list. Some road systems inside rebel-held areas are even scheduled for improvement under a $30 million plan.
Air bridges to Sana and Marib. Since November 23, the coalition has allowed international aid organizations to land "essential humanitarian aid" at Sana airport, including vaccines and other medical supplies. The Saudi military has also offered to run as many as six daily sorties to Marib airfield in order to deliver foreign aid to the center of the country. As of this writing, the only organization to accept the offer is the King Salman Center for Relief and Humanitarian Aid, which sent seventeen planeloads to Marib in the first ten days of the initiative. (Most aid organizations prefer to import assistance by sea).
Salary and welfare payments. Saudi Arabia recently capitalized the Central Bank of Yemen with $2 billion to prevent further devaluation of the riyal in liberated and Houthi-occupied areas. The YCHO is also evaluating options for the Hadi government to make salary payments to civil servants in rebel areas, thus restoring household incomes and purchasing power for food, fuel, and medicine.
RECOMMENDATIONS FOR U.S. POLICY
Belatedly, but wisely, the Saudi government has begun to address the humanitarian needs of Yemeni civilians in rebel-held areas. The YCHO's initial efforts are a good start, increasing import capacity and potentially lowering prices. It makes sense to empower private sector importers to bring more food and fuel into Yemen from multiple points, not least because overreliance on Hodeida is not advised, as fighting could intensify there or the port could be closed again if the Houthis recommence their missile attacks on Riyadh.
Hodeida is more likely to stay open on a sustainable basis if the Gulf coalition does not think it will grant war-winning advantages to the Houthis. Going forward, Washington should work with the UN and the Gulf coalition to provide an accurate, evidence-based picture of rebel harassment or predatory taxation practices in import gateways, including the Yemeni Red Sea Ports Corporation at Hodeida port and inland hubs such as Sirwah, al-Bayda, and Dhamar. In addition, the UN should work directly with the Houthis to demilitarize the new corridors from al-Khadra and al-Tuwal into areas such as Saada, Amran, Hajjah, Sana, and Ibb.
On the military front, Riyadh remains under threat of attack by the Houthi arsenal of Iranian-provided medium-range missiles, and future attacks could result in a shutdown of Hodeida, as it did in November. Washington and its European allies will therefore need to reassure the Saudis that reopening commercial traffic will not allow Tehran to shift from its current inefficient methods of smuggling arms (i.e., use of small dhows or overland convoys) to mass resupply via shipping containers. At present, commercial shipping into Hodeida is regulated by the UN Verification and Inspection Mechanism, which should be strengthened with more manpower and scanning equipment to keep up with increasing container inspection demands. At the same time, the United States and its allies should continue helping the Gulf coalition maintain tight maritime interdiction operations to catch Iranian arms smuggling along the coast using dhows.
Finally, Washington should identify a diplomatic solution to the war as one of the most important near-term strategic objectives in the Middle East. The White House's attention has been drawn to Yemen by the mammoth scale of its humanitarian problems, but a more active role in ending the war would also serve a host of other American interests. For one thing, the conflict has been a tremendous boon for Iran, which spends and risks almost nothing in Yemen while stoking a costly, vilifying distraction for Saudi Arabia and its partners. Moreover, as long as the war persists, Gulf missile defenses and local U.S. military units will be split between threats to the south (Yemen) and east (Iran), while Saudi forces and the very capable UAE military will be unable to make major contributions in other theaters such as Syria.
To supplement peacemaking and mitigate the poverty side of the famine equation, Washington should maximize efforts to reunify and restore full functionality to the Yemen Central Bank, to allow it to extend salaries to the million-plus civil servants in their territory. Convincing the internationally recognized Yemeni government to pursue such action will likely require global actors to spotlight Houthi taxation of aid deliveries, and to energetically seek the Hadi government's return to Sana.
Michael Knights is a Lafer Fellow with The Washington Institute.