Setting Limits on the Saudi Air Campaign in Yemen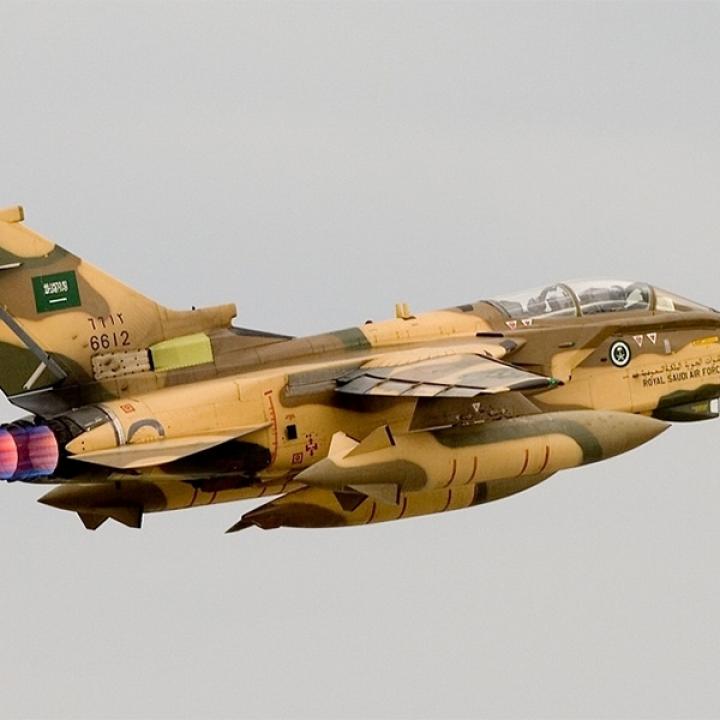 The United States can greatly reduce civilian deaths by asking the Saudis to cease non-battlefield airstrikes in return for greater U.S. support on defensive arrangements.
Soon after the Gulf coalition began its strategic air campaign in Yemen in 2015, a Washington Institute paper warned that such strikes would become a liability for Saudi Arabia and its partners. Three years later, the Saudi military has not remedied this fundamental flaw, labeling the most recent incident—the intentional targeting of a bus in Saada province on August 9, which killed fifty-one people, including forty children—a "legitimate military action" because child soldier recruiters were on board.
Such incidents are not only morally wrong, they also place enormous strain on the U.S.-Saudi partnership and strengthen the Iranian-backed Houthi rebels. Riyadh has legitimate security interests at stake in the war, not least guarding its own borders. But the ends have never justified the means of reckless bombing in proximity to civilians. It is time to look at new U.S. policy options to prevent the coalition from continuing these counterproductive operations, or at least show that Washington is doing everything in its power to prevent civilian deaths.
SEPARATING YEMEN'S FOUR AIR CAMPAIGNS
U.S. policy and congressional action should be guided by a clear understanding of what is really going wrong with airstrikes in Yemen. Instead of viewing the country as a single theater of aerial warfare, U.S. officials should split operations into four campaigns:
Strikes against al-Qaeda in the Arabian Peninsula. The anti-AQAP air campaign carried out by Emirati and U.S. forces attracts little notice, indicating that it is relatively well executed. Air targeting of the group has become less frequent due to the newer option of mounting ground operations, and the campaign has broad support among Yemenis. In addition, targeting information is more precise, though some unfortunate incidents have occurred as they do in every air campaign.
Red Sea coastal operations against the Houthis. This UAE-run campaign closely resembles a U.S. or NATO air campaign, with stringent collateral damage mitigation and positive identification of military targets. When mistakes occasionally occur, UAE officials have been willing to admit fault and address problems.
Saudi border operations against the Houthis. The kingdom's border strikes are notionally governed by strict rules of engagement, a commitment to use the minimum force necessary, and a presumption of civilian presence unless proven otherwise. Yet the intense nature of this front—where Saudi troops suffer casualties daily and missiles are fired into Saudi towns—is a stern test of Riyadh's commitment to such rules. Considerable efforts are made to reduce collateral damage, but much of the border has become a free-fire zone where any activity is liable to be characterized as military in nature by default, and targeted accordingly.
Saudi strikes on Houthi leaders and strategic weapons. The kingdom has continued its "deep" air war beyond the frontlines, striking at senior Houthi figures with the aim of decapitating their family-based leadership, and also hitting any high-value targets that may be related to the rebels' cross-border missile launches or Red Sea attacks on Saudi oil tankers. Such strikes often involve "emerging targets" that require quick decisionmaking, and the Houthis often deliberately collocate them with civilians to reduce the threat of attack. As a result, this category of strikes is the most likely to go wrong, generating numerous civilian casualties every year.
Washington needs to differentiate between the low-risk UAE-led air campaigns and the real areas of concern: Saudi Arabia's border campaign and, especially, its operations behind the frontlines in Saada and Sana.
ADJUSTING U.S. POLICY
Simply prohibiting all U.S. support to the Saudi air war would only damage the strategic bilateral relationship, reduce U.S. leverage, and perhaps drive Riyadh to seek weapons from vendors such as China and Russia, who care nothing for reducing collateral damage. Another option is adding restrictions to the provision of American precision-guided munitions and aerial refueling, but this approach is unlikely to change the fundamentals of Saudi military behavior. For one thing, these restrictions are already full of exceptions, such as allowing U.S. support to strikes on ballistic missile assets—just the sort of missions that carry the highest risk of civilian deaths.
Second, monitoring-based agreements tend to sour relationships and invite evasion. The Saudis would likely seek ways around such restrictions without changing their basic approach to the war. The bilateral military relationship would be constantly disrupted by invasive auditing, growing Saudi secretiveness, and Washington looking the other way—exactly the pattern that developed when Turkey audited U.S. airstrikes in the northern Iraq no-fly zone during the 1990s.
Instead of treating the kingdom as a naughty child, the United States should negotiate a formal agreement that changes how Saudi Arabia conducts its air war. This will require give and take. That is, the U.S. military would lend further support to speed up some parts of the war effort, and in exchange Riyadh would halt certain facets of its campaign. Washington should specifically guarantee greater support on matters of genuine national security concern for Saudi Arabia—matters that often intersect with U.S. interests:
Ballistic missile defense. The Saudis will always be tempted to conduct risky airstrikes in order to prevent missile launches on their cities. From their perspective, the risk of civilian deaths in Yemen might be justified compared to the risk of an Iranian-provided Houthi Burkan-2H missile crashing into an apartment complex in Riyadh, or the steady firing of shorter-range projectiles into southern towns. Nothing will convince the royal family to forswear any option that helps protect their citizenry, particularly at a time when they are implementing sensitive domestic changes. Understanding this, the Trump administration recently convinced Congress to exempt counter-ballistic missile operations from the potential refueling restrictions passed in the 2019 National Defense Authorization Act.
Yet Washington could go further by publicly committing to ramp up its intelligence and operational support for Saudi missile defense. For example, it could deploy additional U.S. ballistic missile defenses to support the kingdom's existing systems. If these U.S. systems were arrayed on the Persian Gulf coast facing Iran, they would allow more Saudi defenses to be sent south to the Yemeni border. Washington could send an even stronger message by guaranteeing defensive counter-fire on any Houthi ballistic missile launches, moving U.S.-manned high-mobility artillery rocket systems (HIMARS) to Saudi Arabia's southern  border to undertake quick, precise strikes up to 300 kilometers away. Persistent U.S. maritime patrolling off Yemen's Red Sea coast should also be conducted to keep the Houthis from receiving any missile resupply shipments from Iran.
Preventing antiship attacks. Washington should publicly extend similar types of support and counter-fire commitments in response to Houthi attacks on Saudi maritime traffic in the Red Sea. Thus far, American forces have only retaliated against attacks that directly targeted U.S. warships, even though the Houthis have struck Saudi vessels since then.
Border defense. The most deadly front for Saudis is the southern frontier, where Houthi raiders lay advanced Iranian-provided roadside bombs, fire Iranian-provided anti-tank guided missiles (ATGMs) at Saudi forces, and launch rockets at civilian settlements. Washington should publicly commit to boost intelligence and advisory support to Saudi forces in the Jizan and Najran sectors, including supplemental equipment and training to counter explosively formed penetrator munitions, other roadside bombs, and ATGMs. Intelligence and fire-control assistance should be directly provided to allow safer targeting of Houthi rocket artillery. Congress recently gave the Pentagon new authority to support Oman's security efforts on Yemen's eastern border, so it could double down by appropriating multiyear funds for broader U.S. engagement along the Saudi-Yemeni frontier.
In return for these powerful public guarantees, Riyadh should join the United States in jointly drafting new rules of engagement like the following:
Suspend all leadership strikes. Saudi Arabia should immediately suspend all strikes targeting Houthi leaders due to their historically low probability of success, their inherent tendency to cause collateral damage, their counterproductive propaganda value to the Houthis, and the "martyr" figures they create even when successful, which typically boosts rebel recruitment among affected tribes.
Suspend all strikes in civilian locations. Saudi Arabia should cease strikes on sites or vehicles collocated with civilians. Although this will steeply reduce Riyadh's opportunities to target Houthi fighters, who habitually and deliberately mingle with civilians, it will be worth the benefits in saving lives, securing U.S. military guarantees, and mitigating the international outcry. The coalition's best approach would be to place all areas—aside from clear battlefield frontlines—on their restricted target list, requiring additional positive approval requirements for planned or ad hoc strikes near civilians.
The U.S. government should press for these concessions as the centerpiece of de-escalation arrangements being negotiated by UN envoy Martin Griffiths. Specifically, the Houthis should agree to cease cross-border and antiship attacks; in return, the coalition should cease all airstrikes except those supporting ground troops located on or a specified distance from the frontline.
Members of congress are growing increasingly impatient with the coalition campaign—more restrictions could be enacted if changes are not made soon, and there is no guarantee President Trump would veto them. Accordingly, the administration should make its logistical support for the Yemen air war more transparent, signaling Saudi leaders and U.S. legislators that a more forensic, accountable, and publicly defensible approach will guide U.S. assistance going forward.
Michael Knights, a senior fellow with The Washington Institute, visited the Gulf three times this year to review targeting policy and rules of engagement for air operations over Yemen.