The Saudi-UAE War Effort in Yemen (Part 1): Operation Golden Arrow in Aden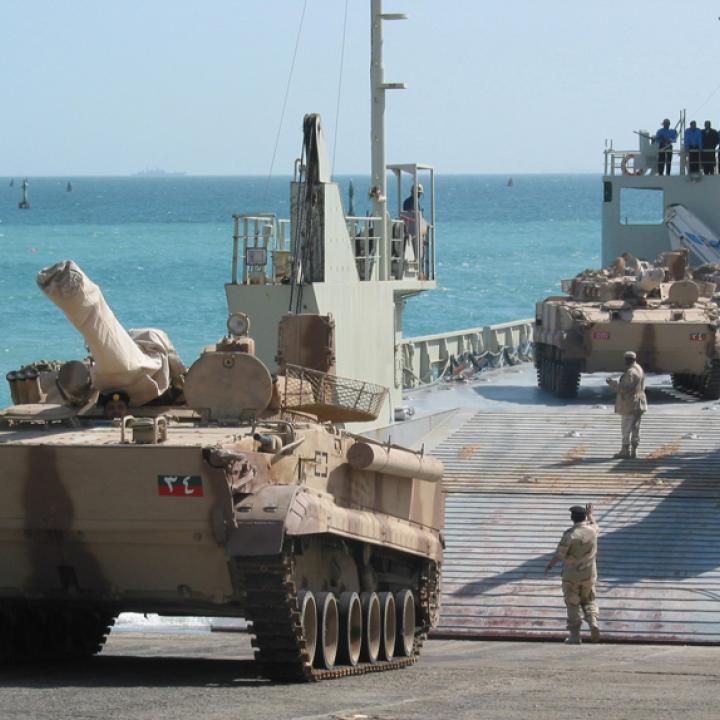 The UAE and Saudi Arabia have made an impressive contribution to recapturing Aden from Houthi-Saleh forces, building a base for future operations to secure central Yemeni cities.
In late March, the internationally recognized government of President Abdu Rabu Mansour Hadi fled Yemen's second-largest city of Aden when it was overrun by Houthi forces and former army units loyal to deposed president Ali Saleh. Four months later, on July 17, Aden was recaptured by Hadi loyalists and allied Yemeni "Southern Resistance" forces. The Southern Resistance was aided by the deployment of ground forces from the United Arab Emirates and Saudi Arabia, a factor that tipped the balance in their favor. Now Hadi's forces and UAE armored units are poised to expand their counterattack to the cities that separate southern Yemen from the capital in Sana.
THE RECAPTURE OF ADEN
Aden fell to the Houthis on March 20 following a series of long-range road and helicopter advances by the northern rebels. The lightning assault captured Taizz (Yemen's third-largest city, positioned on the road to Aden), then al-Anad Air Base (a joint U.S.-Yemeni counterterrorism facility sixty kilometers north of Aden), and finally Aden's international airport and presidential palace. Only pockets of Hadi and Southern Resistance control remained in the city, mainly in two coastal peninsulas: Crater, the site of Aden's main port, and Little Aden, the site of its refinery and oil storage tanks.
These two pockets, each less than ten miles wide, were held for three-and-a-half months with the help of Saudi and Egyptian naval gunfire, Saudi-led airstrikes, and resupply by sea- and air-dropped pallets. In addition, a team of around fifty ship-deployed special forces landed in Crater in early May. The team was composed of Yemenis serving in the Saudi armed forces and other Yemenis trained by the UAE, including army officers who served the former People's Democratic Republic of Yemen and younger tribal fighters. Embedded with the Yemenis were well-equipped special forces from the UAE Presidential Guard, armed with top-of-the-line weapons such as U.S.-supplied Javelin antitank guided missiles (ATGMs). These Emirati troops directly engaged in ground combat in Aden city from May 4 onward, while Pakistani and Saudi naval drones provided observation for naval gunfire support.
The two pockets repulsed major Houthi attacks on June 8 and June 24. During this period, a larger Saudi-supported and UAE-trained force of 1,500 Yemenis was inserted into the Little Aden pocket. These troops were provided with 170 mine-resistant ambush-protected vehicles (MRAPs) and mortar and antitank systems via a new purpose-built temporary port near the refinery.
The larger force was developed to spearhead Operation Golden Arrow, a joint Hadi-Southern Resistance offensive to recapture Aden. On July 14, seventy-five MRAPs with around 600 troops broke out of the western perimeter of Little Aden and captured a new berth, Ras Amran, then hooked northeast to capture the road systems north of Aden city. Another 95 MRAPs and 300 troops were ferried across Aden harbor to the Crater pocket to liberate Aden International Airport and the city. UAE and Saudi special forces and eight UAE Enigma fighting vehicles with quad-mounted remote-control missile systems accompanied attacking forces. By the end of the day, Southern Resistance forces recaptured the airport with support from a flying column of MRAPs operated by trained Yemenis and a small number of UAE special forces. One UAE special forces officer, Lt. Abdul Aziz Sarhan Saleh al-Kaabi, was reportedly killed during the offensive. Meanwhile, supporting air forces launched 136 strikes in Aden during the operation's first thirty-six hours.
BUILD-UP OF FORCES
As Hadi-Southern Resistance forces consolidated their hold on northern Aden, Saudi and UAE forces quickly developed the airport into a major forward operating base and staging area. Fifty troops from the Royal Saudi Land Forces 6th Airborne Brigade established a secure perimeter. On July 18, a Saudi C-130 carried Yemen's interior minister and head of national security back into Aden, reestablishing a government presence that had been absent since March. UAE and Qatari C-17 and C-130 transports made repeated deliveries to the airport, including mobile air traffic control systems to allow the resumption of civilian and humanitarian flights. On August 1, Yemeni vice president Khaled Bahah landed at the airport.
The UAE and Saudi Arabia also increased the flow of military materiel into Aden's seaports using tank landing craft and amphibious warfare vessels, including the logistics ship Swift, a former U.S. Navy High-Speed Vessel 2 (HSV-2). By August 3, a UAE armored/mechanized brigade task force had landed at Aden with a battalion-size contingent of Leclerc main battle tanks and armored recovery vehicles, dozens of BMP-3M infantry fighting vehicles, Denel G6 155 mm self-propelled howitzers, RG-31 Agrab 120 mm mortar carriers, and Tatra T816 trucks. Altogether, the UAE and Saudi Arabia now have nearly 2,800 troops in Aden, including special forces and almost a brigade of UAE regular army troops and logistics personnel.
POTENTIAL FOR NORTHERN THRUST
From July 23 onward, Hadi-Southern Resistance forces advanced north of Aden to link up with anti-Houthi forces at Lahij and al-Anad Air Base, both on the road to Taizz, a city where the Southern Resistance still controls much ground. Supported by UAE tanks and G6 howitzers, the 1,500-man UAE-trained and equipped Yemeni force recaptured al-Anad on August 4, then the Labouza military base 30 kilometers to the north on August 6. Hadi-Southern Resistance forces are now 100 kilometers south of Taizz, with Sana another 200 kilometers further north. They have also spread out eastward from Aden to take Zinjibar, the capital of Abyan governorate, in an operation that saw three more UAE troops killed in a roadside bomb attack.
Although many Southern Resistance fighters from Aden will not deploy outside their home areas, the Hadi-UAE task force could link up with a carpet of anti-Houthi forces scattered along the route of advance. These central and northern forces have been periodically resupplied by air-drops. Saudi Arabia has also begun sending arms and vehicles directly over the border to bolster anti-Houthi forces in northeastern Yemeni provinces such as Marib and al-Jawf. On the other side, former army forces loyal to Saleh have provided most of the Houthis' heavy weapons support, but these forces are becoming increasingly unreliable as Saleh independently negotiates a future role for his Afaash clan.
This opens up the possibility of rapid advances toward Sana spearheaded by the Hadi-UAE battlegroup and resupplied at a chain of captured air bases. The Hadi government clearly envisages such a movement. On July 24, Brig. Gen. Abdullah al-Subaihi, a commander of Operation Golden Arrow forces in Aden, outlined his intention to flow forces north to link up with Southern Resistance troops on the road to Sana in Taizz and Ibb, and also in Abyan to the east. Similarly, the spokesman for the Saudi-led coalition, Brig. Gen. Ahmed Asiri, has stated that if peace talks with the Houthis fail, coalition troops will retake Sana by force.
POLICY IMPLICATIONS
Houthi reactions to a northward advance have thus far been muted, and their operations in the south are beginning to look like an "economy of force" effort that is quickly collapsing. Their Aden gambit nearly knocked out the government and disrupted Hadi-Southern Resistance operations for four months, but at the cost of drawing the Saudi-led coalition fully into the war.
With Iran's help, the Houthis could still reinforce the south and make life much harder for Hadi and his allies (for more on the religious and political affinities that drive Iranian support for the Houthis, see PolicyWatch 2364, "Yemen's Zaidis: A Window for Iranian Influence"). Brig. Gen. Esmail Ghani, deputy commander of Iran's Islamic Revolutionary Guard Corps-Qods Force, admitted on May 24 that some of his personnel were training the "defenders of Yemen," and the Houthis already field a range of new Iranian-supplied antitank systems such as the Metis-M, Kornet-E, and RPG-29. Tehran may now seek to resupply the collapsing Houthi defense of the south, or at least better prepare a potential Houthi defense of Sana.
Accordingly, the United States and other allies of the coalition should continue strictly observing the blockade that has stemmed naval resupply of the Houthis. In late May, a concerted international effort deterred an Iranian flotilla from delivering arms to Hodeida, preventing what would have been the fifth such resupply run since January. Those arms may have been transshipped at coastal ports on the Horn of Africa, underlining the need to watch for smaller shipments. Continued Saudi-led closure of Yemeni airspace will also be necessary to prevent ATGMs and other small, highly portable, high-impact weapons from being delivered in significant quantities (though read Part 2 of this PolicyWatch for a discussion of the air campaign's potentially fatal flaws).
Michael Knights is a Lafer Fellow with The Washington Institute. Alexandre Mello is lead security analyst at energy advisory service Horizon Client Access.