Russia's Yes Vote on Syria Aid Will Come With a Price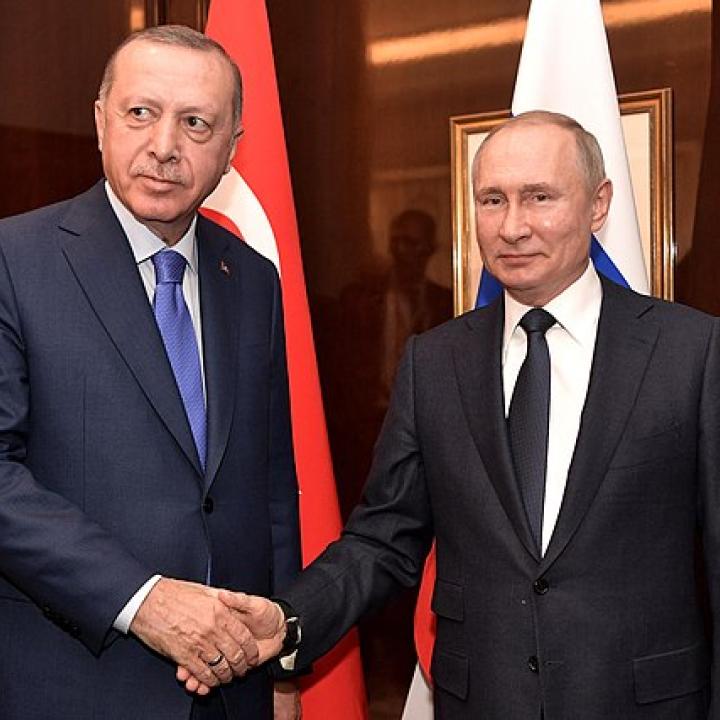 Moscow's willingness to approve another UN extension has more to do with advancing normalization between Turkey and the Assad regime than helping Syrian civilians, who will remain hostage to Russian demands if nothing is done before the next vote this summer.
On January 9, the UN Security Council unanimously approved Resolution 2672 extending the provision of cross-border humanitarian aid into northwest Syria for another six months. In the immediate term, the vote is good news for Syrian civilians suffering through one of their worst energy crises since the beginning of the civil war in 2011. But the main problem persists—absent an alternative mechanism outside the Security Council, cross-border aid will remain bound to Russia's increasing political and security demands in Syria, which are ultimately tied to the situation in Ukraine as well.
Many were surprised by Moscow's decision to approve the new resolution. Over the years, Russia has repeatedly threatened to veto previous resolutions, and the West has largely given in to its demands by steadily diluting the aid mechanism. From that perspective, this month's vote appeared to be a welcome sign of the Biden administration's willingness to stand its ground on Syria despite dealing with a complex Russian challenge in Ukraine. Moscow did not even resort to its frequent tactic of abstaining from the final vote in order to signal its displeasure with the mechanism. 
But Russia's yes vote has little to do with U.S. policy, let alone humanitarian concern for the Syrian people. More likely, it resulted from Vladimir Putin's ongoing diplomatic effort to bring Turkish president Recep Tayyip Erdogan and Syrian president Bashar al-Assad together for a summit sometime this spring. Moscow remains committed to its chief objective in Syria: normalizing international (or, at the very least, regional) relations with the Assad regime. Temporarily approving the cross-border mechanism can facilitate this goal. 
Russia's yes vote in July 2021 is a good example. At the time, some hailed the outcome as a major diplomatic win for the Biden administration. Yet Moscow only approved the mechanism that summer after extracting substantial concessions over whether sanctions should apply to "early recovery" projects in Syria and other initiatives that benefit the Assad regime.
Indeed, sanctions relief and wider normalization remain Russia's priorities today. When explaining the January 9 extension, Permanent Representative to the UN Vasily Nebenzya stated: "Russia's vote today signifies our appreciation for the previous penholders, Norway and Ireland, and the way they approached the negotiations of the draft resolution this time...Another 6-month renewal in July will only happen if by that time the approach of UNSC members to provision of humanitarian assistance to Syria changes in terms of quality." His penholders comment was presumably a reference to the July 2022 vote, when Security Council members relented on most substantive topics and produced a resolution that was a net win for Russia. His remarks also made clear that Moscow will demand something in return for supporting the aid mechanism again this summer. He concluded by lambasting the West's perceived double standards and discrimination against Assad: "[S]anctions are the main factor influencing the deteriorating humanitarian situation in Syria...Western states knowingly aggravate the situation while hindering...normalization and [discrediting steps taken by] the legitimate government."
Although Washington should examine ways to improve humanitarian aid provision and facilitate genuine early recovery efforts in Syria (e.g., projects related to water and other essential services), it must still do all it can to prevent Moscow from driving trucks full of goods through this loophole and into the Assad regime's coffers. This means carefully scrutinizing all proposed early recovery projects in terms of their scope and the persons and entities involved in their construction and execution.
At the same time, Washington should explore alternatives to the cross-border mechanism in order to keep Putin and Assad from holding aid hostage, particularly for the many Syrians residing outside their areas of control. One option is to create a "white channel" for Syria aid similar to that approved for Iran in October 2020. In addition, now that Russia has agreed to a six-month extension, there is no reason for the United States or European Union to be accommodating about a potential Assad-Erdogan reconciliation—rather, U.S. officials should vigorously counsel Turkey against this step. If Washington and its allies do not make the necessary preparations now, before the next July vote approaches, they will continue to step on the same rake when it comes to Syria and Russia.
Anna Borshchevskaya is a senior fellow in The Washington Institute's Diane and Guilford Glazer Foundation Program on Great Power Competition and the Middle East. Andrew Tabler is the Martin J. Gross Senior Fellow in the Institute's Program on Arab Politics.