Russia's Modest Hopes for the Moscow Summit with Iran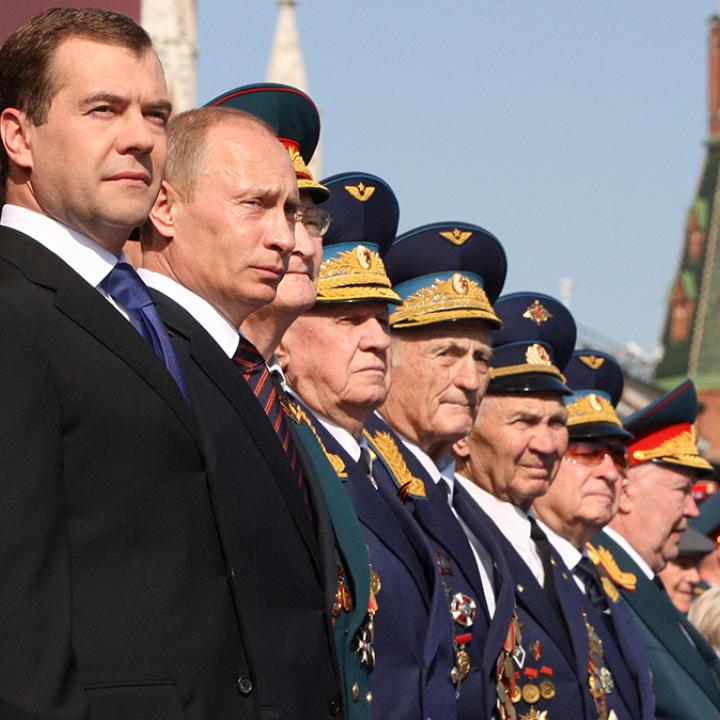 Despite widespread skepticism, Russian authorities still hope that the upcoming P5+1 summit will be another small step toward settlement of the Iranian nuclear issue.
Recent statements by President Vladimir Putin and Foreign Minister Sergei Lavrov indicate that Russia will try harder than ever to achieve positive results -- however small -- at the next Iran summit. Officials from the P5+1 (the United States, Britain, China, France, Russia, plus Germany) are scheduled to meet with Iranian negotiators on June 18-19 in Moscow. In Russia's view, positive outcomes for the meeting entail not only constructive behavior and concrete moves by Tehran, but also the emergence of preconditions for gradual revision of sanctions against the Islamic Republic. As stated by Foreign Ministry spokesman Alexander Lukashevich, Russia is concerned about Washington's decision to adopt new unilateral sanctions in an attempt to "strangle" Iran's economy. And Putin aide Yuri Ushakov promised that Moscow would use the talks as an opportunity to "persistently, if not aggressively, support...recognition of the Iranian right to peaceful nuclear energy."
SHARED CONCERNS IN MOSCOW AND TEHRAN
Russia's current position on Iran is determined in part by regional events. The ongoing Arab uprisings have seriously undermined, if not shattered, Russia's position in the Middle East: the fall of a friendly regime in Libya, the critical situation in Syria, and the rise of Islamists in Egypt and elsewhere have resulted in serious political and economic losses for Moscow. Under these circumstances, the possibility of regime change or military operations in Iran has lent urgency to Russia's diplomatic efforts.
Furthermore, Iran is not just another neighboring country for Russia, and the nuclear program is traditionally overshadowed by other bilateral issues. Over the past two decades, Tehran has proved that it shares Russia's interests in times of need, promoting peace and stability in the Caspian littoral and Central Asia by limiting the presence of third countries in regional affairs, counteracting human- and drug-trafficking activity, deterring the spread of regional unrest, and combating terrorism in Russia's neighborhood. Moscow also has economic interests in Iran. As a result, it has little room to confront Tehran over the nuclear issue. (For a deeper discussion of these bilateral issues, see the author's just-published Washington Institute report Russia's Relations with Iran: Dialogue without Commitments.)
Russian officials continue to send signals that they view Iran as falling within their traditional zone of interests, and that no decisions should be made without taking their opinion into account. For example, during a June 7 meeting with President Mahmoud Ahmadinejad on the sidelines of the Shanghai Cooperation Organization summit in Beijing, Putin called Iran an "old partner" whom Moscow is not going to leave in times of trouble. He warmly recollected his 2007 trip to Tehran and invited Ahmadinejad to Moscow. Moreover, both Lavrov and Ushakov repeatedly drew media attention to the fact that the meeting between the two leaders was one of the most important items on Putin's agenda in China.
Tehran also understands the rules of this game and has played on Russian hopes and fears. In Beijing, Ahmadinejad unobtrusively reassured Putin that he still can count on Iran in handling regional problems, including Caspian legal issues, NATO's advance to Russia's borders, and the Syria crisis. Tehran is also open to deeper economic cooperation. Yet all of these assurances no doubt came with one unspoken condition: that Russia help Iran change the situation surrounding its nuclear program.
DIPLOMACY IS THE ONLY SOLUTION
In light of these issues, Moscow faces a serious challenge. On one hand, Putin cannot declare that Russia is Iran's ally: the doubtful gains from this step would never cover the international political losses. On the other hand, given Tehran's important role in Russia's regional policy, Moscow cannot easily sacrifice Iran for the sake of good relations with the United States and Europe. In addition, Putin views the prospect of a nuclear-armed Tehran as a serious threat and therefore seeks to ensure that the nuclear program remains peaceful in focus. Under these conditions, the only way for Moscow to satisfy all of these interests is to play a more active role in the nuclear talks in order to nudge the West and Iran toward consensus.
For this reason, Russia praised the previous P5+1 meetings in Istanbul (April 14) and Baghdad (May 23-24) despite their modest practical outcome. According to Russian analysts, the Istanbul summit allowed Tehran to demonstrate its readiness to discuss the nuclear issue, thereby lessening the threat of a military strike. And in Baghdad, Iran's preliminary agreement to discuss the possibility of keeping its uranium enrichment efforts below 20 percent gave hope that the negotiations could lead to practical results.
Russian officials have stated that they would like to see movement toward such results during next week's Moscow summit. This would allow them to not only prove that negotiations are the only solution, but also discuss revising the sanctions. They also believe that unilateral punitive measures against Iran are not strengthening the regional nonproliferation regime, but are instead aimed at toppling Iran's leadership. In their view, positive moves by Iran could raise questions regarding the necessity of further economic sanctions.
To be sure, Putin and Lavrov's recent calls on Tehran to make the first step are probably not enough to spur Iranian action. The nuclear program's ideological importance will not allow Tehran to easily revise its position on the subject. Recognizing this hurdle, Moscow offered a carrot in Beijing: Putin openly stated that the international community should allow Tehran to develop a peaceful nuclear program and enrich uranium under the complete control of the International Atomic Energy Agency (IAEA).
FRUITLESS EXPECTATIONS?
Despite this carrot, major questions persist about whether Tehran believes that Russia truly wants to secure Iranian nuclear rights, and whether the other P5+1 members will support this initiative. The controversial outcome of recent Iranian-IAEA consultations, the continuing Iranian refusals to let IAEA inspectors visit nuclear facilities in Parchin, the alleged attempts to hide signs of previous activities at that site, and the probable attempts to enrich uranium beyond 20 percent do not create a solid ground to support the Russian proposal.
Finally, as prominent Russian expert Vladimir Sazhin has pointed out, the domestic situations in the United States and Iran are not very favorable for positive outcomes at the moment. Both countries will hold presidential elections in the near term (Iran's is scheduled for 2013), so both political leaders have very limited room to maneuver: any action on the nuclear front could potentially improve their opponents' chances. (Ahmadinejad is constitutionally ineligible to run for another term, but he will probably try to squeeze a protege into office; and although Supreme Leader Ali Khamenei is in many ways the real nuclear decisionmaker, he is well aware of the domestic eruption that followed the 2009 presidential election.) As a result, Sazhin believes that both sides will probably try to secure a status quo in the nuclear issue until 2013. In light of this situation, analysts expect no breakthrough in Moscow, although the Russians presumably will try hard to achieve some progress.
Nikolay Kozhanov is an expert at the Institute of the Middle East in Moscow and a visiting fellow with The Washington Institute. From 2006 to 2009, he served as an attache at the Russian embassy in Tehran.