Russian S-300 Deliveries to Iran Have Apparently Begun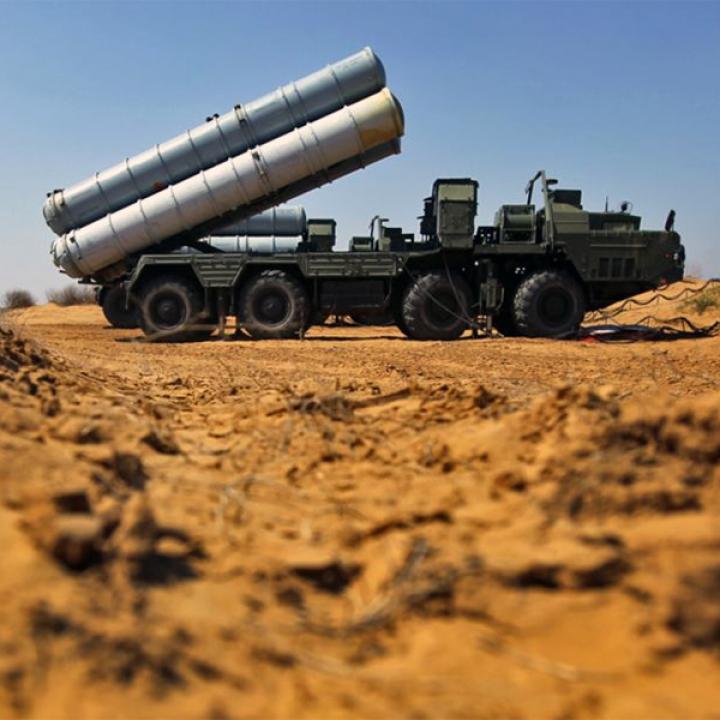 New evidence indicates that components of the old but potent missile system have made their way to Tehran, though the scope and timing of their contribution to Iran's air-defense capabilities remain uncertain.
Following a protracted process with numerous twists and turns, Russia finally appears to have begun delivering at least some elements of the S-300 long-range air-defense system to Iran. On April 11, exactly one year after President Vladimir Putin lifted his ban on such deliveries, a convoy of ships offloaded large equipment at the Caspian port of Anzali, under a heavy guard that included extensive deployment of Iranian air-defense reinforcements. The equipment was then transported by road to Tehran. Amateur photographs and videos suggest that the cargo included parts of the S-300PMU-1 (SA-20A Gargoyle) air-defense system. Even if upgraded, the system has lower capabilities than the PMU-2 version Tehran was originally believed to purchase, but it still represents a potentially formidable boost to the country's air-defense network.
In 2007, Iran and Russia signed an $800 million contract for around five S-300 battalions (or sixty launchers), with deliveries to begin in 2008. Yet the fulfilment phase was delayed and later cancelled after the UN Security Council passed Resolution 1929 in 2010 banning all weapons deliveries to Iran.
This week, however, photos have shown large flatbed trucks in Iran transporting what appear to be partially camouflaged components of the ST68U/UM Tin Shield and 64N6E Big Bird search-and-acquisition radars associated with the older PMU-1 version, in addition to other unidentified equipment. So far, none of the available imagery shows the fire-control radars or missile transporter erector launchers (TELs) associated with a complete S-300 firing unit. Even so, the radars that have been sent could be used in a standalone mode to enhance Iran's situational awareness if the launchers and missiles are delayed or not delivered for whatever reason. PMU-1 components are also compatible with systems delivered to Iran years ago by Belarus, such as the 30N6 radar.
The S-300PMU-1 was introduced to Russian service in the early 1990s and has since been supplanted by two newer generations. It is not yet known if the systems delivered to Iran have received any major upgrades beyond standard refurbishment following their gradual replacement in Russian service with the S-400. In 2011, Russia ended production of S-300PMUs in favor of the three-tier S-400 Triumph system, which has double the range and capabilities. S-400 production began in 2010, but so far Moscow has only exported the system to one country (China) due to its own still-substantial domestic demand. S-400s have also been deployed to Syria to protect Russian forces there.
In 2014, the arms company Almaz-Antey accelerated delivery of S-400s to the Russian military, which has so far received nine complete "regiments" (each regiment is three battalions). This has meant that additional secondhand S-300s could be made surplus for delivery to Iran. Meanwhile, Tehran reportedly refused Moscow's past proposal to deliver the more modern Antey 2500 (S-300V) system because it did not want to retrain its air-defense operators.
Despite being an older generation, the S-300PMU-1 can still detect up to 100 aerial targets simultaneously at a 300 km range, and engage six of them. It can be armed with 48N6 interceptor missiles that have a range of 150 km against aerial targets and 40 km against ballistic missile targets, reaching an altitude of 10 to 27 km. Each S-300PMU-1 battalion can combine up to four batteries with three launchers each, using a shared 64N6E acquisition radar supported by a 54K6E command post.
Previously, S-300PMU-1s have been exported to Cyprus, Greece, and Slovakia, among other countries. In spring 2015, the Israeli air force reportedly gained valuable experience operating against the system during joint maneuvers with Greece.
If the full delivery of S-300 components is completed as expected, the system will significantly improve Iran's air-defense capability once it eventually enters service. To effectively cover such a large country, however, Iran will still need to integrate the S-300s with its modified S-200 and Raad surface-to-air missiles, and perhaps with the Bavar-373, a system that is claimed to be under development in Iran loosely based on the S-300 design.
Farzin Nadimi is a Washington-based analyst specializing in the security and defense affairs of Iran and the Persian Gulf region.