Russia-Syria Offshore Gas Deal Injects New Factor into Peace Talks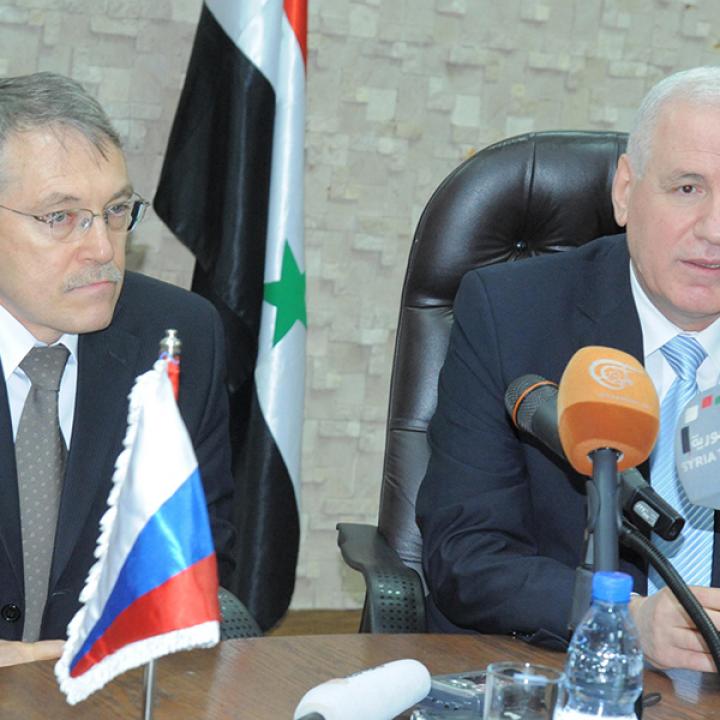 The announcement of the agreement, just weeks before scheduled peace negotiations in Switzerland, will be seen as an expression of extra diplomatic support for Damascus by Moscow and of gratitude by the Assad regime to an ally.
A December 25 accord signed between Syria and Russia allows for exploration and drilling in an area off the Syrian coast. If oil or natural gas is discovered, the state-controlled Russian group Soyuzneftegaz will have a controlling interest for twenty-five years. Reports do not mention how much the company paid for the license, nor whether any competing bids were made. The Syria news agency said Soyuzneftegaz would invest $15 million for surveying costs and another $75 million for initial drilling.
This concession is the first to be signed for offshore areas of Syria's Mediterranean coast. The country's existing onshore oil and gas fields are in the Euphrates River basin, are small-scale in Middle East terms, and are currently controlled by rebels opposing the Assad regime. Exports of any of Syria's oil and gas resources are banned by the UN Security Council.
Although a major show of Russian support for the existing government in Syria, the deal does not indicate any sudden change in the Assad regime's economic fortunes. Even if oil or natural gas is discovered in commercial quantities, production could begin only after several years. The opposition Syrian National Council has condemned the deal.
Prospects for Discovery
Energy analysts expect that both natural gas and oil could be discovered in this area of the eastern Mediterranean, which forms the northern part of the Levant Basin where in 2010 the U.S. Geological Survey predicted that as much as 1.7 billion barrels and 122 trillion cubic feet (tcf) of natural gas could be recovered.
Around 35 tcf of gas has been found off the coast of Israel and another 5 tcf off Cyprus's coast. Offshore drilling for oil in Israel will begin next year. Earlier this month, Noble Energy, the U.S. company leading a consortium with Israeli companies, announced the expectation of finding around 1.5 billion barrels of oil and gas liquids in a field below the seabed in Israel's exclusive economic zone (EEZ) and a similar figure for a field in the Cypriot EEZ.
Effect on Regional Tensions
Aside from introducing a new factor into the politics of Syrian peace negotiations, the deal could exacerbate already strained regional tensions relating to offshore natural gas. Israel and Lebanon have made conflicting claims over the location of their offshore maritime boundary. And earlier this month, a Turkish survey vessel, escorted by a Turkish navy frigate, was carrying out seismic work in the Mediterranean, south of the island of Cyprus, in an area regarded by Nicosia as belonging to its EEZ.
The new Russia-Syria agreement is reported to relate to the 845-square-mile area of ocean that is part of the larger Block 2, an area lying roughly between the Syrian ports of Banias and Tartus. Syria has not reached maritime border agreements with its neighbors -- Cyprus, Turkey, and Lebanon -- but Block 2 does not border, to the south, what Lebanon may regard as its waters and is not adjacent to the Turkish coast in the north. However, the area may conflict with Turkish claims around Cyprus, which Ankara does not regard as having anything more than territorial waters stretching twelve nautical miles from the coast.
Russian involvement in offshore energy developments in Syria will likely be regarded by Washington as unhelpful. U.S. policy has been to encourage energy developments in waters off the coast of Israel, the Gaza Strip (where an unexploited gas field is owned by the Ramallah-based Palestinian Authority), Cyprus, and Lebanon. Washington has used considerable diplomacy to smooth over potential disputes, though offshore exploration in Lebanon, until now the most contentious issue, has been delayed by a lack of internal political agreement in Beirut.
Implications
Though ostensibly technical and commercial, Moscow's involvement in Syria's offshore energy activities will not be regarded as benign. Apart from possibly making the resolution of the Syrian civil war more difficult, these activities fulfill a particular vested interest for Russia. Natural gas discoveries in the eastern Mediterranean, large in regional terms though small on an international scale, still have the ability to undermine Russia's dominant position as a natural gas supplier to Western Europe.
Simon Henderson is the Baker Fellow and director of The Washington Institute's Gulf and Energy Policy Program.