Russia and Turkey in Nagorno-Karabakh: A Recipe for Long-Term Instability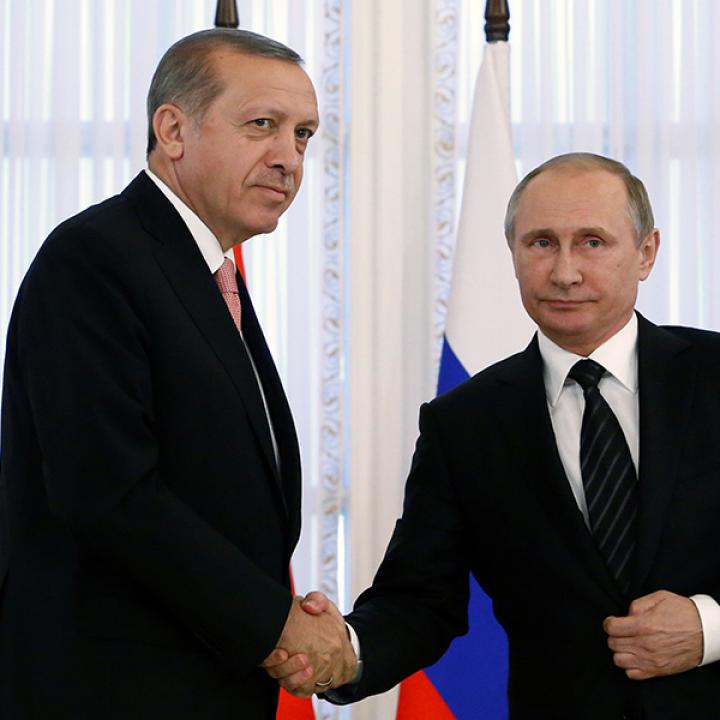 Neither Moscow nor Ankara is interested in genuine peace; they are using the disputed region to their own ends, and Russia remains the only actor who can talk to all sides.
Deadly fighting between Armenian and Azerbaijani forces over the disputed enclave of Nagorno-Karabakh has continued unabated for over a month. This so-called "frozen conflict" on Russia's periphery was never truly frozen. Unresolved grievances on both sides festered for almost three decades, and smaller skirmishes periodically erupted. But this time the fighting emerged as the largest and deadliest flare-up and even spilled into neighboring Iran. Turkish President Recep Tayyip Erdogan's support for Azerbaijan played a decisive role in raising the scale and turning the tide in favor of Azerbaijan. Turkish involvement raises questions about Moscow's role and expectations, and the broader Russia-Turkey relationship.
First, it's useful to understand why the Karabakh conflict matters to Moscow. In addition to maintaining what Moscow considers its "privileged" influence in the post-Soviet space, which keeps it destabilized and prevents countries from joining the West, Karabakh serves as a bargaining chip with the West in Moscow's broader push for zero-sum influence. Russian Foreign Minister Sergei Lavrov alluded to this point, for example, in September 2017. If only the West agreed to Moscow's proposed security framework in Europe, he said, "many conflicts preserved in Europe would have been settled long ago...the Ukrainian crisis would not exist at all." He was referring to a June 2008 Moscow proposal for a new European security agreement that would, according to experts at the time, diminish NATO and the OSCE. To give another example, President Vladimir Putin's advisor Sergey Glazyev said in late 2017, "if we want peace in the Caucasus, we need to integrate the entire Caucasus into the Eurasian Union."
Certainly, as other analysts have pointed out, of all the frozen conflicts in the post-Soviet space, Moscow's influence is most limited in the South Caucasus, where local actors have more agency. Yet this is somewhat beside the point. Moscow, unlike Turkey, can talk to all sides here. Certainly, Russia's ties to Armenia were always deeper than with Azerbaijan. Armenia also remained most isolated and reliant on Russia as a security guarantor (and to a lesser extent on an overall good relationship with Iran). Nonetheless, historically Moscow supplied weaponry to both Armenia and Azerbaijan. Russia is also Azerbaijan's largest trading partner within the CIS and the Caspian and the third largest global trading partner after Italy and Turkey. Russian officials won't say it, but Azerbaijan, with its vast energy resources and a more diversified foreign policy, is also a bigger prize for Moscow. In addition, Moscow was unpleasantly surprised in 2018 by the peaceful anti-corruption Velvet Revolution in Armenia and in the immediate aftermath edged closer to Azerbaijan, even as it retained deep ties to Armenia. Currently, Moscow's delayed reaction may be partly motivated by a desire to punish current Armenian Prime Minister Nikol Pashinyan who led the Velvet Revolution.
It is thus telling that in the current crisis Putin has been careful to emphasize Russia's good relations with both sides. At an interview aired on October 7 on Russian-funded television, Putin described the situation as a tragedy and noted that two million Azerbaijanis and over two million Armenians live in Russia, often tied by family and friendship. During the annual marquee Valdai forum on October 22, in response to a series of questions from prominent pro-Kremlin journalist Fyodor Lukyanov, Putin said, "Let's start from the beginning, with Nagorno-Karabakh and whom to support. You said that Russia has always had special ties with Armenia. But we have always had special ties with Azerbaijan."
The bigger issue is that current deadly flare-up is likely another unwelcome surprise for Moscow, which needs the conflict simmering, not boiling over. More than anything, Turkey's involvement complicates Moscow's position. During the last major escalation between Armenia and Azerbaijan in April 2016, Moscow played a more decisive role. In the backdrop of American disinterest, Moscow had taken the lead in peace talks and brokered a ceasefire, while Iran had managed, for the first time, to insert itself in the diplomatic triangle with Russia and Azerbaijan.
This time, two Moscow-brokered ceasefires failed. Tellingly, Moscow signaled disinterest in getting the Russian military involved—at least openly, to help Armenia. Armenia is a member of the Collective Security Treaty Organization (CSTO), a military alliance with Russia and Central Asian republics. According to Putin's press secretary Dmitry Peskov, CSTO rules obligate Russia to intervene militarily if fighting comes to Armenian territory, but not to Nagorno-Karabakh. Thus Moscow is officially clinging to a technicality—in reality Moscow has never had qualms getting involved in other conflicts when it suited its interests. Putin most likely simply does not want to clash with Turkey.
But this doesn't mean Moscow is inactive. The easier and cheaper path for Moscow is to put pressure on Turkey in other theaters. Against this backdrop it should not surprise that Moscow violated another ceasefire in Syria, when Russian airstrikes killed dozens of Turkey-backed fighters in rebel-held Idlib, on the Turkish border. Domestically Turkey is especially vulnerable to refugee flows from Syria, a point of leverage for Putin who, overall, holds more cards over Erdogan.
Erdogan, for his part, is also disinterested in a direct clash with Russia. Indeed, in the backdrop of fighting in the South Caucasus, he had little choice but to proceed with testing the Russian-made S400 system, an earlier purchase that put Turkey at serious odds with other NATO members. Thus, one consequence of the ongoing fighting over Nagorno-Karabakh is that Russian-Turkish competition is poised to escalate across other theaters, including not only in Syria but also Libya, through proxy warfare. Turkey's current support for Azerbaijan likely helps Erdogan score domestic points and a degree of regional credibility by putting hard power on the ground to help an ally, placing Russia in a more complicated position than it was in previously. To some extent it also reveals Russia as a fair-weather friend in the region, though Moscow was never absent from the theater. Most recently, unconfirmed reports suggest Moscow set up a small military outpost on the Armenian border to help the country.
The problem is that at present, all major powers are distracted, not just Russia; Russia's brokered ceasefire is not the only one that failed. An even bigger problem is that the only current existing diplomatic mechanism for resolution of the Karabakh conflict, the OSCE Minsk Group, co-chaired by the US, Russia, and France, is outdated. For years Russia had taken the lead in this process, but Moscow does not want a genuine resolution for the conflict. In Moscow's zero-sum approach to diplomacy, by definition, any increase in Russian leverage is a loss of American influence.
If in the coming days Azerbaijan captures strategic territory, such as transportation corridors, that would fundamentally alter the balance of power in terms of future bargaining between the two sides. But neither Moscow nor Ankara are interested in genuine peace; rather they are using the region to their own ends, and ultimately Moscow will remain the only actor who can talk to all sides. Most recently, Erdogan said he believes together with Putin, they can resolve the existing problem. But in reality, whatever the outcome of the current hostilities, these two leaders will keep pushing Armenia and Azerbaijan away from the West—a recipe for long-term instability—while broader Russia-Turkey competition will continue to unfold beyond the South Caucasus.
Anna Borshchevskaya is a senior fellow at The Washington Institute. This article was originally published on the MEI website.