The Rise and Immediate Fall of Israel-Libya Relations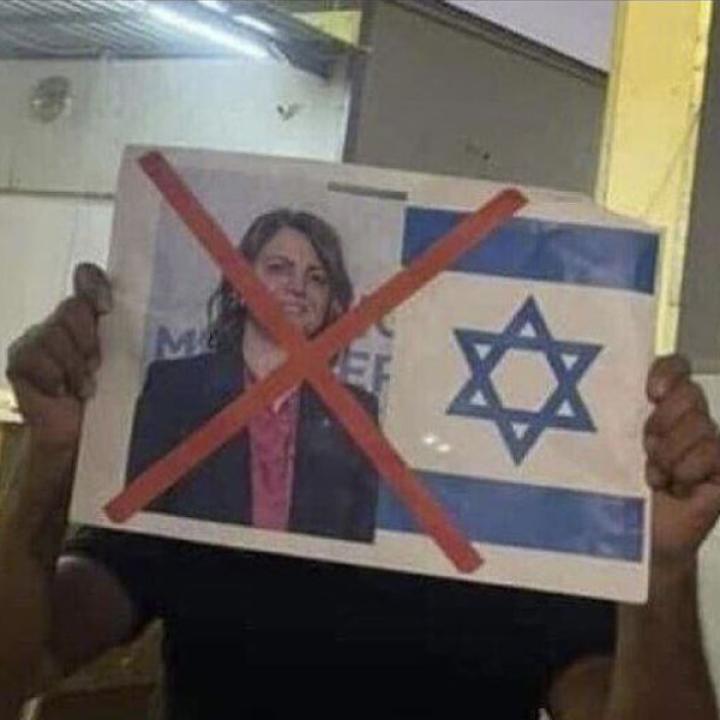 The scandal surrounding a surprise meeting between their foreign ministers has cratered any hope of upgraded ties with Israel—though it could cause a political shake-up in Libya.
On August 27, Israeli foreign minister Eli Cohen revealed that he had met with his Libyan counterpart Najla al-Mangoush in Rome, sparking an imbroglio in both of their countries and further abroad. Protests erupted immediately across Libya, including at the Foreign Ministry and the residence of Prime Minister Abdulhamid al-Dabaiba, who likely authorized the meeting. Dabaiba tried to calm the situation by suspending Mangoush and naming an interim foreign minister, while his Government of National Unity (GNU) called the incident a chance encounter alongside Italy's foreign minister rather than a planned meeting. As protests continued on August 28, Dabaiba appeared at the Palestinian embassy in Tripoli, where he donned a scarf depicting the Dome of the Rock, announced that he had officially dismissed Mangoush, and reiterated Libya's dedication to the Palestinian cause. Fearing further backlash and potential violence, Mangoush fled to Istanbul.
Unlike her predecessors, who were experienced diplomats familiar with Libya's byzantine Foreign Ministry, Mangoush had no diplomatic background. Dabaiba appointed her in March 2021 only after another female candidate drew criticism, and she faced a unique challenge as a woman among exclusively male foreign ministers across the region. She lacked a power base of her own and wielded narrow influence outside of what Dabaiba and his circle granted her. Yet she was resilient during her first two years in office, surviving calls for her resignation over controversial statements criticizing Turkey's military presence in Libya, praising Russia's positive relationship with the GNU, and cooperating with the United States on the extradition of a Pan Am 103 bombing suspect (see below). The State Department named her an International Woman of Courage in 2022, citing her work with civil society organizations and her expertise in conflict resolution (gained in part from PhD work at George Mason University).
Libya's Stalemate
The Rome meeting occurred during a sensitive time for Dabaiba. He was appointed in February 2021 to serve as interim prime minister until elections scheduled for later that year, but after voting was delayed indefinitely, he retained his post largely through legitimate and illegitimate spending of the state's substantial oil revenue. This included increasing payments to his eastern Libyan rivals in July 2022 when the warlord Khalifa Haftar blockaded oil fields.
These funding arrangements have sustained Dabaiba's premiership even as negotiations over setting an elections timetable recently renewed his rivals' push to remove him. Although he has parried that effort so far, international support may be pivoting away from him. During an August 22 Security Council meeting in New York, UN Special Representative for Libya Abdoulaye Bathily noted that it was the "political and moral responsibility of all leaders to close the open-ended interim arrangements," while U.S. Ambassador Linda Thomas-Greenfield stated, "We are open to supporting the formation of a technocratic caretaker government whose sole task would be to bring the country to free and fair elections." The latter remark could be viewed as a warning against Dabaiba's intransigence, though he is just one of several political elites who have stymied progress toward elections.
In that context, Dabaiba likely viewed outreach to Cohen as a signal to the United States that he is forward-leaning on engagement with Israel, despite his country being historically supportive of the Palestinian cause. Similarly, when he faced political pressure at home late last year, he answered Washington's long-desired request to arrest and extradite Pan Am 103 suspect Abu Agila Masud, after which he endured protests and accusations of legal overreach.
In the current case, however, Dabaiba, Mangoush, and Cohen all made miscalculations that negated the potential value of the Rome meeting. For one, Cohen immediately violated the obvious requirement of secrecy by making a public statement about the talks. Israel's Foreign Ministry later blamed leaks for Cohen's decision to go public, though any such leaks could have been easily denied by Dabaiba and the GNU. Moreover, Mangoush and Italian foreign minister Antonio Tajani should have set clearer ground rules for the discussion, which could have prevented Cohen from killing any near-term prospects for a serious Israel-Libya track—the only real outcome of his apparent bid to burnish his diplomatic credentials.
Is Washington Partly to Blame?
Two factors suggest the Biden administration may have been aware of a potential encounter but did not orchestrate the Rome meeting. First, Israel's Arab normalization portfolio is closely held by the Prime Minister's Office (PMO), not the Foreign Ministry (the Mossad is occasionally involved as well). Cohen and his director-general have (unsuccessfully) attempted to work on normalization in Africa, but the PMO remains Washington's primary interlocutor on these issues. Hence, it is doubtful that U.S. officials would have set up such a sensitive meeting with Cohen—all the more so because of concerns over leaks.
Second, despite commentary highlighting regional normalization as an overarching goal for the Biden administration, prioritizing Libya in this process would be putting the cart before the horse. It is difficult enough to coordinate diplomatic engagement with a well-established Arab government, let alone with a politically indeterminate and deeply pro-Palestinian country—never mind the fact that Israel is now led by its most right-wing government in history, with officials who regularly make inflammatory statements against Palestinians. Haftar's circle reportedly extended private feelers to Israel over the past two years in search of arms or political support, and that approach may be palatable in Libya, particularly because Haftar controls the information space in the east. But an official meeting between foreign ministers was clearly a bridge too far and may prove unrecoverable for Dabaiba.
One thing is clear: the clumsy episode will set back Israel-Libya rapprochement for years, if it was ever in the cards. The question now is how long Dabaiba can survive, and whether this controversy will prompt a renewed push for elections.
Ben Fishman is a senior fellow at The Washington Institute and former director for North Africa on the National Security Council.