Rhetoric Meets Reality in Jawlani's Push for Self-Sufficiency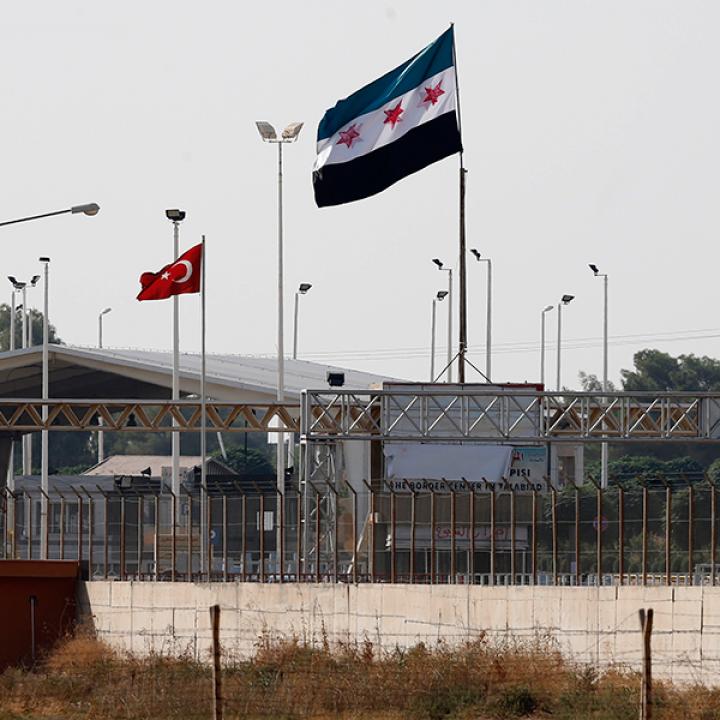 As a key UN vote approaches, Washington should push Turkey to help promote a diverse, balanced economy in HTS-controlled northwest Syria.
On July 10, a United Nations vote will decide the future of the cross-border aid mechanism for northwest Syria, an area run by the jihadist group Hayat Tahrir al-Sham (HTS). The mechanism—which facilitates aid to northwest Syria via Turkey without having to go through Damascus—faces the prospect of nonrenewal for the first time since it was created in 2014, as a consequence of the Russian invasion of Ukraine. A failure to renew the mechanism would exacerbate an already daunting humanitarian situation in northwest Syria, where some three-fourths of the population consists of internally displaced persons (IDPs). While aid will likely continue on a far more limited basis if Russia vetoes the mechanism, from a U.S. perspective a more self-reliant HTS-run territory requiring less international assistance would actually be far preferable to a situation in which aid renewal remains subject to periodic dramas.
Over the past roughly six years, HTS has transformed itself from an al-Qaeda branch into something resembling a typical regional state governing body, with the group engaging in human rights violations and embracing inflammatory rhetoric. To begin with, it has focused increasingly on developing local institutions and the economy. The group's strides in governance have been facilitated, in part, by the March 2020 Turkey-Russia ceasefire agreement, which more or less froze the conflict line. Since then, HTS leader Abu Muhammad al-Jawlani has reiterated the value he places on self-sufficiency and constructing a new polity and society that does not rely on outside help. If HTS and its civilian-led Syrian Salvation Government (SSG) actually followed through on Jawlani's ideas, locals could find other avenues to support themselves. Yet one must acknowledge at this point that HTS has not matched its lofty rhetoric with efforts to develop indigenous capabilities. Instead, it has worked hard to monopolize economic power.
Outside Aid vs. Internal Development
In a February 2021 interview with Frontline, Jawlani discussed the need to put "an end to the humanitarian crisis," implying that he appreciated the necessity of outside aid. About a year later, though, in January 2022, he noted his preference for building the economy through infrastructure development, jobs, and increased production as opposed to humanitarian aid and outside support. Jawlani then cited the woeful example next door, explaining that Lebanon's economic situation was very poor "even though they welcome European and Western aid...My brothers, we must focus on production, through which we grow the economy in the liberated areas." Jawlani explained further that "freedom comes from military strength...and dignity comes from economic and investment projects, through which the people, and the citizens, live a dignified life that befits Muslims."
In using such rhetoric, Jawlani has signaled his belief in sustainable local solutions to HTS economic problems and promoting agency for local people versus reliance on the whims of outside actors. Relatedly, in response to freezing cold conditions in IDP camps this past January, Jawlani's administration launched a "Your Warmth Is Our Duty" campaign. Jawlani explained, "We strive with all our might to radically solve the suffering of the people in the liberated north without relying on relief from here or there by enabling [locals] to secure their strength from the sweat of their brow."
Jawlani's embrace of such thinking can be traced to August 2020, when he first publicly articulated—during an IDP camp visit—his view that HTS should seek self-sufficiency as an end goal, premised on the notion that any able-bodied person should be able to work and support themselves. A few days later, at another IDP camp, Jawlani acknowledged that HTS was not a "big state" and had limited ability to help people—but that this only reinforced the need for individual self-sufficiency and initiative.
The self-sufficiency ethos, as measured by Jawlani's statements in May 2021 and January 2022, constitutes a building block for a larger plan to eventually take over all of Syria. As he put it in the May remark, "The current stage is a stage of preparation and building institutions." Each project—such as the January 2022 opening of the Aleppo–Bab al-Hawa road—matters because it is a "step toward Damascus, and a step toward Aleppo, and a step toward all the rest of Syria, with the permission of God almighty."
A grand goal like this, according to Jawlani, requires investing in human capital, which in turn will bolster the local administration and economy through smarter services. This is why Jawlani explained in late March 2022 that developing the region is an "integrated project" and "everything is connected to everything else": "Without education, we have no managers. And without managers, we have no construction. Without construction, we don't have an economy. Without an economy, we don't have life in the liberated [areas]. Without life in the liberated areas, we...can't protect the region [militarily]. As of late July 2021, roughly 450,000 students were enrolled in primary schools, and by late March 2022, 18,000 students were enrolled in universities.
Empowering Rhetoric vs. Emerging State Monopolies
In contrast with Jawlani's rhetoric, which would appear to favor local entrepreneurship, HTS and its members are in reality acting to monopolize various sectors of the economy. They have established stakes in industries including finance, border crossings, energy, the internet, media and advertising, telecommunications, and agriculture.
HTS, locals have complained, has also invoked a form of eminent domain to the benefit of group leaders. For instance, in July 2021 HTS and its civilian governing body, the SSG, decided to demolish the popular bazaar in Darat Izza and convert it into a shopping center, sparking local protests. The plan was ultimately carried out anyway. HTS leaders also involve themselves personally in construction projects, given that the SSG falls within HTS statecraft, and those in power can exploit such initiatives to their advantage and to the detriment of regular residents. According to Khaled al-Khateb, a Syrian journalist and former lecturer at the University of Aleppo writing for Al-Monitor, "The majority of investment operations and projects owned by HTS leaders are carried out through civilian intermediaries close to the leaders, who act as fronts behind which the real investors hide."
HTS economic activity, according to the International Crisis Group, thereby cultivates "a network of Syrians throughout the northwest dependent on the group and vested in its survival." Commodities prices, which HTS also controls given its monopolies, have spurred their own protests. For example, in mid-October 2021, following the fifth gas cylinder price increase in a month by the HTS-affiliated Watad fuel company, residents gathered in Idlib's al-Saa Square to demonstrate against this gouging, starkly aware of the difficulty of living even without price hikes. One sarcastic slogan used during this protest was, "We are drowning in your salvation."
Relevance for Washington
Currently, the United States does not have a relationship with HTS, and the group remains designated by the State and Treasury Departments. But Washington does have an interest in the stability of territories HTS controls. Likewise, the degradation of the humanitarian situation in northwest Syria only benefits the Syrian regime and its allies. Therefore, it is at least worthwhile for the United States to push Turkey to assist HTS in developing a more mature economic system based on Ankara's experience of mixing Islamist and capitalist principles. This way, it can broaden the circle of economic beneficiaries in the territory. Such a move could also alleviate the pain that will likely result if Russia vetoes the continuation of the cross-border aid mechanism on July 10. From a longer-term perspective, local residents would also gain tools to prosper without being beholden to HTS decisionmaking and could ultimately challenge the group's grip on society.
Aaron Y. Zelin, the Richard Borow Fellow at The Washington Institute and a visiting research scholar at Brandeis University, recently authored the monograph The Age of Political Jihadism: A Study of Hayat Tahrir al-Sham.