Return of the Islamic Emirate of Afghanistan: The Jihadist State of Play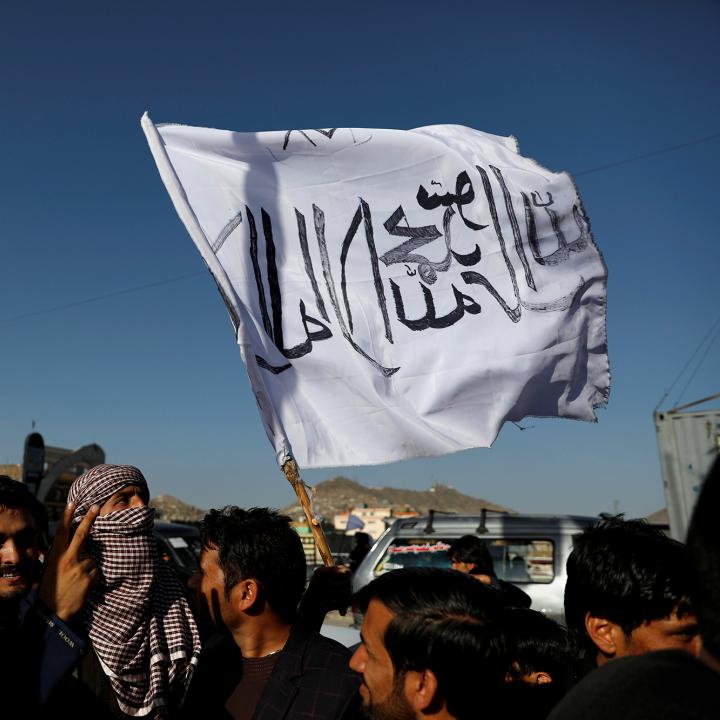 Regardless of the Taliban's promises to keep foreign terrorist elements in check, its victory is already boosting elements within the jihadist movement and may once again spur foreign fighter traffic to Afghanistan.
The fall of Kabul raises a number of questions about the future of the jihadist movement, from the plans being pondered by global organizations like al-Qaeda (AQ) and the Islamic State (IS), to the reaction of local actors such as Hayat Tahrir al-Sham (HTS), the Syrian group that views the Taliban as a model. Answering these questions can help policymakers better understand where the current situation stands and how the environment could change going forward.
Status of Foreign Fighters in Afghanistan
In December 2018, a senior Taliban commander told NBC News that the group had around 2,000-3,000 foreign fighters. Most of these individuals came from Pakistan, Xinjiang, Tajikistan, Uzbekistan, the Caucasus, Tunisia, Yemen, Saudi Arabia, or Iraq.
IS has likewise had a stream of foreign recruits join its ranks in Afghanistan. A specific number is hard to pin down, but a good portion of its local leadership is Pakistani, and members have also come from Uzbekistan, Tajikistan, Kyrgyzstan, Russia, Xinjiang, Jordan, Iran, Turkey, Indonesia, Bangladesh, India, Maldives, Algeria, or France.
Other foreign-run groups continue to operate in Afghanistan as well, including AQ, the Islamic Movement of Uzbekistan, Katibat Imam al-Bukhari, and the Turkestan Islamic Party. The latter group is a major concern to China given its roots in the country's Xinjiang province. In that sense, events in Afghanistan may give Washington and Beijing mutual motivation to concertedly address the threat of external jihadist operations. Afghanistan has a history of foreign fighter mobilizations, extant jihadist networks, and at least a few thousand fighters already on the scene, so the Taliban victory will likely inspire another mobilization.
Jihadist Reactions: Jubilation, Silence, Envy
Many elements of the jihadist movement—especially individuals affiliated with AQ networks or HTS—have expressed joy over the Taliban's swift takeover, viewing it as confirmation that their patience and ideological steadfastness will bring them favor in God's eyes. At the same time, neither AQ central nor its branches have officially commented yet, which would seem shocking if not for their pattern of slow media responses in recent years—one of several reasons why IS and HTS have eclipsed AQ in some ways. Yet the online reactions seen thus far by AQ's individual supporters and its auxiliary Thabat News Agency indicate that the organization will formally celebrate the victory at some point.
In contrast, HTS ideologues were immediately jubilant over the news from Kabul, since they hope to achieve the same thing in Damascus someday. One senior member wrote a poem for the occasion: "Oh lord of men, we want victory / By which you may bless noble al-Sham / Just as you have ennobled them, ennoble a land / That yearns to break Bashar the collaborator." Another ideologue, Abu al-Fatah al-Farghali, exclaimed: "Oh God, bless the men of the Taliban, who were true to their covenant with God and did not change. The victory of the Taliban is a lesson for the Islamic nation in steadfastness on the truth until victory is achieved." Likewise, HTS leader Abu Mariyah al-Qahtani declared, "The Taliban's victory is a victory for Muslims, a victory for the Sunnis, a victory for all the oppressed." In another post, he urged followers to seize this opportunity to build an Islamic axis between HTS, the Taliban, Turkey, and Pakistan—in his view, they are the only actors who are returning Islamic politics and jihad to their rightful place, in contrast to the many Arab regimes that have "deviated."
In the coming days or weeks, HTS officials will probably commemorate the victory with a local exhibition or series of forums extolling the importance of what the Taliban did and explaining how it relates to Syria's situation. They have already demonstrated their joy in the streets, for instance by giving baklava away to drivers and passersby in Salqin, Maarat Misrin, Harem, al-Dana, and Idlib.
For their part, IS leaders are likely unhappy to see the Taliban revamp itself as the so-called Islamic Emirate of Afghanistan. The victory takes the shine away from the IS caliphate project in Iraq and Syria, especially since the Taliban now controls an entire country, which IS never achieved. Moreover, Taliban and IS forces have been actively fighting each other since 2015, when IS first announced its presence in Afghanistan. These hostilities seem destined to persist—the Taliban will no doubt continue its efforts to suppress IS operations in Afghanistan, while IS still detests what it sees as deficiencies in the Taliban's ideology. For example, IS leaders accuse the Taliban of being too lenient on instances of bida (heretical religious innovations). The Taliban has also purportedly instructed supporters not to attack Shia mosques or shrines, and even sent members to attend a Shia ceremony related to the holy day of Ashura. IS will likely flagellate the group for such actions in its next al-Naba newsletter.
Known Unknowns
Although no one can predict the trajectory of events in Afghanistan with any certainty, several developments merit further attention. The Taliban takeover has led to prison breaks that freed AQ operatives (and likely members of other groups too). The fall of Bagram Air Base was particularly relevant in this regard, since it held the most important AQ prisoners. This outflow of jihadist veterans will likely jumpstart AQ's efforts to rebuild its local infrastructure. Yet without information on who exactly escaped, it is difficult to determine whether historically significant figures remain within AQ's AfPak network, or if it is mainly composed of newer figures these days, whether local or regional foreign fighters. To close this gap and enable better assessments of AQ's future in Afghanistan, the U.S. government should declassify the names of those key figures imprisoned at Bagram and other facilities. 
A related question is how many AQ operatives outside Afghanistan will try to return now that the Taliban is in power. Of particular interest is Saif al-Adel, who has been based in Iran since the post-9/11 invasion and is regarded as a potential heir to AQ leader Ayman al-Zawahiri. Tehran may see Adel as a bargaining chip with Taliban officials, both to secure its interests in Afghanistan and ensure the well-being of local Hazara Shia.
Other potential returnees include AQ members who transferred from Afghanistan to Syria over the past decade to assist with the organization's local branches—first Jabhat al-Nusra, and later Huras al-Din after former affiliate HTS decided to forsake its parent and concentrate on becoming an independent local power. HTS essentially declawed Huras al-Din in June 2020, so those in the latter group who have historical ties to AQ's Afghan network are rumored to be seeking a return there.
In thinking about how the United States and its allies might prevent a jihadist resurgence in Afghanistan, it is important to remember that the counterterrorism infrastructure built since 9/11 will give them far more robust options than they had beforehand. Even so, the potent on-the-ground intelligence infrastructure that Washington relied on for the past twenty years is now changing or disappearing altogether, so it may be more difficult to interdict future external operations by AQ and other groups. Accordingly, the U.S. government must continue pushing the Taliban to live up to its claims that Afghanistan will not be used for planning terrorist attacks abroad—while also preparing measures to counter that threat if the group proves unwilling or unable to fulfill its pledge. Either way, the return of the Islamic Emirate of Afghanistan has reinvigorated AQ cadres and given HTS a model to follow in Syria.
Aaron Y. Zelin is the Richard Borow Fellow at The Washington Institute and a visiting research scholar at Brandeis University.