Ramadan Soap Operas Contradict Sisi's Outreach to Israel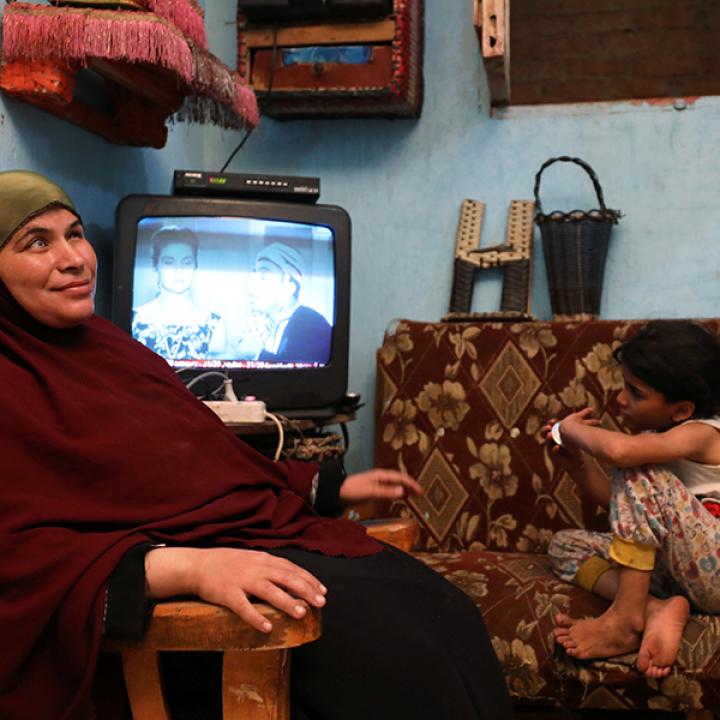 Despite Egypt's warming relations with the Israeli government, the country's airwaves and movie theaters are still rife with bellicose and anti-Semitic content.
In the past five years, Egyptian-Israeli relations have been steadily improving. With the two countries facing the same Islamic State threat on Sinai's borders, Egyptian president Abdul Fattah al-Sisi and his top officials have been keen on meeting with American Jewish organizations to emphasize the importance of Cairo's relationship with Israel. Yet this warmth has not been shared by the Egyptian media industry, much of which is reportedly controlled by government intelligence organs.
ANTI-ISRAEL MEDIA DURING RAMADAN
During the holy month, Egyptian television series compete to gain the attention of the domestic viewing audience and the wider Arab world. This year, the media production company Synergy held a near monopoly over the season's traditional deluge of soap operas, producing around fifteen of the twenty-five that aired.  
Since coming to power in 2014, the Sisi government has been steadily increasing its control over the media, and Synergy is no exception. When the company made its shows available exclusively through its own channels and a new streaming application, "Watch It," the government banned some of the most popular torrent websites to ensure that the soap operas were not pirated. Furthermore, many television presenters were ordered to modify their rhetoric; those who refused to follow the new rules faced the risk of being kicked off the air or forced to flee the country. Egyptian security officials seem to believe that the media has irresponsibly exaggerated the country's internal problems, and Sisi himself has long threatened to tighten the leash. In a June 2017 speech, for instance, he emphasized the need to restore the state's past model of full sway over the industry.
Given this level of control, it is uniquely discouraging to see negative representations of Israel and Jews still appearing frequently on Egyptian television, including Ramadan programs. For example, the show Kalabsh has relied on such portrayals since it first began airing in 2017, and Egyptian viewers have embraced it. One of the show's major villains this season is a local businessman who was dismissed from his work as a diplomat in the Foreign Ministry for having a suspicious affair with an American Mizrahi Jewish woman. This woman recruits him to help international NGOs that aim to harm Egypt's national security. The hero of the show, an Egyptian policeman who fights terrorism, eventually arrests them both. The producers of Kalabsh have praised the police ministry for helping them deliver an "honest image" of Egyptian law enforcement.
A more complicated case is the soap opera Al Dahar, which tells the story of an Egyptian military officer whose love affair with a Jewish girl makes him deceive his country. The show was supposed to air during Ramadan 2017, but Egyptian intelligence intervened and stopped production. The reason for the suspension is unknown, and the show was later sold to the Emirati channel Hawas TV, which did not air it either. One of the actors has since indicated that it will be broadcast this August, without offering more details. If the Sisi government does allow it to air locally, the program would be in line with some of the major negative themes propagated to the Egyptian public this past Ramadan:
American think tanks, funded by Zionist businessmen, conspire against Egypt and have close ties with Israel.
Israel works for the United States, which aims to make the Jewish state seem powerful in order to cajole regional leaders into buying American weapons and accepting the U.S. military presence.
NGOs are suspicious entities that hire people from all over world, meaning there must be Israeli security agents and proxies among their ranks.
Terrorism in Sinai is a Zionist plot to distort the image of Islam.
The Islamic State is an Israeli creation.
Cairo's recent natural gas discoveries have made Israel and some Arab states unhappy because economic prosperity in Egypt means empowerment.
Israel yearns to retake Sinai. It understands that it cannot do so through direct force, so destabilizing the peninsula remotely is its best option.
Yet these themes contradict some of Sisi's own public remarks, perhaps reflecting the juggling act he feels compelled to perform in order to maintain domestic legitimacy, placate local religious institutions, and simultaneously bolster Cairo's foreign relations. During a June 2 speech, for example, he responded to the recent claim by the Grand Imam of Al-Azhar that Western media are "insulting" Islam. Sisi countered that Muslims are responsible for improving the image of Islam, and for rehabilitating an environment in which Jews and other non-Muslims are not safe when given entry visas to Muslim lands. "If you feel disgusted seeing a church in front of you," he declared, "you should seek the perfection of your faith"—a far cry from the intolerant messages being delivered over state-controlled airwaves.
RESTORING THE AGE OF WAR FILMS
On the first day of this year's Eid al-Fitr holiday, the film Al Mamar was released in Egyptian theatres. The movie glorifies the actions that Egypt's Saka Forces took against Israel in the War of Attrition that unfolded after 1967. Only five domestically produced movies were shown in local theatres this Eid, and the budget devoted to making Al Mamar was 100 million Egyptian pounds—a staggering figure compared to the 20-30 million pounds spent on each of the other four movies. The Department of Morale Affairs, which is responsible for the military's media and psychological sections, helped with the production.
This level of investment and involvement likely stems from the concerns of certain security-oriented Egyptian filmmakers—that is, industry figures who hold ardent nationalist beliefs, who sympathize with the security forces, and/or who are specifically prodded by the government/military to make such content (or are indirectly encouraged to do so by the fact that more government money flows in that direction). Many such figures believe there is a shortage of movies about their country's historical victories leading up to and during the 1973 conflict with Israel. No major war films had been produced since 1999, making them worry that younger Egyptians would have no connection to this part of their history.
IMPLICATIONS FOR U.S. POLICY
According to Annex III, Article V of the 1979 Egypt-Israel peace treaty, "The parties shall seek to foster mutual understanding and tolerance and will, accordingly, abstain from hostile propaganda against each other." Building on that article, Congress should mandate that the State Department submit an annual report on anti-Semitic portrayals in Egyptian media and Washington's efforts to combat them.
Furthermore, a presidential or White House tweet encouraging President Sisi to tone down anti-Semitic and anti-Israel propaganda would put the Egyptian government on the spot and demonstrate that the U.S. government still cares about the issue. The White House should also consider hosting a meeting with Sisi and Israeli prime minister Binyamin Netanyahu when they arrive for the UN General Assembly meetings this September.
Additionally, the U.S. government should encourage Jewish religious authorities in Israel and the United States to engage with Al-Azhar on opening a Jewish-Muslim interfaith dialogue, similar to what the Egyptian institution has established with the Vatican. This dialogue should address stereotypes and hate speech propagated against Jews in Egyptian sermons and media portrayals.
Finally, Cairo needs to issue more messages about tolerance along the lines of Sisi's June 2 speech. The president should also reflect on what implications his messages hold for state-run media—which means taking full responsibility for the harmful messages the government is still broadcasting today. 
Haisam Hassanein was the 2016-2017 Glazer Fellow at The Washington Institute.