Qatar's Relations with Washington and Israel Are Being Tested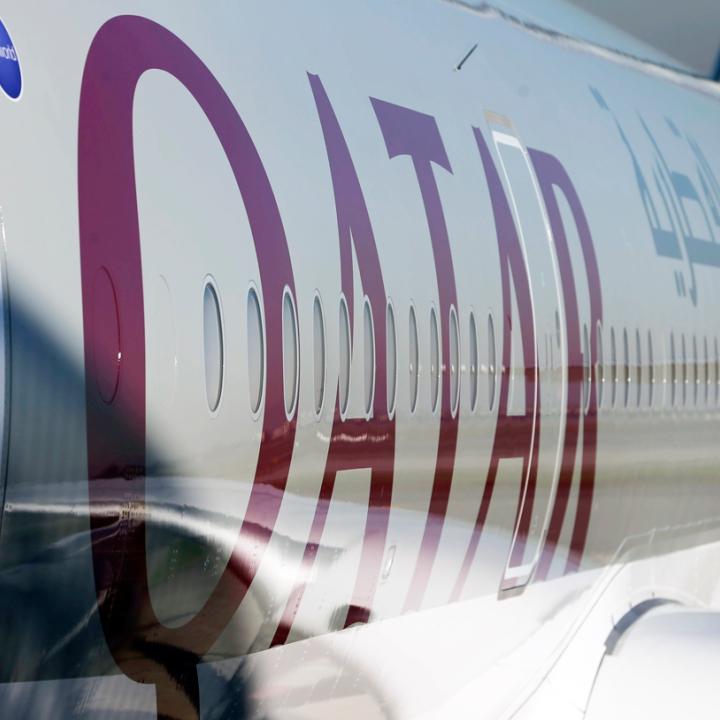 The Gulf state is using its close relationship with Hamas to help secure the release of Gaza hostages, but these same relations could wind up damaging its political and military ties with the United States.
On October 22, Secretary of State Antony Blinken commented on the release of two American hostages seized in the October 7 Hamas assault on Israel, telling NBC News, "I again want to thank the government of Qatar for playing a very important role in getting them out." Two more hostages were released a day later. Commenting on the negotiations, a senior Qatari official told a German newspaper, "The release took place within a framework that confirms the positive intention to release the hostages. We are optimistic that the hostages, especially the civilians, will be released very soon." Yet Israel's official statement on the matter made no mention of Qatar—unsurprising given Doha's close ties with Hamas, its initial claim that Israel was "solely responsible" for the current conflict, and the fact that more than two hundred Israeli and foreign hostages are still being held.
Qatar's role has prompted public furor in the United States as well, with many observers asking why Washington is so close to the Gulf state. Doha simultaneously hosts a major U.S. air base and Hamas's leadership and bureaucracy; it also maintains ties with Iran and the Taliban regime in Afghanistan. Yet its relationships with Hamas and the Taliban have sometimes been encouraged and praised by U.S. administrations for varying policy reasons. Critics also tend to forget the recent history of close Qatari relations with Israel—less public these days but almost certainly still functioning (e.g., one journalist identified Israeli government executive jets making flights to and from Doha in late September). U.S. and Israeli officials have repeatedly and unsuccessfully tried to find an alternative intermediary to replace Doha in dealing with the Gaza Strip; the current crisis may lead them to try again.
Qatar's Balancing Act with Israel, Gaza, Iran, and the Gulf
The earliest public evidence of Doha's ties with Israel emerged after Prime Minister Yitzhak Rabin was assassinated in 1995, with Qatari information minister Ahmed al-Aziz al-Kuwari attending his Jerusalem funeral wearing full Arab dress. Rabin's successor, Shimon Peres, visited Doha in 1996, and an Israeli "trade office"—functionally a de facto embassy—was set up there soon after. Despite regional tensions, this office remained open until 2008, when Israel carried out its Operation Cast Lead in Gaza; plans to establish a reciprocal office near Tel Aviv never came to fruition. Today, Israelis are still able to visit Qatar using their native passports, and Israel's Foreign Ministry has a Qatar desk officer.
These relations have been balanced with Qatari assistance to the Palestinians. Doha has favored Gaza over the West Bank in this regard, providing the Strip with funding for power needs, public salaries, new apartment buildings, and schools. The main Qatari envoy organizing these projects has been construction magnate Mohammed al-Emadi. Interviewed by the author in 2018, he denied that Qatari government funds went to Hamas, explaining how he regularly flew to Jordan before driving to Gaza via Jerusalem, where he stayed in a hotel favored by religious Jews.
One of Doha's main motivations for ties with Israel has been the perception that they will help Qatar influence the United States via its Jewish community. The government's ties with Hamas have domestic drivers as well—Arab Qataris sympathize with the Palestinians in general, and many share the strict adherence to Islam represented in the Muslim Brotherhood ideology that Hamas purportedly follows. (Though the government has been smart about enabling non-Muslims to easily obtain alcohol there.)
With Iran, Doha's posture has been complicated by geography and hydrocarbons. A solitary peninsula that sticks out into the Persian Gulf, Qatar has a small citizenry of around 300,000 but is blessed with huge reserves of natural gas, the third-largest in the world after Russia and Iran. Its massive offshore North Field is contiguous with Iran's less-developed South Pars field, however, creating a "two straws in one milkshake" situation that essentially compels Doha to maintain good relations with Tehran.
Relations with other Gulf neighbors have been more fraught. For instance, Bahrain still resents that the site of its historical capital is inaccessible in northern Qatar—and that its modest hydrocarbon reserves are dwarfed by Doha's. For their part, Qatari officials often complain about where neighbors have positioned existing or planned nuclear power reactors, likely for symbolic reasons as much as actual contamination fears. The United Arab Emirates has placed its four reactors well away from Abu Dhabi but quite close to Doha; similarly, Saudi Arabia's tentative plans for a Chinese civil reactor would place it on the border with Qatar.
In 2017, Saudi Arabia, the UAE, Bahrain, and Egypt imposed a complete trade and diplomatic embargo against Qatar, alleging that Doha was supporting terrorism and issuing a long list of demands for ending the rift. Yet the dispute ended abruptly for no clear reason in early 2021, with Saudi crown prince Muhammad bin Salman lifting the embargo even though none of the demands had been met.
Does Washington Have Alternatives to Qatar?
Over the years Doha has played its "resource-rich but vulnerable" hand cannily, if controversially. In the late 1990s, it built the giant al-Udeid Air Base even though the facilities far exceeded its military needs at the time. When the Saudis barred the United States from using Prince Sultan Air Base for operations against al-Qaeda in Afghanistan in 2003, Qatar made al-Udeid available. The U.S. Air Force and allied contingents have since used it as their main Gulf base, even establishing a crucial operations center there that controls all U.S. air activity in an area stretching from Iraq to Afghanistan. Next door, the UAE has allowed U.S. forces to operate from al-Dhafra Air Base, but that facility's operational restrictions reportedly make it unattractive compared with al-Udeid.
Returning to a Saudi basing alternative today seems like a nonstarter given the fraught historical experience of U.S. forces in the kingdom. Meanwhile, the UAE has damaged its credentials with Washington by surreptitiously allowing China to build an intelligence base there. And Bahrain already hosts the U.S. Fifth Fleet—asking the Sunni-ruled nation to do more could prove problematic given the presumably widespread sympathy for Iran among its majority Shia population.
Doha's sponsorship of the Al Jazeera television network has also frequently exasperated Washington. Its Arabic channel in particular is heavily pro-Islamist and anti-American—sentiments that have had deadly practical consequences for U.S. forces on the ground. After the overthrow of Saddam Hussein, for example, Al Jazeera journalists in Iraq appeared to conspire with militants ambushing U.S. forces, in part to get better pictures. At the time, American diplomatic anger toward Doha did not have a visible impact on the network's practices.
More recently, Washington has been grateful for Qatar's major role in helping refugees leave Afghanistan when the Taliban took over in 2021; a core group of Afghan-focused U.S. diplomats now operates out of the U.S. embassy in Doha. Yet now that the Hamas war has brought longstanding concerns to the fore again, the United States may seek to pressure Qatar by threatening to withdraw military assets or actually reducing its military and diplomatic presence.
Conclusion
The United States and Israel have similar but not necessarily identical priorities in the Gaza crisis. Both want to free more hostages, but Washington is keen to prevent the conflict from widening to Lebanon and Iran, while Israel is more focused on reestablishing deterrence against Hamas after the shocking surprise attack. Finding an alternative to Qatar's willing diplomatic channel with Hamas seems improbable.
Yet Washington can certainly make Doha more aware of how deeply disgusted the White House and most Americans are about the group's horrific terrorist attacks against Israeli civilians. Doha views the United States as its most important ally, and its previous deafness to U.S. concerns was most evident during the reign of former emir Hamad bin Khalifa al-Thani. The country is now led by his son Tamim, who has built Qatar's reputation as a world-class player in the energy sector, sports world, and other fields. Emir Tamim now faces his toughest test—disassociating Doha from Hamas. Otherwise, he faces the prospect of significant downgrades to his country's most crucial bilateral relationship.
Simon Henderson is the Baker Fellow and director of the Bernstein Program on Gulf and Energy Policy at The Washington Institute.